Athletics 2023 Tickets Guide
Updated 12/4/2023 / First Published 2/22/2023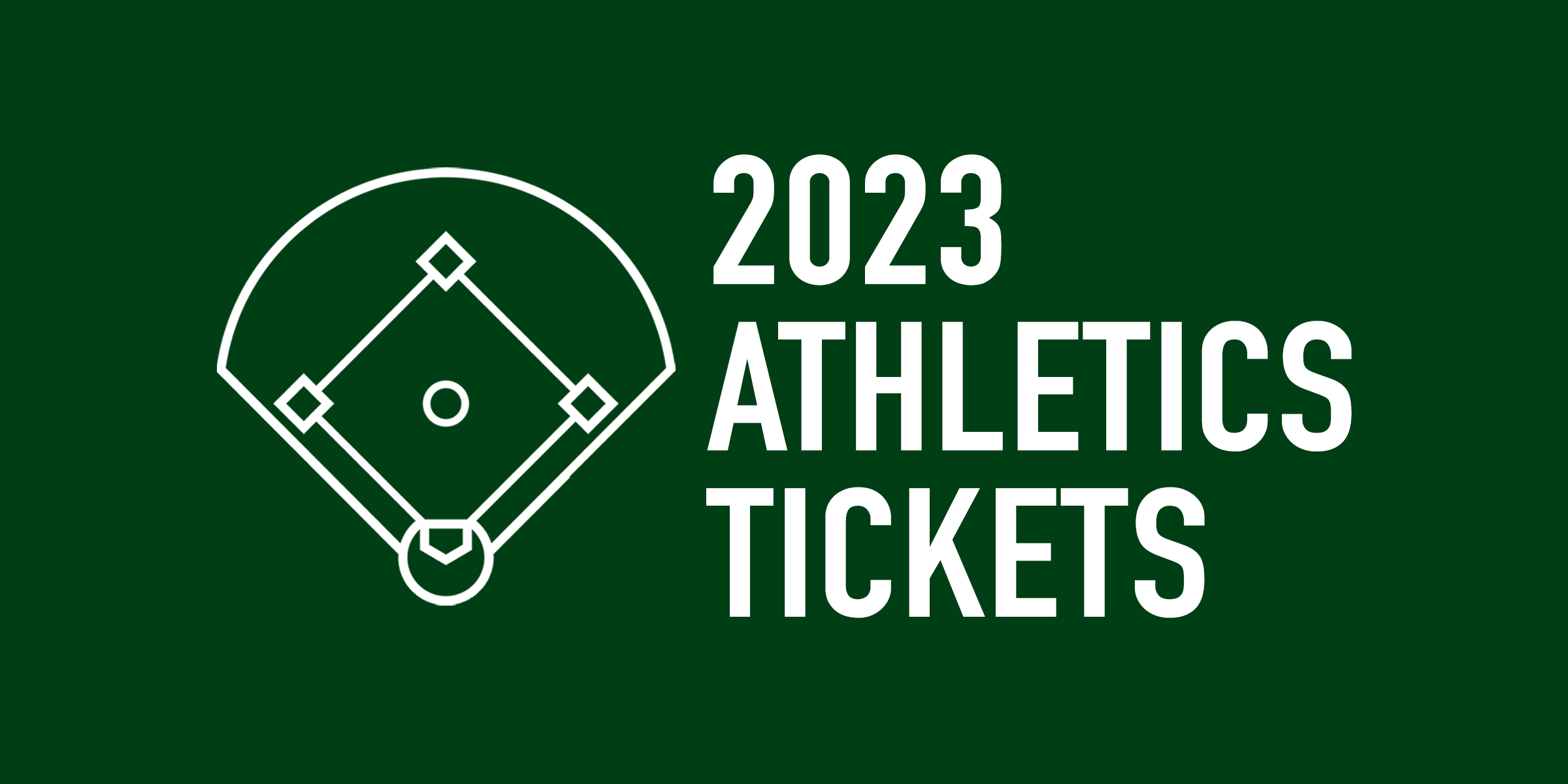 The A's franchise is in a state of flux at the moment while the team tries to figure out its ballpark situation and/or a potential move out of Oakland. While that's being figured out, fans are responding by simply staying at home.
Interest in 2022 A's tickets ranked in the bottom-3 among MLB tickets on RateYourSeats.com last year. And Oakland was the only team with an average attendance of less than 10,000.
Expectations for 2023 are just as bleak. According to BetMGM, the A's have the worst odds to win the World Series. The team moved on from their most popular player (Sean Murphy), and there doesn't seem to be a lot of light at the end of the tunnel.
Where to Buy Athletics Tickets
Season Tickets
Oakland A's season tickets are sold through the team's website. The team offers Green and Gold ticket plans with different levels of seating.
All full-season packages come with ticket savings, merchandise discounts and exclusive ticketholder events.
Single-Game Tickets
Single-game tickets are currently on sale at mlb.com/athletics.
Tickets for all A's games are also available at RateYourSeats.com. There you can search thousands of 2023 A's tickets all at once and discover the best deals.
Group Tickets and Packages
For fans who don't want to buy into all 81 games, the A's offer other multi-game packages.
These packages are available in different sizes, including half-season, quarter-season and four game. FlexTix is another option which allows you to customize a plan.
Another option for attending an Athletics game is to go with a group. For parties of 15 or larger, discounted tickets are available. The more seats you buy, the larger the discount and the more perks the group receives.
How Much are Athletics Tickets?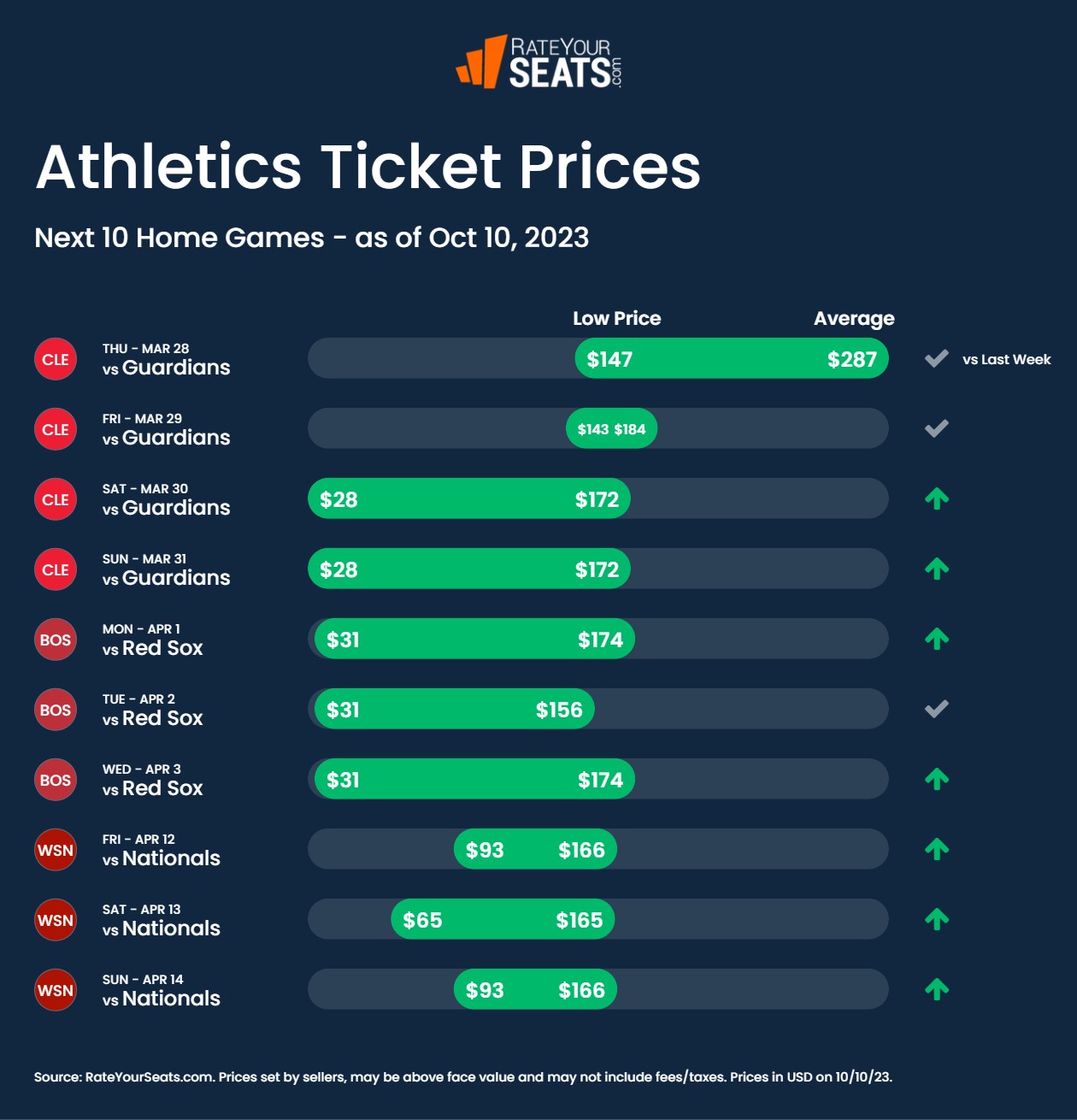 2023 Ticket Prices
The A's did not make any official price change announcements for the 2023 season.
Owing to a lack of demand, ticket prices on the secondary market are relatively affordable. Expect this trend to continue in 2023 if the team struggles to win games.
Cheap Athletics Tickets
Most games on the A's 2023 schedule have similar prices. The major exceptions include games against other California teams and games against the Yankees and Mets.
For the biggest bargains, consider an afternoon game on a Wednesday or Thursday. These usually start at 12:37 pm and are less expensive than night games. There are a dozen of these scheduled for 2023, including contests against Yankees, Red Sox and Cubs.
Key Series in 2023
RingCentral Coliseum will see no shortage of popular teams coming to play the A's this year.
Both New York teams, both Chicago teams, three intra-state teams and the Red Sox all visit Oakland this year.
Here are the hottest Athletics matchups and tickets for 2023:
Angels vs. Athletics - Mar 30 - Apr 2
After finishing a combined 79 games out of first place last year, the A's and Angels will start the season even with the rest of the A.L. West.
Someone will come out of this series with a winning record three games into the season.
Los Angeles Angels at Oakland Athletics

Tickets for this event are no longer available
Yankees vs. Athletics - Jun 27-29
The Yankees visit RingCentral Coliseum at the end of June for a three-game set. Because this is a mid-week series, ticket prices are relatively affordable.
The Thursday afternoon game is a great opportunity to take the kids to see Aaron Judge and the vaunted Yankees offense.
New York Yankees at Oakland Athletics

Tickets for this event are no longer available

New York Yankees at Oakland Athletics

Tickets for this event are no longer available

New York Yankees at Oakland Athletics

Tickets for this event are no longer available
Giants vs. Athletics - Aug 5-6
The Bay Bridge series continues with another edition in early August. This is a special two game series on a Saturday and Sunday that should attract large crowds.
Best Ticket Options at RingCentral Coliseum
Diamond Level seats are the best tickets to an A's game. These are located directly behind home plate and come with all-inclusive amenities. Tickets are rarely available on a single-game basis and typically cost in excess of $250 each.
Other high-end options include Field Boxes, Lounge Seats and Theater Boxes. These are all retro-fitted sections that have been added in recent years. Among these, the Field Boxes are the most exclusive - and usually the most expensive.
The table below lists top ticket options with the lowest price for the rest of the season (as of Dec. 4, 2023) and a link to explore seats.
Cheaper Options
At most baseball stadiums, the upper deck has the cheapest tickets. But for most A's games, most seats in the View Level (upper deck) aren't sold. The sections that are sold are usually directly behind home plate.
For those who like to bask in the sun, there are usually cheap tickets in the outfield. This includes the Bleachers and Treehouse Plaza. The Treehouse is the more family-friendly option and is also better-suited for visiting fans.
2023 Changes at RingCentral Coliseum
With their ballpark situation in flux, significant changes aren't being made to RingCentral Coliseum at this time.
Best 2023 Athletics Giveaways & Promos
There are 15 games listed on the A's schedule that include a promotional giveaway. Most of these games are on Saturdays and Sundays.
The A's are not specifying how many of each item are available, opting instead to remark that "All Early Arriving Fans" will receive a giveaway.
In addition to souvenirs, there are four fireworks nights and two drone shows happening this year.
Some of the best promotional games of the year include:
Chicago White Sox at Oakland Athletics

Pit Viper Sunglasses Giveaway All Early Arriving Fans

Tickets for this event are no longer available

Minnesota Twins at Oakland Athletics

Marvel Bobblehead Giveaway All Early Arriving Fans

Tickets for this event are no longer available