Tigers 2023 Tickets Guide
Updated 3/27/2023 / First Published 2/21/2023
There was some optimism in Detroit that the 2022 Tigers would be competitive in the A.L. Central. Unfortunately, neither the division nor the Tigers were very good last year. By August and September, Tigers tickets were the second least popular MLB ticket on RateYourSeats.com.
Interest in Tigers tickets for the 2023 season is primarily tied to the impending retirement of Miguel Cabrera. After joining the 3,000 hit club last year, Miggy is heading out on his farewell tour this season.
Where to Buy Tigers Tickets
Season Tickets
For fans who want to experience Tigers baseball all season long, season tickets are an option.
Tigers season ticketholders enjoy special member benefits, and will get tickets to all home games, including series against the Yankees, Red Sox and Cubs.
Single-Game Tickets
Tigers single-game tickets through the box office went on sale February 17th.
Tickets are also available for all games at RateYourSeats.com. By using the Tigers seating chart, you can see every ticket for every game all at once.
Group Tickets and Packages
For fans who don't want to commit to season tickets, the Tigers offer as many multi-game packages as any other team in the league.
For the 2023 season, there are no fewer than eight of these plans. Fixed plans are 1901 Society memberships, while flex plans allow you to customize a package.
Comerica Park is an excellent venue for hosting a group of 10 or more. As one of the league's more contemporary ballparks, the stadium houses nearly a dozen hospitality areas. These include the Party Plazas and Decks, Brewhouse and Tiger Club Lounge.
How Much are Tigers Tickets?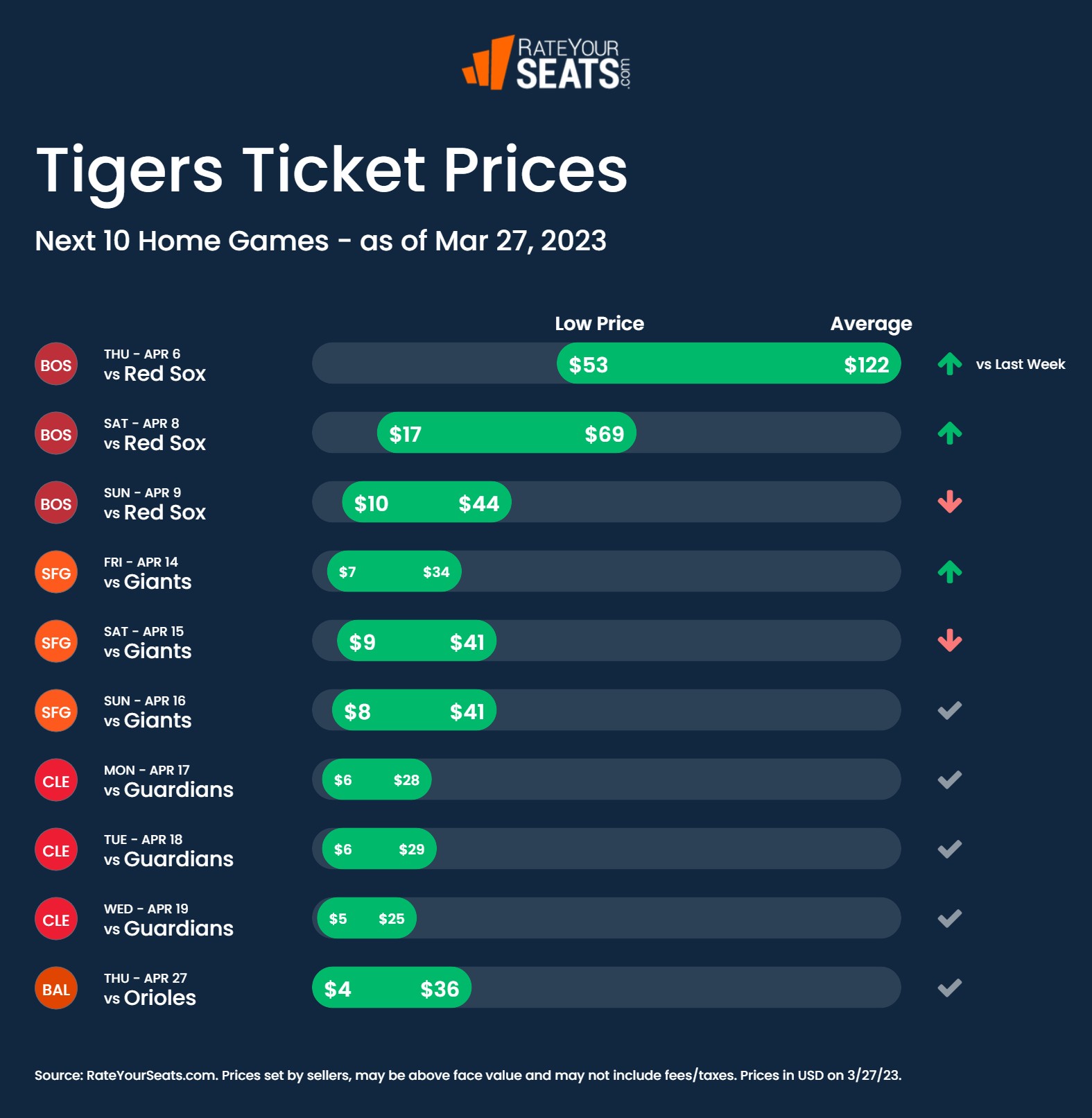 2023 Ticket Prices
The Tigers have not announced any ticket price changes for the 2023 season. Expect face values to remain similar to 2022.
On the secondary market, prices are expected to rise in late summer. Fans will be clamoring for one last look at Miguel Cabrera, creating a surge in demand. A similar phenomena was observed last year for the St. Louis Cardinals.
Cheap Tigers Tickets
As is the case almost every year, the cheapest Tigers tickets at Comerica Park are for games in April and May. Regardless of the opponent, the unpredictability of the Detroit weather keeps demand and prices down.
Later in the season, keep an eye on Wednesday and Thursday afternoon games. These usually start at 1:10 pm and are less expensive than night games. There are 14 of these games on the 2023 schedule, including affairs with the Yankees and Cubs.
Key Series in 2023
It's unlikely that the Tigers will be playing any important games in September. Most of their big series will be dependent on the opponent, weather and month.
Exceptions include games later in the year as the Miguel Cabrera Farewell Tour rolls on.
Here are the hottest Tigers matchups and tickets for 2023:
Red Sox vs. Tigers Apr 6-9
The Tigers have a rich history on opening day. While the team may struggle to contend, opening day tickets are always a coveted item in Detroit.
This year the Tigers welcome the Red Sox for a 3-game opening-weekend series. This should attract large crowds - especially if the weather cooperates.
Diamondbacks vs. Tigers - Jun 9-11
A series against one of the worst teams in baseball usually doesn't have a lot going for it, but this one's a little different.
This is one of the cheapest weekend series on the schedule, and Saturday is Miggy bobblehead day. Expect an early-arriving crowd for that afternoon's game.
Guardians vs. Tigers - Sep 29 - Oct 1
While the Guardians might be playing for their playoff lives, Detroit fans will probably be in a celebratory mood for this series.
These are scheduled to be the last games of Miguel Cabrera's career. These are the most expensive games on the calendar, and will likely get more expensive as the end of the season approaches.
Best Ticket Options at Comerica Park
The best tickets for a Tigers game are the On-Deck Circle and Tiger Den seats. Both of these areas are located near the infield on the lower level.
Fans will enjoy excellent views and club amenities when sitting here for a Tigers game.
Ticket prices in these areas vary for the 2023 season. For less-expensive games, expect to pay $50-75 per seat. For bigger matchups and weekend games, the cost is usually $100 or more.
The table below lists top ticket options with the lowest price for the rest of the season (as of Mar. 27, 2023) and a link to explore seats.
Cheaper Options
With the team coming off a disappointing campaign, there is no shortage of cheap Tigers tickets for the 2023 season.
As of February, 40 of 81 home games have a get-in price less than $10 - and there are plenty of options for $5 or less.
Cheaper tickets are usually found in the Upper Level and in the Bleachers.
2023 Changes at Comerica Park
This year will mark the first time in 20 years that significant changes are being made to Comerica Park.
The outfield walls are being lowered (in height), and the center field wall is moving in. This should result in more home runs - and more home run-robbing opportunities.
Best 2023 Tigers Giveaways & Promos
The Tigers have 15 giveaway games on their 2023 schedule. Souvenir items include shirts, beanies and three different Miguel Cabrera items.
Items are being given away to the first 15,000 at all Saturday home games and a couple other select dates.
Some of the best promotional games of the year include: