Red Sox 2023 Tickets Guide
Updated 12/4/2023 / First Published 2/17/2023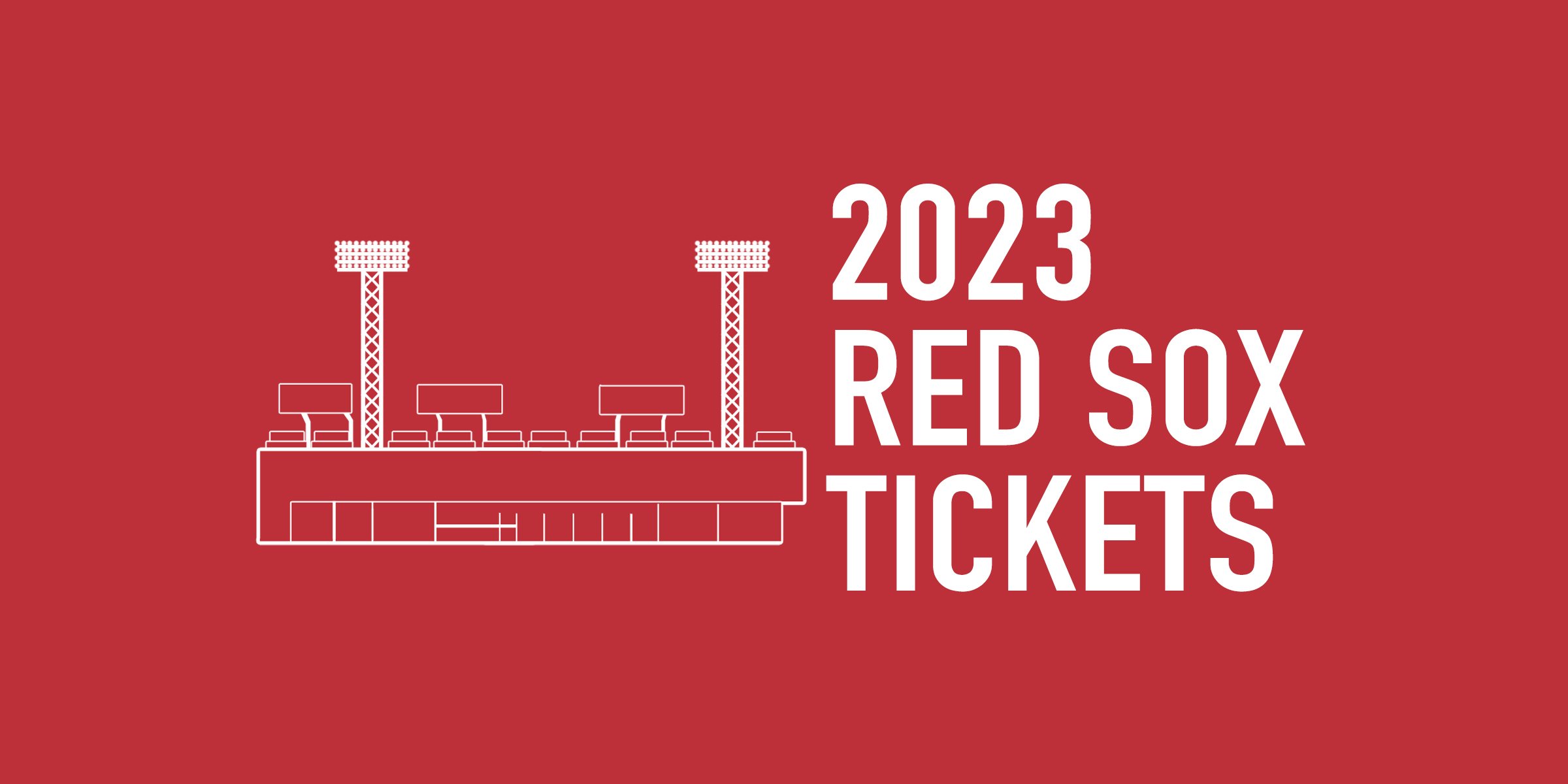 No matter how the team is doing, Red Sox tickets will always be in high-demand for games at Fenway Park. Despite finishing last in the A.L. East in 2022, Red Sox tickets were the second most popular MLB ticket on RateYourSeats.com.
As of February, 2023 Red Sox tickets are the most searched-for MLB tickets on the site. Fans are buying tickets for their annual visit and/or planning their summer vacation to Boston.
Despite playing in a competitive division and having lost one of their stars (Xander Bogaerts), there is some optimism that the team can rebound behind the signing of a few veteran players.
Where to Buy Red Sox Tickets
Season Tickets
Red Sox season tickets are available in most locations for the 2023 season. Through the team's site, full-season plans range from $4,100 to $17,000 per seat.
Single-Game Tickets
The Red Sox are phasing their single-game ticket sales for 2023. Early-season games are currently for sale, while early-summer games go on sale February 23rd. Late-summer games will go on sale at a later date.
On RateYourSeats.com, tickets are available for all 81 games. We recommend starting your search on the Fenway Park interactive seating chart. There are nearly 70,000 listings available for the 2023 season. The interactive ticket map allows you to compare multiple games and multiple seat locations.
Group Tickets and Packages
If the cost - and commitment - of full season tickets is too high, a multi-game plan is another consideration.
Ticket plans are available in different game quantities, including 10, 20 and 40-game plans. Each plan comes with a different level of perks, but most include post-season ticket priority and pre-sale opportunities for summer concerts.
Fenway is a popular destination for group outings. While the ballpark wasn't originally built with that purpose in mind, new spaces have cropped up in recent years that can accommodate up to 200 guests.
The most popular group destinations are the Coca-Cola Decks and the vineyard vines club. These spaces cater to fans before the game with packages including food and beverage. The main Coca-Cola Deck is also a reserved space from which you can watch the game.
How Much are Red Sox Tickets?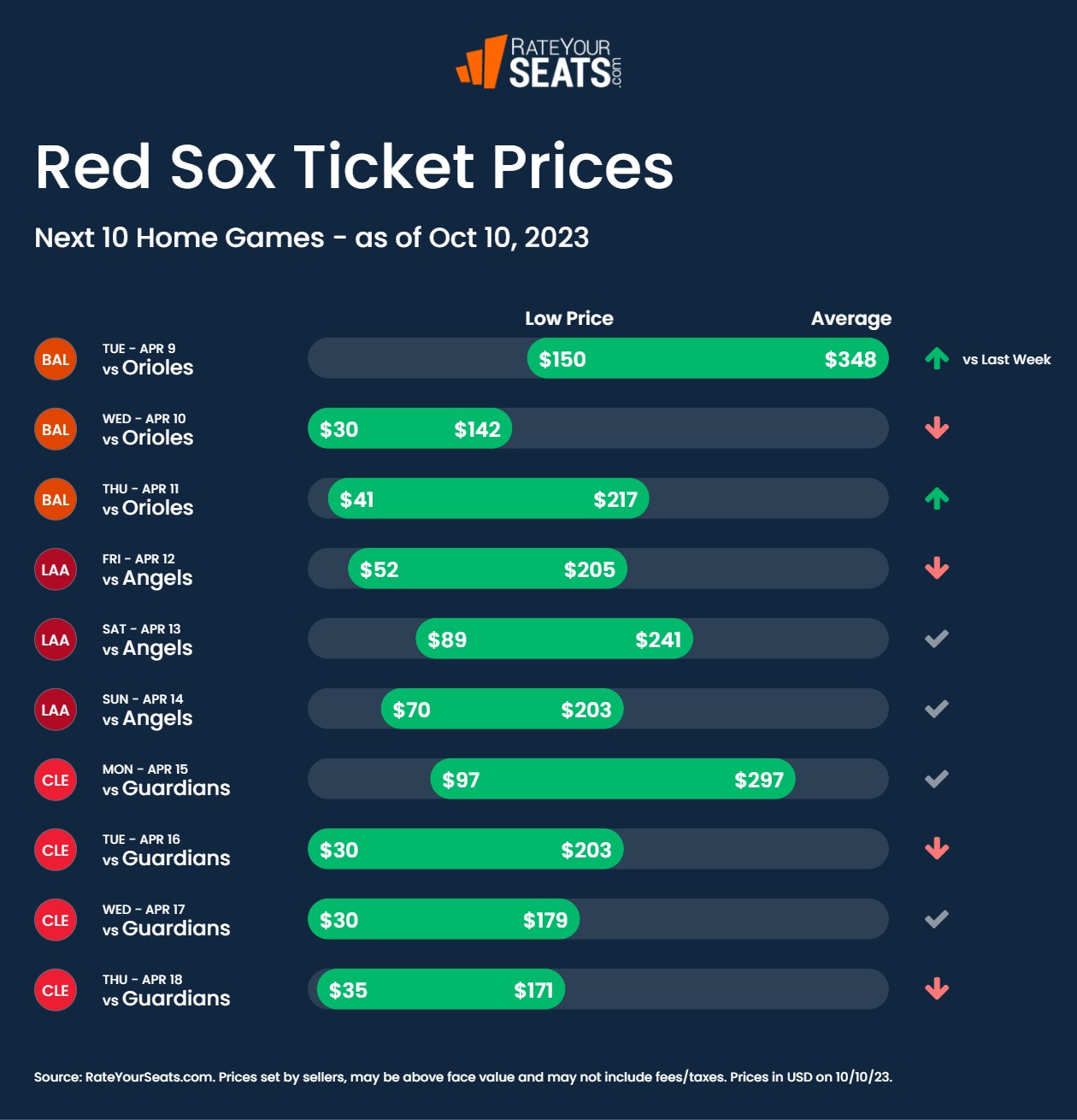 2023 Ticket Prices
Red Sox season ticket prices increased by roughly 2% for the 2023 season. This is on top of an already-high average ticket price. For every month of the 2022 season, Red Sox tickets on RateYourSeats.com ranked among the five most expensive MLB tickets.
As of early 2023, secondary ticket prices remain high. The average get-in price is around $50 and the median price is north of $100. Those prices should remain consistent throughout the season - though a post-season run would likely drive up demand for late-season contests.
Cheap Red Sox Tickets
Finding a deal on Red Sox tickets is no easy task. The cheapest games are usually at the beginning of the season when the weather is iffy and the kids are in school. This year, games against the Pirates and Twins in April are among the lowest-priced.
In the summer, weekday games against less-popular teams like the Royals, Marlins and Orioles are the most affordable.
Key Series in 2023
The Red Sox play 22 different teams at Fenway Park in 2023. Thanks to the new MLB scheduling, that's four more teams than they welcomed in 2022.
The Yankees and other A.L. East teams will visit Fenway less frequently, while three teams each from the N.L. Central and East will visit Boston.
Here are the hottest Red Sox matchups and tickets for 2023:
Orioles vs. Red Sox - Mar 30 - Apr 2
Opening Day in Boston is always a big deal. That's especially true this year with the Orioles in town for a weekend series.
Neither team really knows what kind of success they'll have in 2023. The young Orioles surprised last year, while the Red Sox disappointed and got even older in the off-season. This series will give fans of both ballclubs a preview of things to come.
Baltimore Orioles at Boston Red Sox

Tickets for this event are no longer available

Baltimore Orioles at Boston Red Sox

Tickets for this event are no longer available

Baltimore Orioles at Boston Red Sox

Tickets for this event are no longer available
Dodgers vs. Red Sox - Aug 25-27
The Red Sox have a pretty loaded home schedule at the end of August and the beginning of September. And it all begins with a weekend series against the Dodgers.
Two former Dodgers - Justin Turner and Kenley Jansen - are now with the BoSox and will square off against their old mates.
Astros vs. Red Sox - Aug 28-30
A tough Dodgers team leaves town and the defending World Champion Astros immediately take their place.
This is a potential make-or-break stretch for the Red Sox season. Ticket prices are relatively affordable to start the season, but may increase if Boston is still in the hunt.
Yankees vs. Red Sox - Sep 11-14
If you want to see a Yankees/Red Sox series in Boston in 2023, this is the one to target.
Ticket prices are more affordable than the June series and a lot more might be on the line.
New York Yankees at Boston Red Sox

Tickets for this event are no longer available

New York Yankees at Boston Red Sox

Tickets for this event are no longer available
Best Ticket Options at Fenway Park
The best tickets to a Red Sox game are in the Dell Technologies Club or Dugout Boxes. These are two of the most exclusive seating areas, and it's not uncommon to see tickets priced at $1,000 or more.
Pavilion Club tickets are another option for an upscale experience. These are less expensive, but still average about $200 for more home games.
Finally, the most desirable tickets are the Monster Seats. Standing Room tickets are usually sold for less than $100, while seated/reserved tickets are much more expensive.
The table below lists top ticket options with the lowest price for the rest of the season (as of Dec. 4, 2023) and a link to explore seats.
Cheaper Options
There are two primary options when looking for cheap tickets for a Red Sox game: Bleachers and Grandstand.
Bleachers tickets can be found for less than $20 for some games. These are outfield seats that don't have a view of the iconic Green Monster.
If you want an affordable ticket that looks out at Fenway's most distinguishable features, consider the Grandstand. The biggest downside is that you may be stuck behind one of Fenway's many support poles.
2023 Changes at Fenway Park
Fenway Park has seen a lot of work done over the past 15 years. For fans who haven't been to the ballpark in a while, expect a number of new sights and seating areas.
For fans who have been recently, there weren't many significant changes made in the 2022 off-season.
Best 2023 Red Sox Giveaways & Promos
Unlike many teams that offer frequent promotions and giveaways to attract fans, the Red Sox only offer a few such games each year.
There are seven giveaway games on the calendar - most occurring during the week.
Some of the best promotional games of the year include:
Toronto Blue Jays at Boston Red Sox

Pedro Martinez T-Shirt (First 7,500 fans)

Tickets for this event are no longer available

Cincinnati Reds at Boston Red Sox

2013 World Championship Bobble (First 7,500 fans)

Tickets for this event are no longer available

Colorado Rockies at Boston Red Sox

Red Sox City Connect Tank (First 7,500 fans)

Tickets for this event are no longer available