Nationals 2023 Tickets Guide
Updated 9/18/2023 / First Published 2/23/2023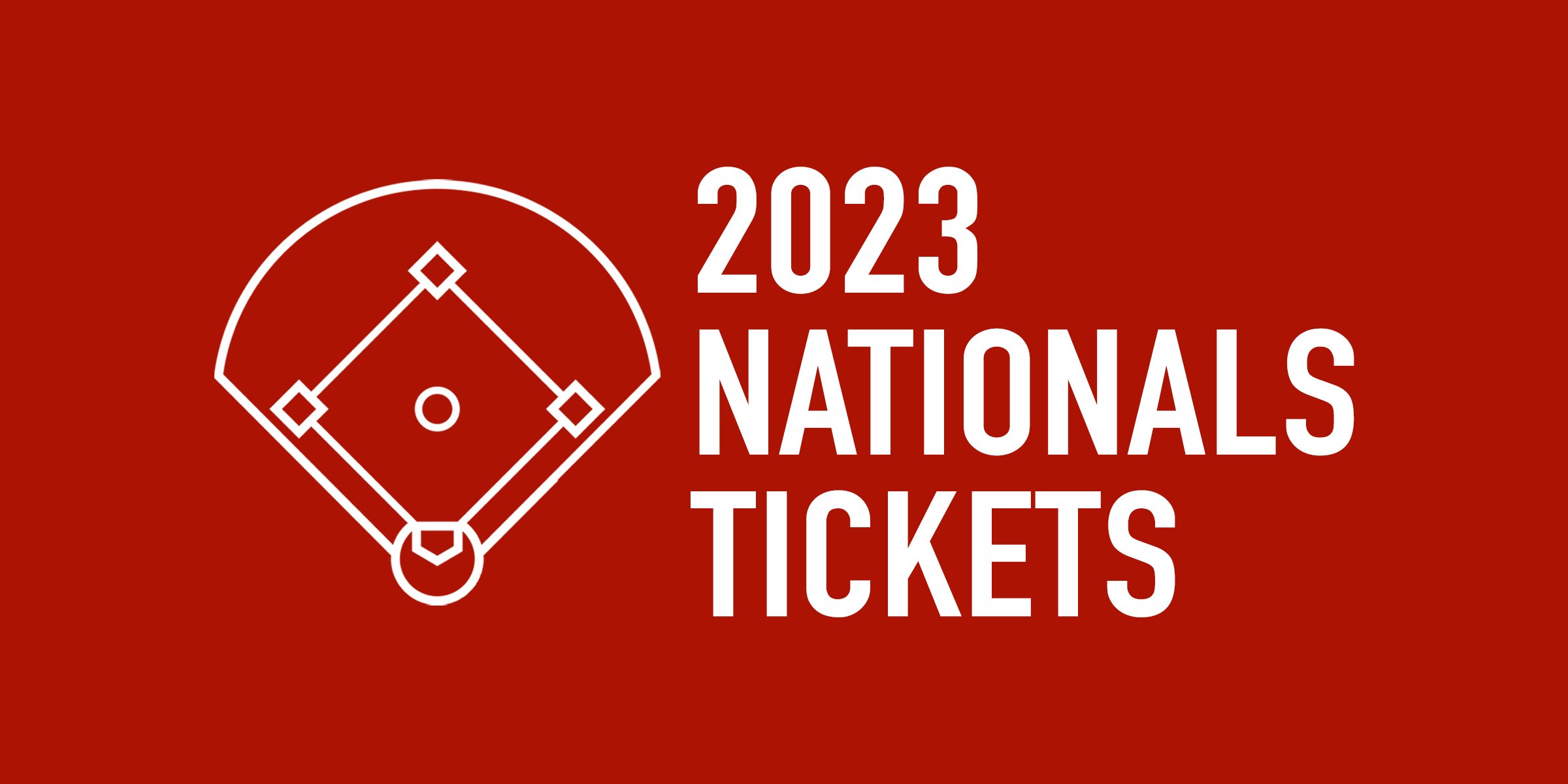 Just a few years removed from a World Series title, the Nationals hardly resemble the team that beat the Astros in a thrilling 7-game series.
Franchise hero Juan Soto was shipped to San Diego, and the team entered full rebuild mode. Ticket interest also left town as Nats tickets ranked in the bottom sox among MLB teams in ticket popularity in 2022.
The Nationals added more than a half-dozen veterans to their 2023 roster, but in a stacked N.L. East, it's not going to be enough. Fans buying Nationals tickets in 2023 will be keeping an eye on the development of young players, and shouldn't expect the team to rack up a lot of wins.
Where to Buy Nationals Tickets
Season Tickets
A full-season ticket plan can be purchased from the Nationals website, and comes with a discount of up to 20%.
Nats Plus Members (the name given to the season ticket program), also enjoy in-stadium discounts, invitations to private events and guaranteed bobbleheads.
Single-Game Tickets
Tickets for all Nationals games at Nats Park are available at mlb.com/nationals.
Tickets are also available for all 81 home games from RateYourSeats.com. Using the Nationals Park seating chart, you can compare tickets across multiple games and discover the best deals.
Group Tickets and Packages
If full-season tickets are too expensive, the Nationals offer plans to match just about any budget. These other plans range from 5 to 42 games and still enjoy some of the additional benefits that full-season members receive.
For groups larger than 20, discounts are available directly on mlb.com/nationals. By entering code 2023GROUP, you will enjoy group pricing for parties of 20-99 guests.
Nationals Park is also home to a number of dedicated hospitality spaces. Some of these spaces are pre-game party areas, while others are also open during the game. Some of the more popular spots are the Family Picnic Area and Swing Big Beer Pen.
How Much are Nationals Tickets?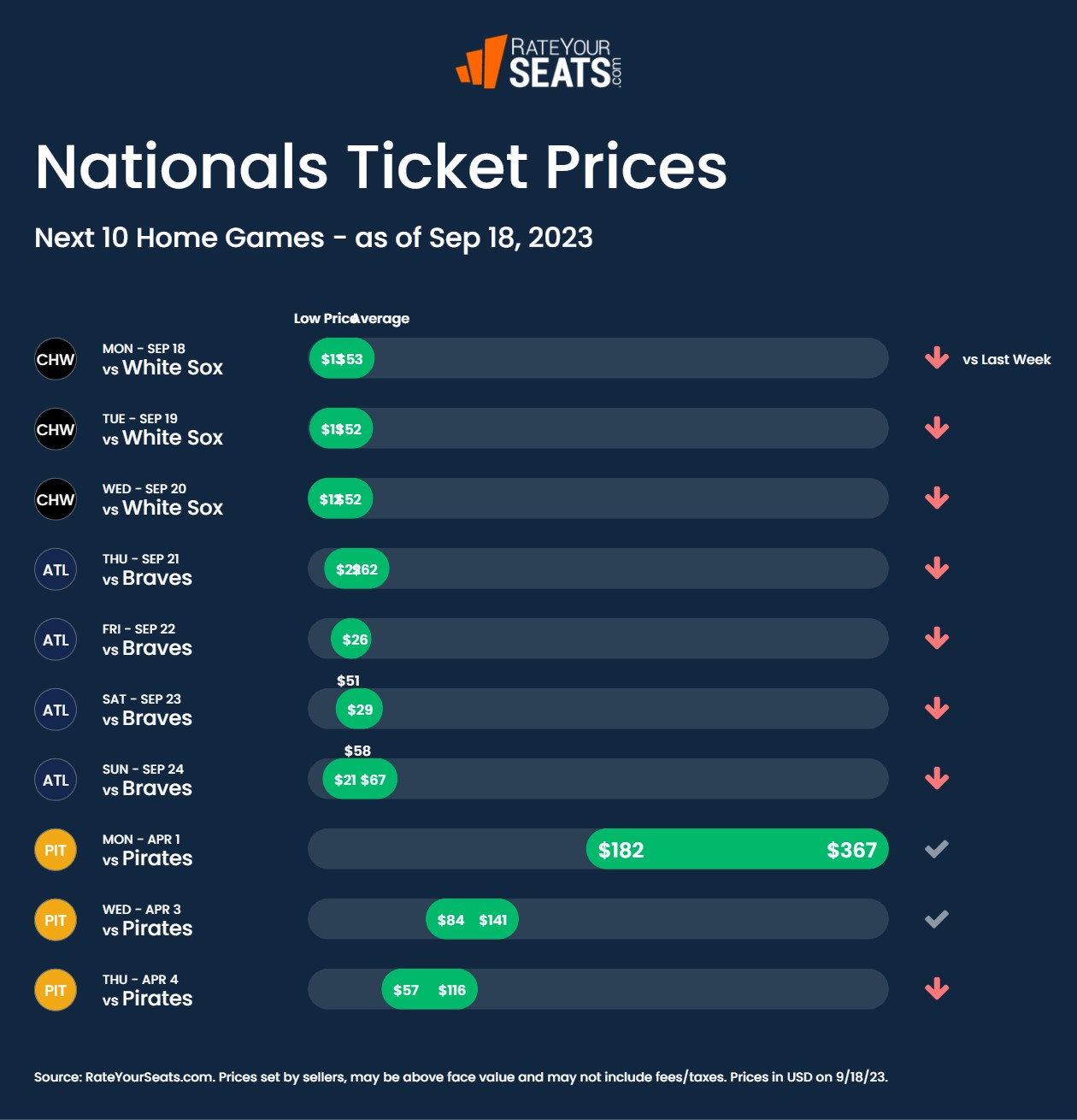 2023 Ticket Prices
The Nationals did not make any ticket price change announcements for this season.
Following a dreadful season, expect 2023 Nationals ticket prices to be relatively affordable. On the secondary market, Nats tickets were among the ten cheapest MLB tickets in 2022.
Cheap Nationals Tickets
The best way to get cheap Nationals tickets is to target games happening during the week. For instance, when looking at the two series against the Mets, the mid-week series in September is about 50% cheaper than the weekend series in May.
An even more affordable option during the week is afternoon games. There are eight games starting at 1:05 pm on Wednesdays and Thursdays, including contests with the Cubs and Cardinals.
Key Series in 2023
Owing to MLB's new schedule, the Nationals welcome eight American League teams to Washington D.C. Of those, only two (Rays, Guardians) made the playoffs last year.
The home schedule against the N.L. is more exciting as every team visits at least once.
Here are the hottest Nationals matchups and tickets for 2023:
Braves vs. Nationals - Mar 30 - Apr 2
The Nationals open up the 2023 season with dates against the Braves.
If the weather cooperates, expect decent crowds for this weekend series.
Padres vs. Nationals - May 23-25
Juan Soto returns to the nation's capital when the Padres visit Nationals Park.
Expect a warm ovation for Soto, and heavy interest in tickets near sections 116 and 117 behind the visitor dugout.
Mets vs. Nationals - Sep 5-6
Of the two Mets series this year, this one is the far more affordable option.
These games will give fans a good look at a team expected to be in contention, and maybe even a start by old pal Max Scherzer.
Best Ticket Options at Nationals Park
The lettered sections behind home plate (A-E) are the best ticket options for a Nationals game. They provide the best views and amenities than anywhere else in the park. Of course, these are also among the most expensive, with most tickets costing over $300 each.
Cheaper alternatives include the Diamond Club behind them or the Champions Club level. Tickets in these locations are also among the best.
The table below lists top ticket options with the lowest price for the rest of the season (as of Sep. 18, 2023) and a link to explore seats.
Cheaper Options
Many cheat tickets can be found near the outfield in the upper levels of Nationals Park. In right field, sections 222-236 are typically among the cheapest options due to their location in the corner.
If you want cheap tickets with a better view, we recommend tickets in the Gallery sections closer to the infield. These will still be less expensive but have better game views.
2023 Changes at Nationals Park
Nationals Park will look the same in 2023 as it did in 2022. There were no documented updates to the park this offseason.
Best 2023 Nationals Giveaways & Promos
Nationals have promotions planned for adults, kids, and everything in between for the 2023 season. Some top giveaway days include bobbleheads, beer steins, fedoras, and more.
Also, look out for Fireworks nights on Fridays throughout the season.