White Sox 2023 Tickets Guide
Updated 11/27/2023 / First Published 2/13/2023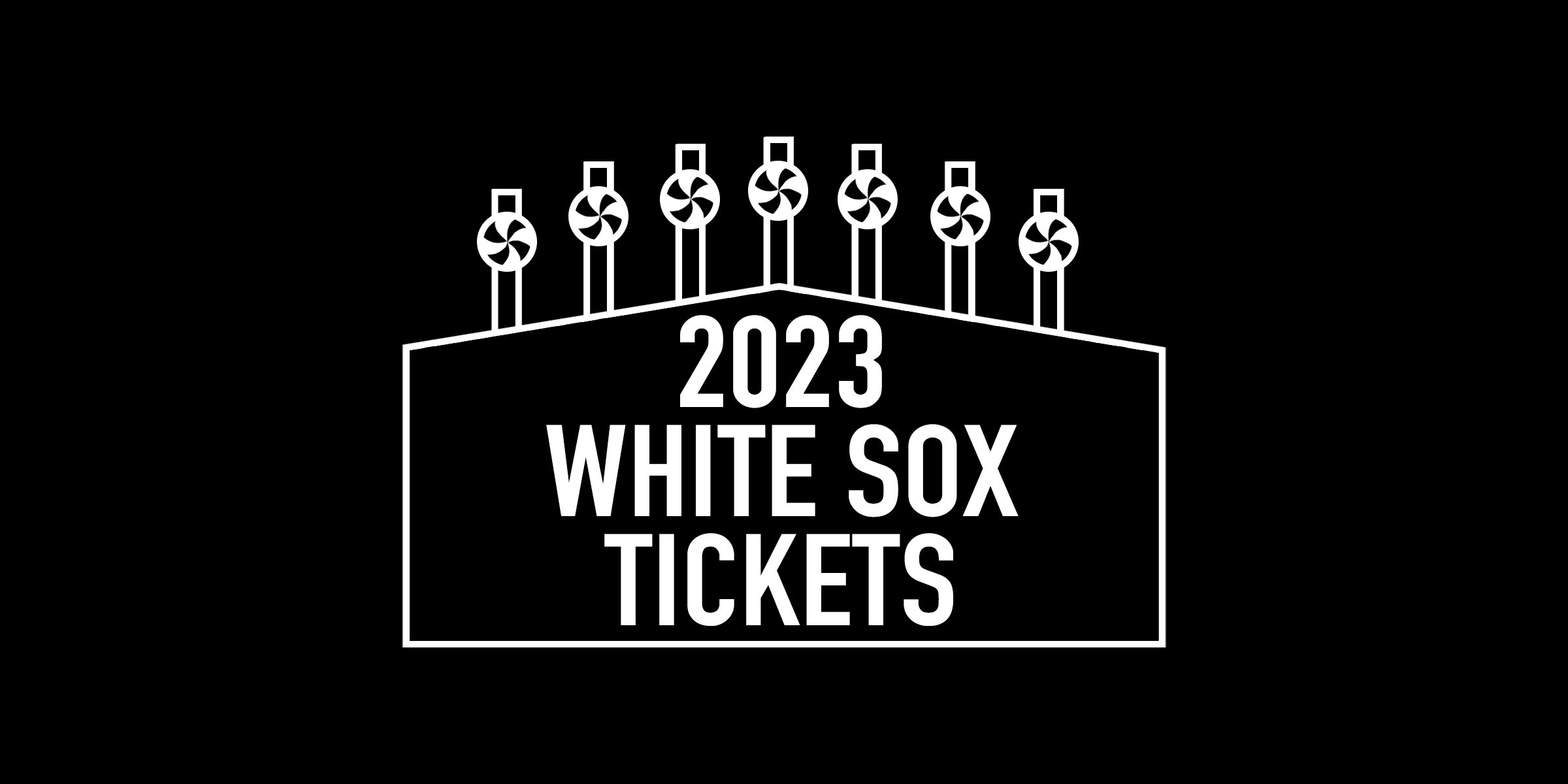 Heading into the 2022 season, White Sox fans were giddy about their chances of returning to the postseason. In the first two months of the season, White Sox tickets were the ninth most popular baseball ticket on RateYourSeats.com.
The White Sox were still in the playoff hunt in August, but their hopes were dashed in a matter of days in mid-September. Because of the disappointing season, interest in tickets peaked at the beginning of the year and faded as the season wore on.
The 2023 White Sox won't look that much different from the 2022 version - for better or worse. The team remains mostly unchanged (the loss of Jose Abreu will hurt), but interest from fans isn't nearly as feverish. As a result, tickets should be affordable and easy to come by until the team can prove itself as a true contender.
Where to Buy White Sox Tickets
Season Tickets
If you're interested in attending all 81 games at Guaranteed Rate Field, season tickets are available on whitesox.com. Most packages will guarantee you the same seat for each game and you'll get a discount on the average ticket price.
Single-Game Tickets
White Sox tickets through the box office will go on sale February 2, 2023 at 2pm. Tickets are also available for all games on RateYourSeats.com. We recommend searching tickets on the Guaranteed Rate Field seating chart where you can search multiple games at once.
Group Tickets and Packages
If you can't make the large commitment to season tickets, the White Sox also offer a number of multi-game packages. You can buy as many as 40 and as few as 10 games at a time. Like season tickets, these packages are also discounted. These packages allow you to choose from different themes like rivalry games against the Cubs or Twins, family days or fireworks nights.
White Sox tickets are also available for large groups. Different options include the Fan Box, Fan Deck, Suites and Patio Parties.
How Much are White Sox Tickets?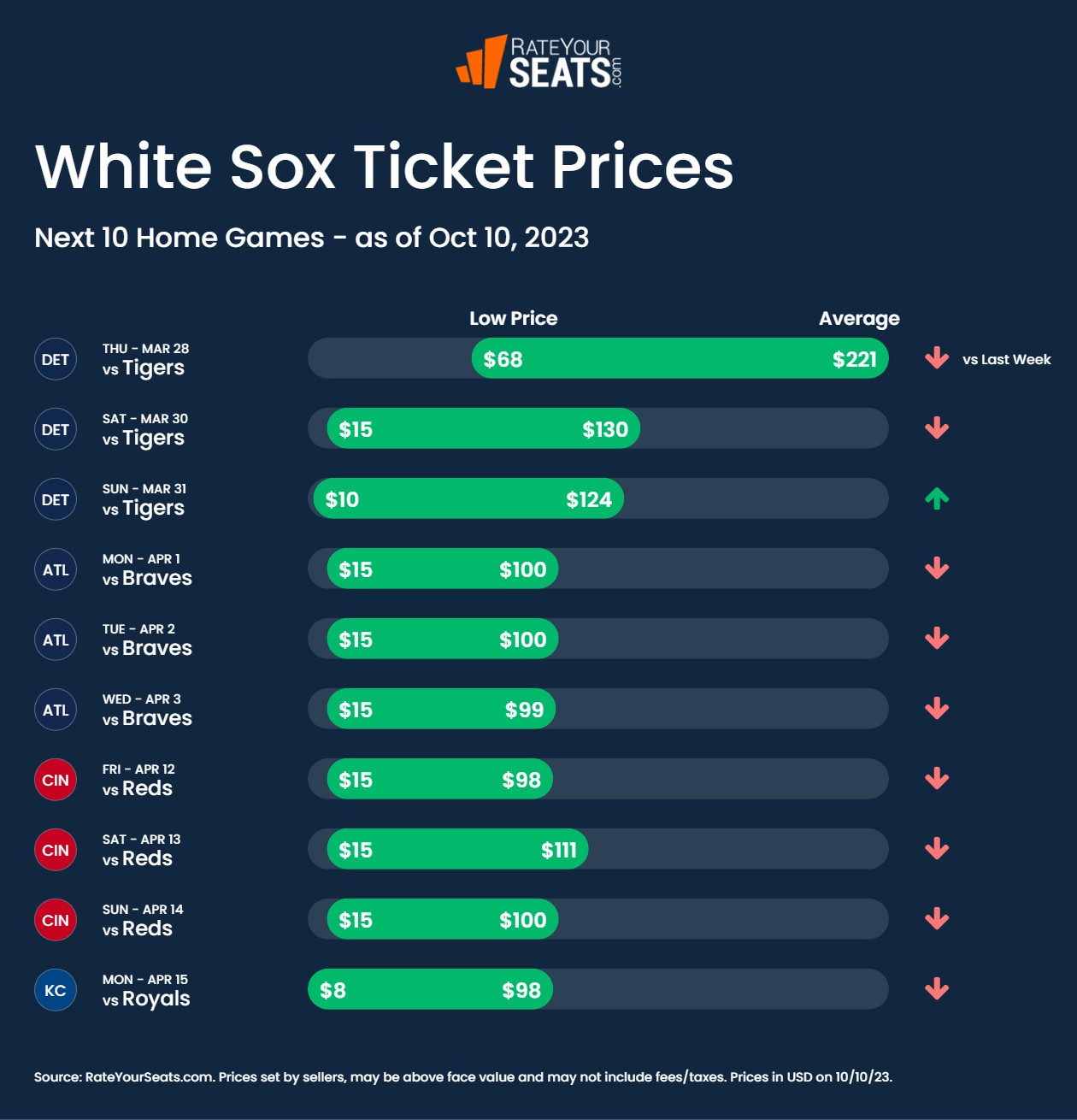 2023 Ticket Prices
The White Sox did not make any official announcements regarding 2023 ticket price changes. Never-the-less there are new pricing levels on the seating chart that suggest price increases for some seats. Some season ticketholders have also taken to social media to describe renewal price increases.
Because of the team's disappointing season, secondary ticket prices are expected to be more affordable than they were in 2022. But if the Sox get off to a hot start in April and May, ticket prices for summer games will likely increase.
Cheap White Sox Tickets
As of early 2023, the cheapest White Sox tickets can be found for games against the Twins, Rays and Guardians. These series are at the beginning of the season when the weather is cold and the kids are still in school.
Other less expensive options include weekday games - especially at 1pm.
Key Series in 2023
Major League Baseball made major scheduling changes for 2023. While White Sox fans are used to seeing plenty of the Tigers, Twins, Royals and Guardians, they'll have a more balanced schedule against all other 29 clubs.
In total, 22 different teams travel to the South Side. This gives Sox fans more opporunities to see National League superstars in Chicago and also allows out-of-town fans to see their favorite team in their adopted hometown.
Here are the hottest White Sox matchups and tickets for 2023:
Giants vs. Sox - April 3-6
The White Sox open up the season against the San Francisco Giants on April 3rd. Even with hit-or-miss weather, White Sox opening day tickets are always in high demand.
Astros vs. Sox - May 12-14
After spending nearly a decade sitting in the third-base dugout, Jose Abreu will return to Guaranteed Rate Field on the visitors side of the field. Tickets in sections 122-126 behind the Astros dugout will be popular. Expect a big ovation for Abreu - surrounded by a chorus of boos for Altuve, Bregman and the rest of the trash-can brothers.
Cardinals vs. Sox - July 7-9
One of the main perks of the new schedule is seeing geographically-close teams at home more than once-a-decade. This could inject some new rivalries into the game. Maybe the White Sox and Cardinals will be the next big rivals in the Midwest.
Cubs vs. Sox - July 25-26
One of the fiercest rivalries in sports gets renewed at the end of July in a two-game set. These games on are on a Tuesday and Wednesday, which should make them more family-friendly than a weekend game.
Best Ticket Options at Guaranteed Rate Field
The best tickets to a White Sox game can be found in the Scout Seats or Guaranteed Rate Club. These are all-inclusive spaces that offer incredible gameday experiences. Expect to pay $200 or more per ticket to sit in one of these areas. For bigger games and weekends, that figure can easily double.
The table below lists top ticket options with the lowest price for the rest of the season (as of Nov. 27, 2023) and a link to explore seats.
Cheaper Options
While club and all-inclusive tickets offer exclusive perks and an upscale experience, it's not uncommon to find White Sox tickets for $10 or less. We've even seen tickets in the Upper/500 Level for less than $5. While you're probably not seeing the Cubs or Yankees for that price, it's a great way to see a Major League Baseball game on the cheap.
On the Lower/100 Level, cheaper tickets are usually found in the corners and the outfield. We prefer the outfield for more direct views, a better atmosphere and proximity to the center field concourse.
2023 Changes at Guaranteed Rate Field
Fans who have been to a Sox game recently shouldn't expect a whole lot of surprises. The White Sox didn't make any major renovations to the ballpark for 2023.
Two new bars are being added to the 500 Level. These are un-ticketed general admission areas.
Best 2023 White Sox Giveaways & Promos
Even when the White Sox aren't playing well, promotional games usually draw a big crowd and can drive up ticket prices.
Fireworks nights are usually the first thing Sox fans think of when considering promotions. For 2023, Friday night games are fireworks nights. Get tickets as close to home plate as possible for your best view of the show.
Some of the best promotional games of the year include:
Houston Astros at Chicago White Sox

Eloy Jimenez Bobblehead

Tickets for this event are no longer available

St. Louis Cardinals at Chicago White Sox

Luis Robert Bobblehead

Tickets for this event are no longer available

Boston Red Sox at Chicago White Sox

White Sox Basketball Jersey

Tickets for this event are no longer available