Marlins 2023 Tickets Guide
Updated 3/20/2023 / First Published 2/21/2023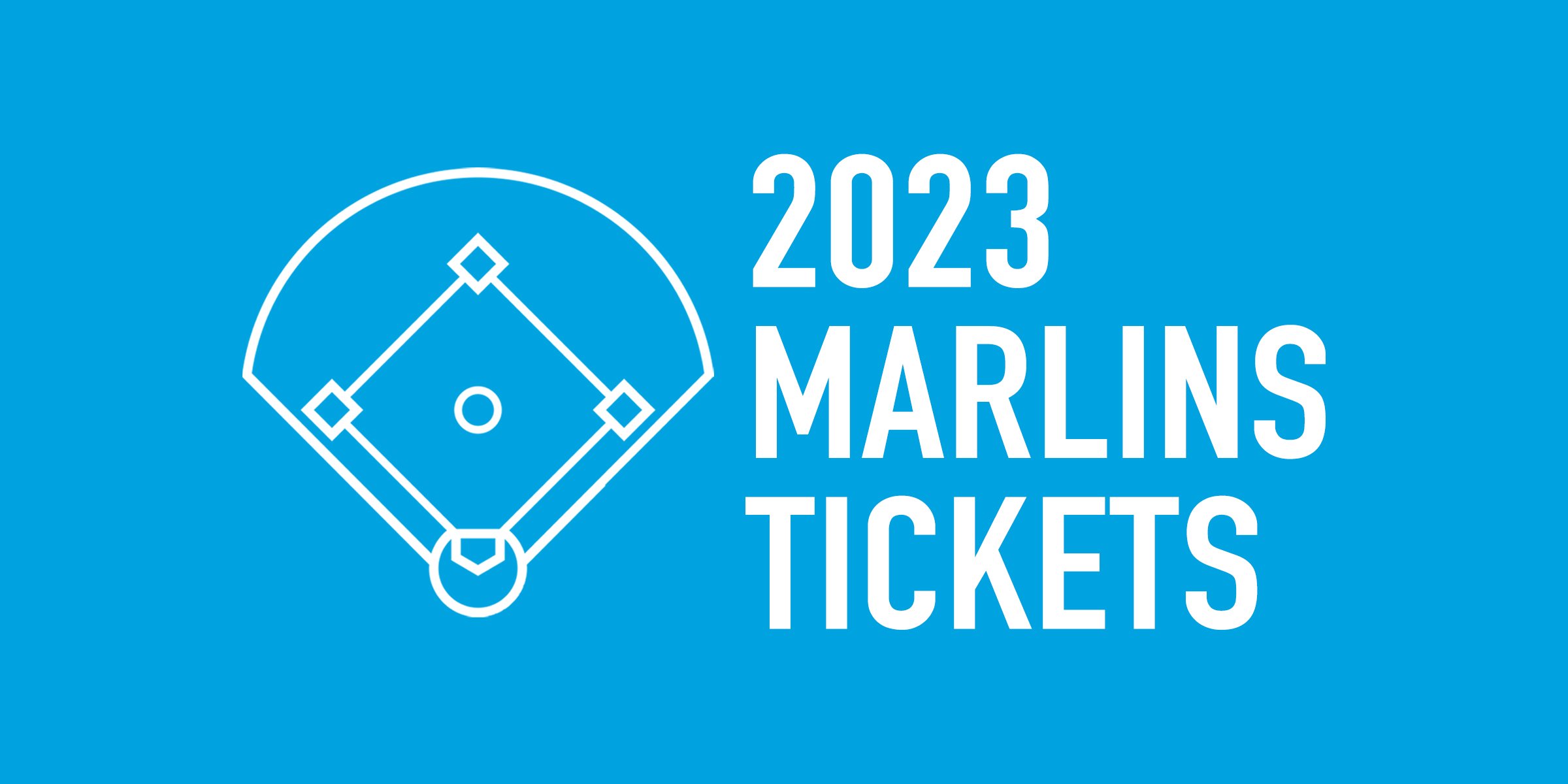 The Marlins were expected to be a nuisance in the N.L. East in 2022. Instead, they won fewer than 70 games and finished more than 30 games out of first place.
Albeit a minor victory, the Marlins did move out of the MLB attendance cellar last year. After years of having the worst attendance in the league, that title went to the Oakland A's in 2022.
Though the team wasn't overly successful, there are some bright spots heading into this season. Jazz Chisholm is the cover man of the league's most popular video game, and Sandy Alcantara is coming off a Cy Young season.
With an exciting roster and a home schedule that includes the Yankees and Astros, 2023 Marlins tickets may be in higher demand than in years past.
Where to Buy Marlins Tickets
Season Tickets
Season tickets for the Marlins 2023 season are on sale at mlb.com/marlins.
Membership packages include priority access for post-season tickets, World Baseball Classic tickets, special event opportunities and additional discounts.
Single-Game Tickets
Marlins single-game tickets are currently on sale through the box office.
Tickets are also available for all games at RateYourSeats.com. Explore the Marlins seating chart to search, compare and buy more than 60,000 ticket listings for every game this season.
Group Tickets and Packages
The Marlins offer a variety of ticket plans that don't require an 81-game commitment. This includes half-season plans, weekend plans, 20-game plans and even 10-game plans.
Each of these plans is part of the Marlins Membership programs and includes additional perks and discounts.
For group outings, there are a number of hospitality areas at loanDepot park. The most popular are the Alley Deck, Brew Hall and multiple upscale bars and lounges.
How Much are Marlins Tickets?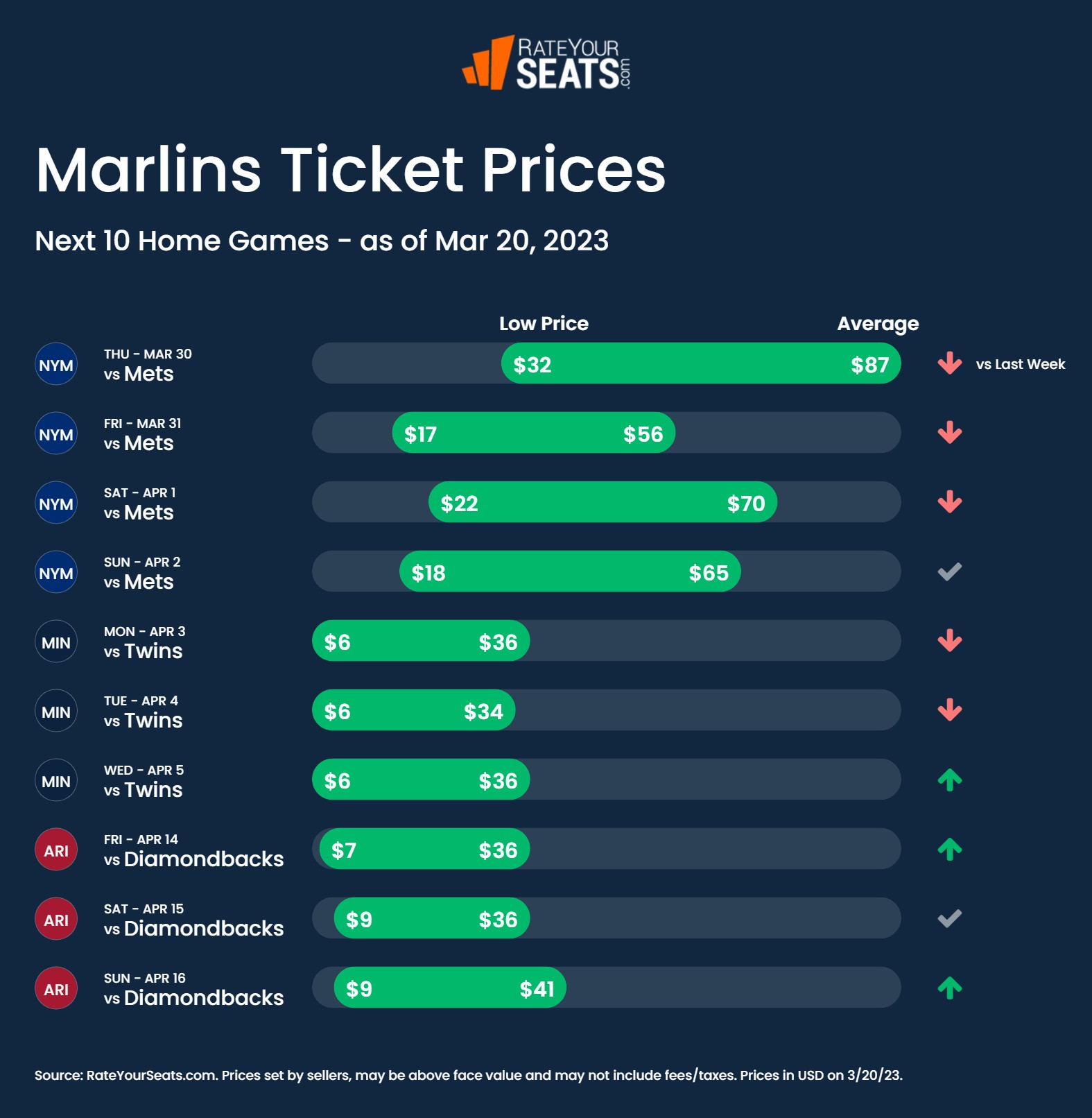 2023 Ticket Prices
The Marlins did not announce any ticket price increases for 2023. Expect the face value of tickets to be similar to last year.
Generally speaking, secondary ticket prices for Marlins have been relatively affordable of late. On RateYourSeats.com, the average get-in price for most games in 2022 was less than $20.
We expect Marlins ticket prices to remain affordable this year as the team finds it tough to contend in a difficult division.
Cheap Marlins Tickets
As of February, nearly every game on the 2023 schedule has a get-in price of less than $10. Even games against the Cubs, Astros and Dodgers can be entered for the same price as a couple of cups of coffee.
While it's not hard to find cheap Marlins tickets, the cheapest games are during the week at 12:10 or 1:10 pm. There are eight of these games on the schedule, and each is very affordable.
Key Series in 2023
The Marlins will get a slight break in 2023 as their schedule features fewer games against the powerful N.L. East.
Instead, they'll welcome more A.L. teams to loanDepot Park than in years past. This includes a mix of teams from each interleague division.
Here are the hottest Marlins matchups and tickets for 2023:
Mets vs. Marlins - Mar 30 - Apr 2
The Marlins open up their 2023 campaign with a 4-game series against the Mets.
While opening day should attract a lot of fans from south Florida, expect a large number of Mets fans at the weekend games.
Tigers vs. Marlins - July 28-30
By this point in the season, most expect the Tigers and Marlins to be buried in last place in their respective divisions. So why does this series hold so much intrigue?
Miguel Cabrera will make his final trip to the place where he spent the first five years of his Hall of Fame career. He helped the Marlins win a World Series 20 years ago, and will be retiring at the end of the 2023 season.
Yankees vs. Marlins - Aug 11-13
Marlins fans may want to leave the city for a few days during the series. The Marlins averaged just 11k fans per game last year, and there are sure to be at least that many Yankees fans in attendance for each of these games.
These are easily the most expensive games on the schedule at loanDepot park this season.
Best Ticket Options at loanDepot park
When looking for the best tickets to a Marlins game look no further than the PNC Club seats. This location is a small group of five sections between the Marlins and visitor dugouts where fans are treated to close views of the game, all-inclusive amenities, and club access.
Additional great ticket options are found on the Legends Level in sections 209-221.
The table below lists top ticket options with the lowest price for the rest of the season (as of Mar. 20, 2023) and a link to explore seats.
Cheaper Options
When looking for cheap tickets to a Marlins game the best place to look is in the Home Run Porch sections. These seats are in sections 134-141 and are located in deep right field. The combination of an outfield view and distance from the field leads to low prices.
2023 Changes at loanDepot park
There are no updates at loanDepot park for the 2023 season.
Best 2023 Marlins Giveaways & Promos
The Marlins are celebrating their 30th anniversary throughout 2023. To celebrate they have several cool promotional giveaways scattered throughout the schedule. Some of the highlights include replica championship rings, short sleeve hoodies, bobbleheads, and more!
Note: The total number of fans receiving giveaways changes by item.
Some of the best promotional games of the year include: