Features & Amenities
The Outfield Bleachers at Busch stadium run from right field to left center and are good options for fans that dream of catching a home run ball (stay closer to the corners for the best chance). These seats will also be nearest to the bullpens, with the Cardinals bullpen located just beneath sections 107-109 in right field, and the visitor bullpen located beneath sections 189-191 in left field.
The outfield bleachers are not recommended for fans that need to be in the shade as they offer some to the least shade in the entire stadium. These seats are bench style bleachers, but do offer a back support to allow fans to sit back rather than lean forward the entire game.
Prior to the 2015 season, the numbers for these sections were in the 500s (e.g.: 591 instead of 191) but have now been re-numbered to be in the 100s.
Note: These seats are highlighted on the map
Interactive Seating Chart
Bleachers Seating Chart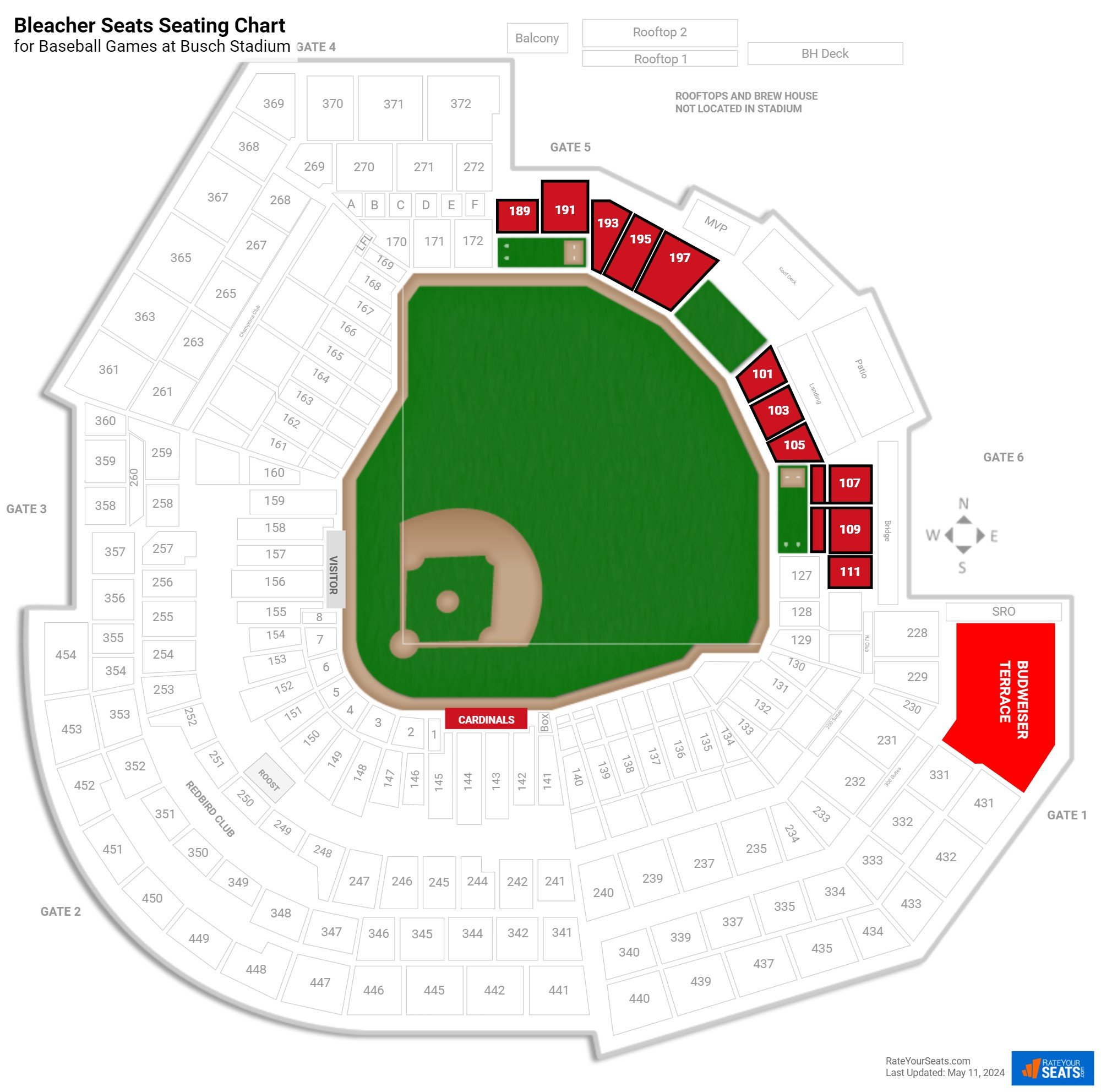 Bleachers Reviews
Ratings & Reviews From Similar Seats

"Great view of the field and visitors bullpen!!"

(Section 193) - -

Loved the outfield view and we were right next to the visitors bullpen (Cubs). The concession stands were within a small walking distance and the bathrooms were in a convenient area also. Wish they had cup holders in this section but that didn't bother us! Would highly reccomend sitting in sec. 193 ...

"First row in the outfield! Up close to the field!!"

(Section 195) - -

Good outfield seats! Good view also. Would reccomend bringing a seat cushion as the outfield seats are bleachers. Only thing was no cup holders but other than that good seats!

"Great"

(Section 105) -
More Seating at Busch Stadium