Cardinals All-Inclusive Tickets at Busch Stadium
Features & Amenities
For Cardinals games, there are several all-inclusive areas located within Busch Stadium.
All-inclusive areas provide fans with complimentary food, beer, and soft drinks. Food options are typically buffet-style and commonly include ballpark fare and local favorites.
Service begins when gates open 90 minutes before game time during the week and 2 hours for a weekend series.
Coca-Cola Areas

The Roof Deck, Scoreboard Patio, and Powerade Bridge are located throughout the outfield and make up the Coca-Cola Areas. Tickets in these locations are reserved and seated along a railing overlooking the outfield.
Freese's Landing

Freese's Landing (formerly Homer's Landing) was renamed in 2022. Seats here are located just steps away from where Cardinals' legend David Freese hit his historic walk-off home run in 2011.
MVP Deck

The MVP Deck has two rows of covered, open-air seating in left-center field. Fans will love the elevated view and all the food and drink that come with a ticket.
Red Jacket Club

Ticket prices for most all-inclusive areas at Busch Stadium are comparable, but the Red Jacket Club is an exception. The club is climate-controlled and offers premium food selections which include mixed drinks, wine, and premium beer options.
Left Field Landing

One of the only field-level all-inclusive areas at Busch Stadium is Left Field Landing. Seating is outdoor and located near the left field corner behind section 169.
More Standard Stadium Clubs

Please note: Due to health and safety protocols in 2023, food availability, club access, wait service and other amenities are subject to change without notice.
Note: These seats are highlighted on the map
Interactive Seating Chart
Cardinals All-Inclusive Tickets Photos
Cardinals All-Inclusive Tickets Seating Chart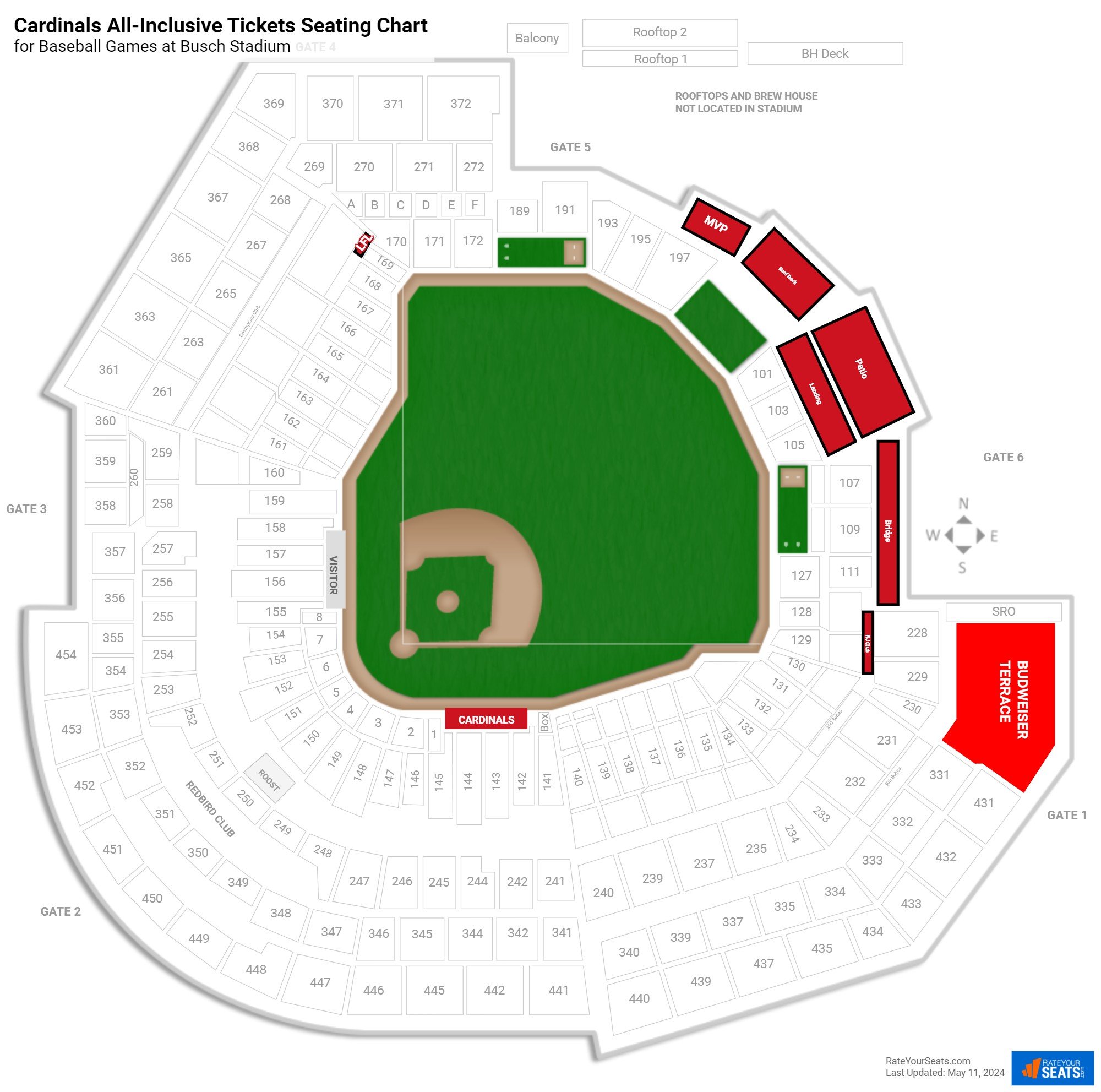 Cardinals All-Inclusive Tickets Reviews
Ratings & Reviews From Similar Seats

"Great all-inclusive seats"

(Freese's Landing) - -

Homers landing is a nice place to see a game if you dont want to worry about spending money on food and beer - its all included in the price. I paid $90 for my ticket, which may seem high, but its the lowest priced 'all inclusive' area. I certainly ate and drank my ticket price. The seats are on ...

"Fantastic All-Inclusive Amenities!"

(Coca Cola Scoreboard Patio) - -

If you like all-in tickets with food and beer included and close, semi-private restrooms, these are great! The view, as expected is not the best, but you can see the whole field. It's just that home plate is about 500 feet away. For a 7:00 game in early May, these were bright and sunny for abo...

"Best seats I've ever had "

(Freese's Landing) - -

We had the best seats. No one sitting or standing in front of us. Food was aailable right behind us. Restrooms were right outside the entrance to our section. We could see everything going on on the field. The only thing about the seats were that they were metal and they were a little too tall ...
Cardinals All-Inclusive Tickets Sections
More Seating at Busch Stadium
Cardinals Ticket Information

The 2023 Cardinals tickets guide includes the season schedule, ticket price information and the best options for buying tickets.