Cardinals Club (Green Seats) at Busch Stadium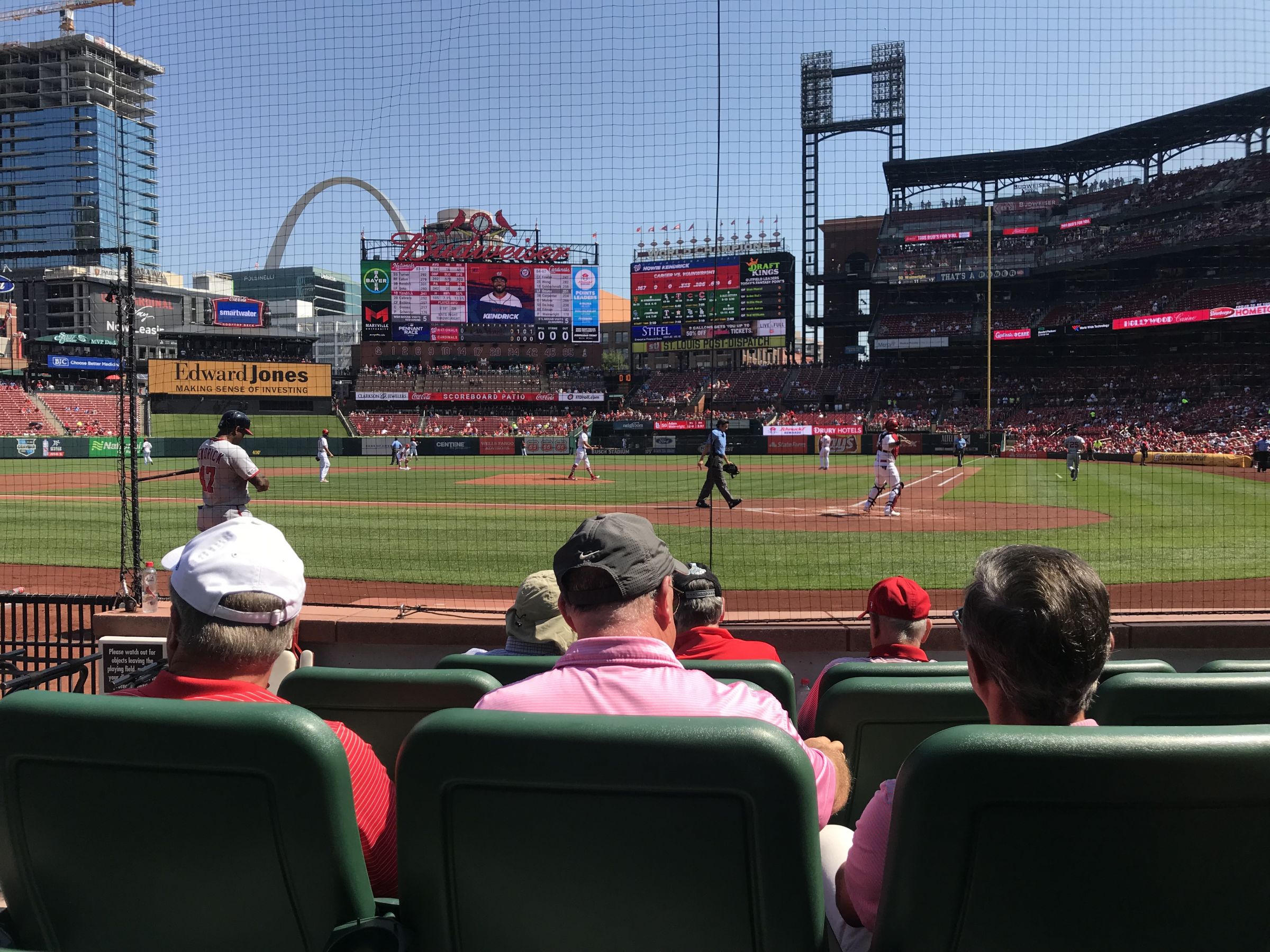 Features & Amenities
Ask any Cardinals fan what the best seats are at Busch Stadium and they'll instantly respond by arguing for the Green Seats behind home plate. Also known as the Cardinals Club, these seats combine breathtaking views of the field with their all-inclusive amenities.
Green Seat Experience

Ticketholders will be treated to a pregame buffet and full-service bar. Fans will also enjoy access to the private, climate-controlled Cardinal Club lounge that opens two hours before the game. The buffet will end thirty minutes after the start of the game.
At the seats, in-seat service will run through the end of the 7th inning to allow fans to stay in their seats with the perfect view of the game.
Outside of the amenities this is about as close as you can get to the batter's box without being on the field. Sitting in the Cardinals Club will give you an unrivaled view of pitches coming in and the speed of the game.
Please note: Due to health and safety protocols in 2022, food availability, club access, wait service and other amenities are subject to change without notice.
Note: These seats are highlighted on the map
Interactive Seating Chart
Cardinals Club (Green Seats) Photos
Cardinals Club (Green Seats) Seating Charts
Cardinals Club (Green Seats) Reviews
Ratings & Reviews From Similar Seats

"It doesn't get better than this!"

(Cardinals Club 7) - -

I got these seats as a birthday present. As a fan of the visiting team, I was very impressed. The visiting team on-deck circle is right in front of these seats, you get to see all the players up close. The game has a much more intimate feel from this distance. Padded seats with cup holders. Not a to...

"First Time in the Green Seats"

(Cardinals Club 6) - -

I've sat pretty much everywhere else for a Cardinals game, but this was my first time in the Green Seats behind home plate. Arrived about an hour before first pitch. We used the center field gate and it took a while to find the Cardinals Club entrance (go to home plate and look for stairs going u...

"Amazing!!!!!!!!"

(Cardinals Club 2) - -

Green seats are expensive (I find mine on stub hub) but they are the way to go!!!! Section 2 has an amazing view of the field plus you are so close to the players while they are on deck. Wait staff bring you food and beverages every inning plus there is a full buffet prior to the game. There is a fu...
Cardinals Club (Green Seats) Sections
More Seating at Busch Stadium