Finding Shade in the Early Afternoon
Busch Stadium is well known as one of the hottest stadiums in Major League Baseball. Especially during July and August temperatures can rise above 100 degrees for afternoon games. The Cardinals have a number of 12:45 and 1:15 games where finding shade is an important ingredient for a fun day at the park.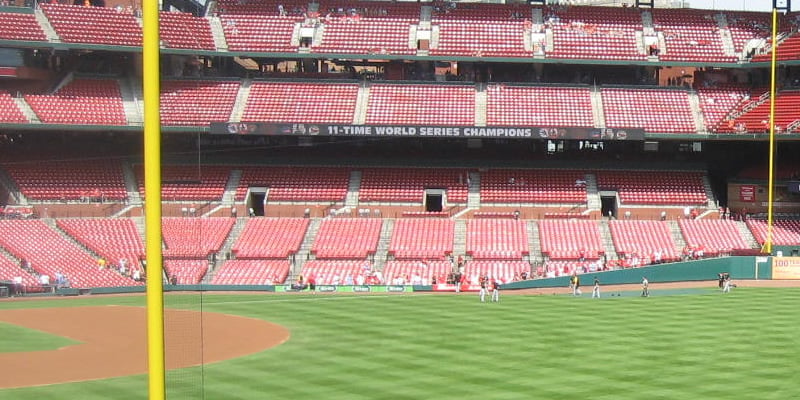 When the sun is straight overhead, it will be important to choose seats that are under the roof or one of the generous overhangs. The back portions of sections 128-140 and 160-167 are designed with shade in mind and will keep you cool - even on the warmest days. Fans will also find relief in the back half of Infield Club sections 240-260, left field porch seats and the top rows of the upper deck under the stadium roof.
Best Seats in the Shade
Fans looking for shaded seats that are also great seats have two primary options. The first is to choose seats in the highest rows of lower infield sections 148-153 behind home plate. There aren't many seats in the shade here, but the few that are will have a great view of the field and instant access to the concourse. Another option is to sit in Redbird Club seats in the 200 level. About half of these seats will be covered for an early afternoon game and all ticketholders will have access to the indoor (and air-conditioned) club lounge.
Avoid Sitting in Rows Close to the Field
The biggest mistake fans make when buying tickets on a hot day is jumping at the opportunity to sit in one of the rows closest to the field. If you can handle the sun and the heat, you might end up with a pretty good deal. But just keep in mind that the seats in the lower bowl won't see any shade until at least late afternoon, by which time you may have already burnt to a crisp.