Busch Stadium Infield Pavilion
Features & Amenities
The Pavilion Level shares the upper deck of Busch Stadium with the Terrace level, however Pavilion seating is located closer to the field. These seats provide a better view than the Terrace, but the Pavilion seats are some of the most exposed to sun during day games, making these sections a difficult choice on steamy St. Louis summer days.
The Pavilion Infield location runs from section 341 on the first base side to section 360 on the third base side, and most sections feature 12 rows of seating.
Note: These seats are highlighted on the map
Interactive Seating Chart
Infield Pavilion Seating Chart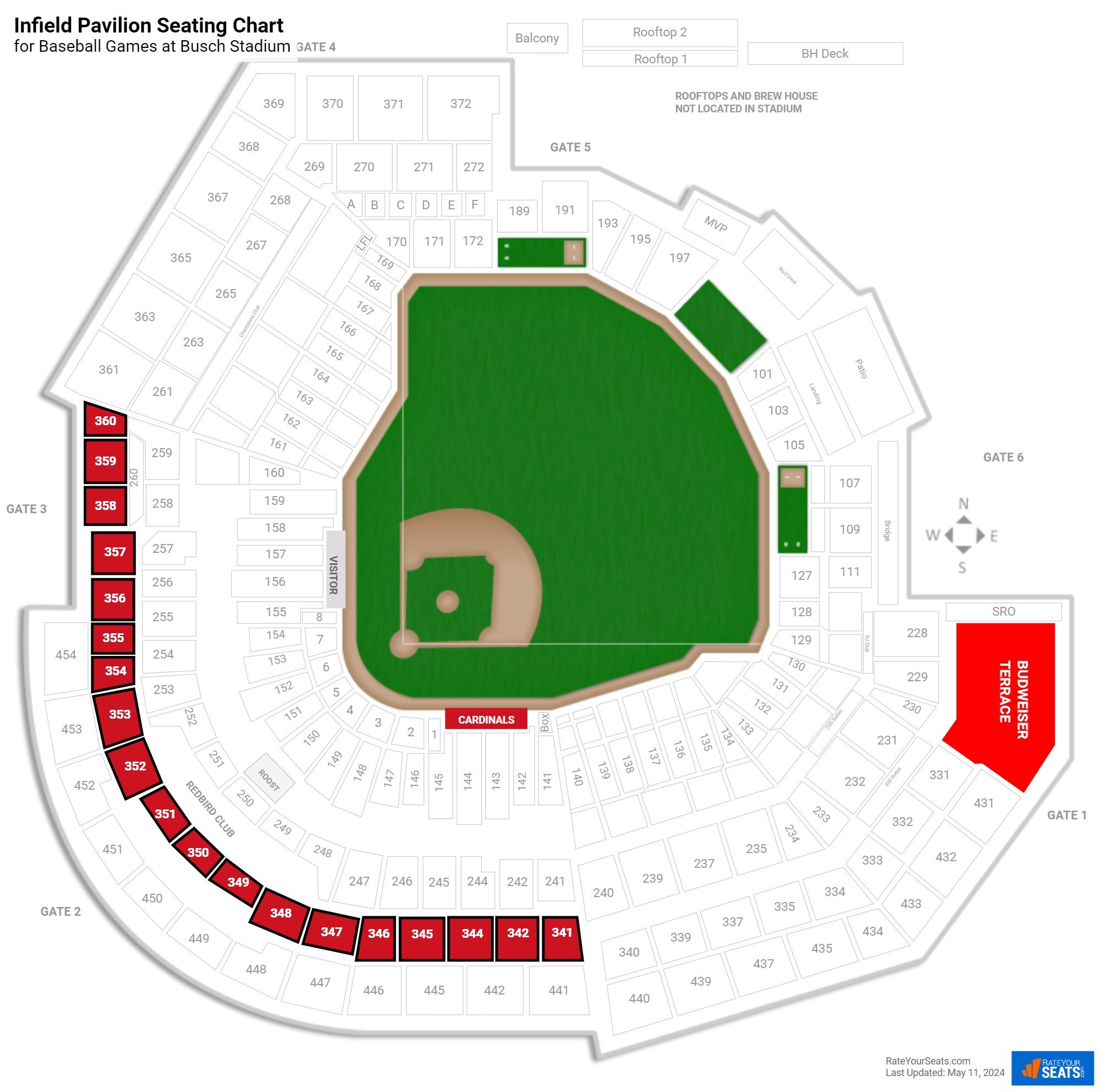 Infield Pavilion Reviews
Ratings & Reviews From Similar Seats

"Steps Away From Restrooms and Concessions"

(Section 345) - -

You would be hard-pressed to find a seat closer to restrooms and concessions. Row 9 is the last row and seat 1 is on the aisle closest to home plate. Very good view of home plate, though a glass partition might slightly obstruct home plate views for smaller fans. Very good view of the arch, down...

"Great seats, close to bathrooms and food"

(Section 349) - -

These were great seats! We were able to see everything that was going on in the game. Including the scoreboard and the jumbotron. It was just steps away from the bathrooms and most food vendors.

"Maybe the Best Ticket Deal at Busch Stadium"

(Section 345) - -

There are a lot of positives about these seats. 300 level sections around the infield only have ten or so rows with ten or so seats per row. This makes getting in and out of your seats a breeze. Row 1 is at the bottom of the stairs and uncovered. So if you are looking for covered seats and no stairs...
Infield Pavilion Sections
More Seating at Busch Stadium