The W Club at Wrigley Field
Features & Amenities
The W Club opened at Wrigley in 2019 and is the ultimate club for the ultimate Cub fan. Fans seated in the first 12 rows of sections 3-5 down the left field line will have access to this premium club space at Wrigley Field.
Those with W Club tickets should be sure to arrive hungry! The club is all-inclusive with a fully loaded buffet that includes options for everyone. Beer and wine are included with admission while liquor will have to be purchased separately.
The seats are ideal for good lower level views to the game and the climate-controlled club lounge is great to escape the cold during the early season or heat during the summer.
W Club Access
Fans with tickets access the club with a short walk from the seats down a tunnel to the club entrance. Once in the club space, fans will find what W Club tickets are all about.
One unique aspect that fans love is the view into the Cubs' batting tunnel for fans watch the Cubs as they warm up prior to or even during the game.
Big Cubs fans will also be awed by the unique memorabilia which cannot be found anywhere else. If you need, there are also plenty of big screens to follow the game while inside.
In addition to the all-inclusive buffet there will be a variety of grab-and-go options to take to your seats.
Like other clubs at Wrigley Field, The W Club is open two hours prior to the start of the game and one hour after the last pitch is thrown.
Amenities available for Array and Array and Array and Array and Array and Array and Cubs home games. For other events, some amenities may not be available or offered.
Please note: Due to health and safety protocols in 2023, food availability, club access, wait service and other amenities are subject to change without notice.
Note: These seats are highlighted on the map
Map Highlighting

Select rows in section are part of this seating zone
Interactive Seating Chart
The W Club Seating Chart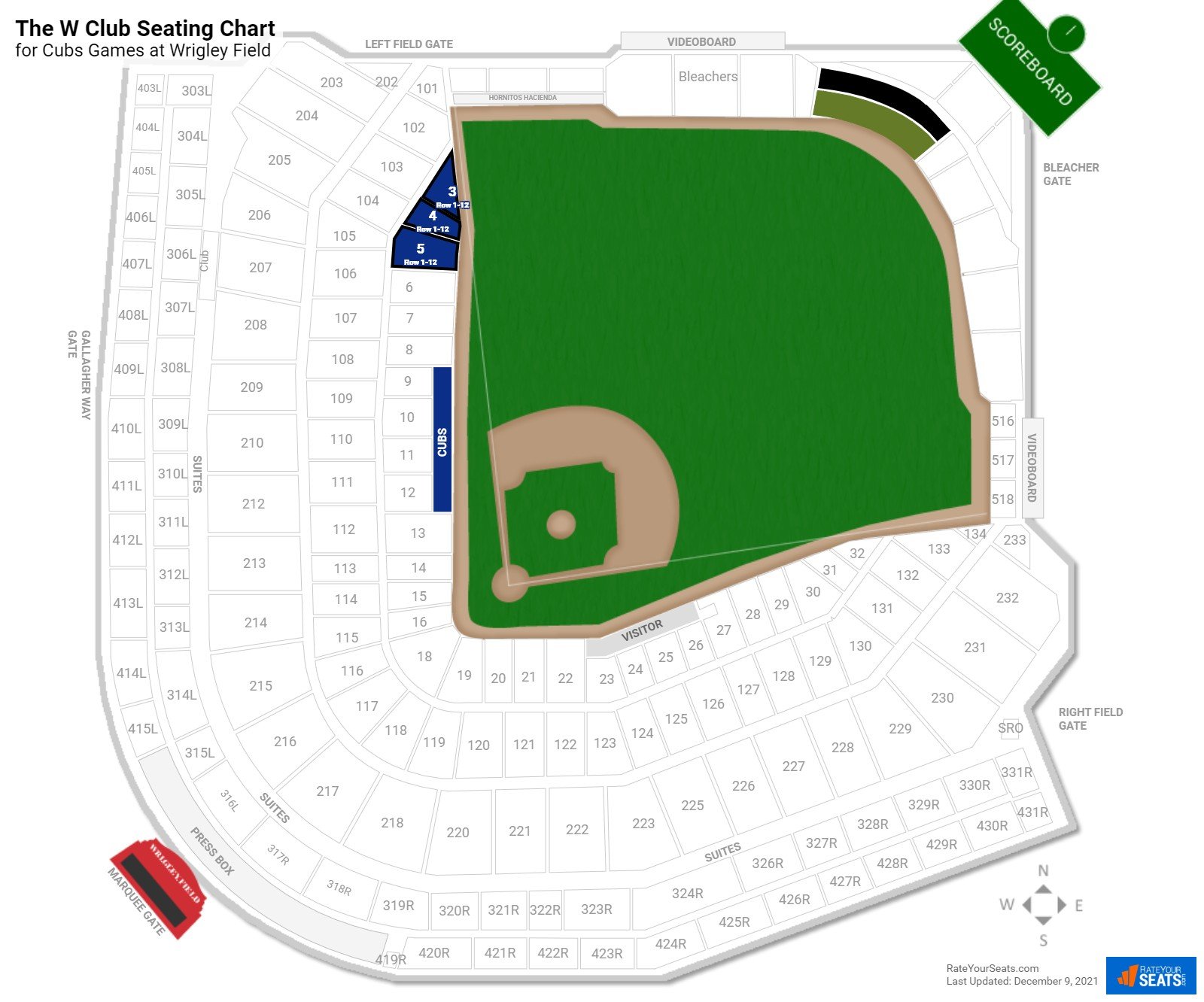 The W Club Reviews
Ratings & Reviews From Similar Seats

"Good"

(Section 5) -

"Easy in and Out! "

(Section 3) - -

Good seats! Convenient, and roomy. Lots of leg room, and no obstructions. Could interact with players and lots of balls thrown our direction between innings.
More Seating at Wrigley Field
Cubs Ticket Information

The 2023 Cubs tickets guide includes the season schedule, ticket price information and the best options for buying tickets.