Maker's Mark Barrel Room at Wrigley Field
Features & Amenities
The Maker's Mark Barrel Room at Wrigley Field is a club located underneath the seats on the first base side. Fans with tickets in rows 1-7 of sections 27-29 will have access into this old-school speakeasy-like club lounge.
Tickets in the Maker's Mark Barrel Room seats are all-inclusive for Cubs games including food, beer, wine, and spirits.

Experience in the Seats

Views to the game will be from just behind first base in short right field providing an exciting atmosphere close to the action. Seats will be well-padded giving fans a more comfortable experience as well.
Sections are also located right off the visiting teams dugout which make sitting here a great spot to see visiting players come on and off the field.
Inside the Barrel Room

The club lounge is located down a tunnel near the seats. Once inside fans can get a glimpse into the visiting team's batting tunnel.
If you're looking for a good cocktail at Wrigley Field this is the best place to find it with its mixologist-crafted cocktail menu. For food, you will find chef-driven menus that come both tableside and at carving stations. Spirit options are plentiful as well as high-end wines and beers.
While you may never want to leave the club, there are grab-and-go food and drink options to take to your seats just outside along with dedicated vendors serving free beer and water to these seats.
If you have tickets here, the Maker's Mark Barrel Room opens two hours before the game and closes an hour after. For games that start at 6:40pm, fans can access 90 minutes before.
Amenities available for Array and Array and Array and Array and Array and Array and Cubs home games. For other events, some amenities may not be available or offered.
Please note: Due to health and safety protocols in 2023, food availability, club access, wait service and other amenities are subject to change without notice.
Note: These seats are highlighted on the map
Map Highlighting

Select rows in section are part of this seating zone
Interactive Seating Chart
Maker's Mark Barrel Room Seating Chart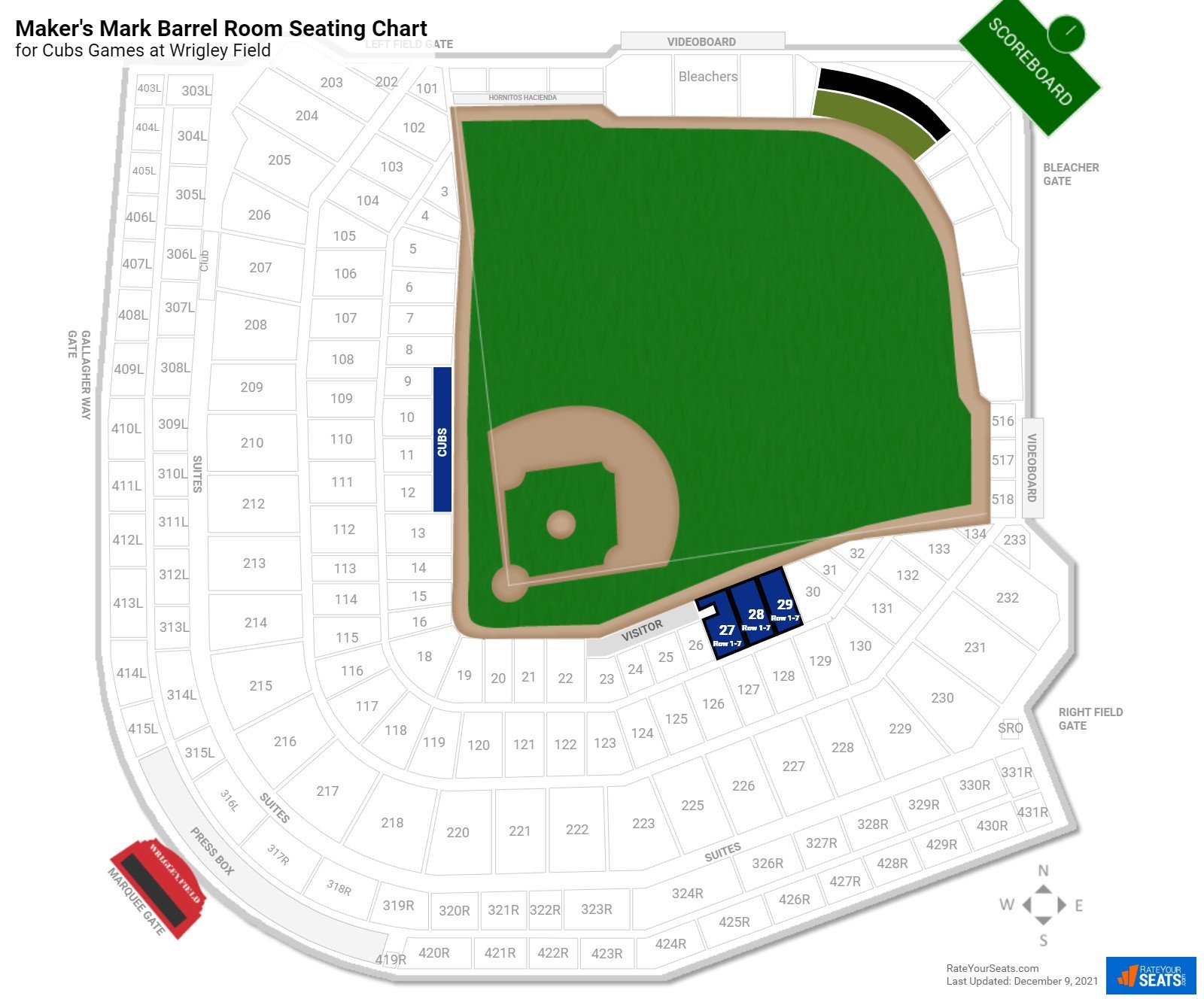 Maker's Mark Barrel Room Sections
More Seating at Wrigley Field
Cubs Ticket Information

The 2023 Cubs tickets guide includes the season schedule, ticket price information and the best options for buying tickets.