Features & Amenities
The Bleachers at Wrigley Field are one of the most iconic tickets in all of sports. Located behind the ivy-covered outfield wall, bleacher seats offer the best chance at catching a home run ball (and throwing it back if its from the away team).
Of course the Bleachers gets its name from the bench-style seating with no back. For regular season games the entire area is general admission meaning fans are able to sit anywhere in the outfield. Front row seats near the baskets and aisle seats are typically among the most popular options for those who arrive early.
Things to Know When Sitting in the Bleachers

During day games, fans are exposed to the sun all day and should come prepared. For night games, those seated in right field will be looking into the sun until it sets.
There is only one location of restrooms for the entire bleachers section located down the ramps in center field. This can lead to long lines at times, but if timed right a trip can be made quickly.
There are several options for concessions in both the upper and lower concourses. Concessions located underneath the center field scoreboard offer some of the most unique food options at Wrigley. You will find long lines at stands located on the same level as the seats. However, take a trip down to the lower concourse near the restroom and you will find less of a wait.
While in the past this was a location that would be discouraged for families due to its party reputation (Bleacher Bums), Wrigley has made strides in becoming more friendly out in the outfield. Some fans will still seek out these seats for that reputation however.
Are Bleacher Seats at Wrigley Field Assigned?

No, for regular season games bleacher seating at Wrigley Field is general admission. Be sure to show up early to claim the best spots. Spots in the front row and along the aisles will be taken quickly. Left field will typically fill up faster as well since is is out of the direct sun for the start of night games.
For post-season games seating becomes reserved. The bleachers on the seating chart will convert to 500 numbered sections and tickets will be given a section, row and seat number.
Note: These seats are highlighted on the map
Interactive Seating Chart
Bleachers Seating Chart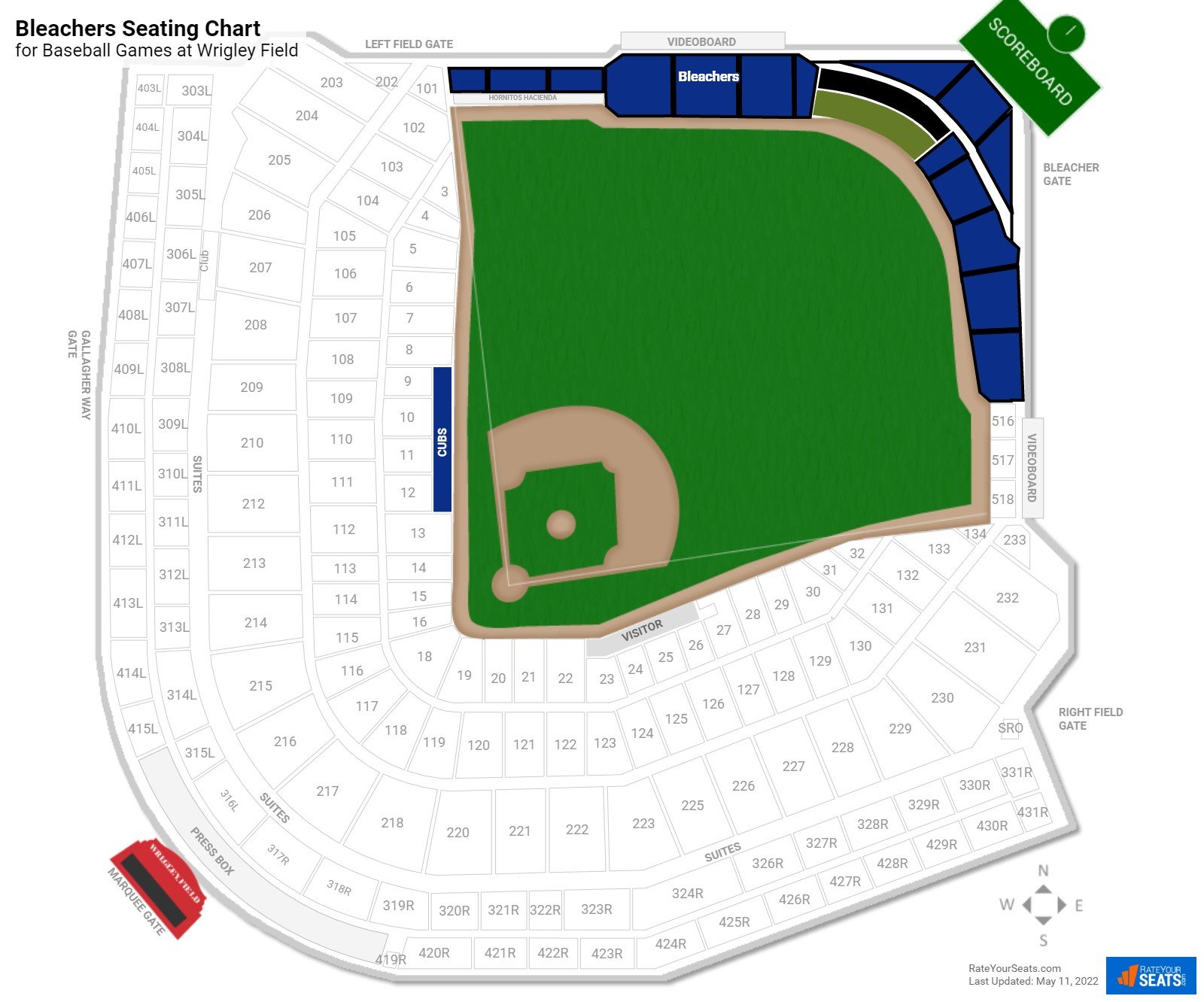 Bleachers Reviews
Perfect views, perfect area in the bleachers to take in a game.
Baseball Review
Bleachers
More Seating at Wrigley Field
Cubs Ticket Information

The 2023 Cubs tickets guide includes the season schedule, ticket price information and the best options for buying tickets.