Standing Room Only Tickets at Citi Field
Standing Room Only Seat Views
Features & Amenities
The cheapest way to attend a Mets game at Citi Field is to purchase Standing Room Only tickets. Typically, SRO tickets are only made available for the most sought-after games, including the home opener, series against the Yankees and playoff games.
Purchasing an SRO ticket will get you into the stadium but you won't have a reserved seat or even a reserved place to stand. Instead, you'll be able to choose a spot among the many different standing room spaces.
Most standing room spaces are at the back of sections all around the ballpark on nearly every level. To be closest to the action, stand at the back of one of the 100 level sections down each foul line. From there you'll be about 40 rows from the field and close to concessions and restrooms. One drawback is that the overhang limits the view - especially when following popups or flyballs.
For a clearer view of the field, consider the walkway between the 400 level and 500 level in left field. You'll be pretty far from home plate, but you'll be able to see most of the field and won't have to deal with the overhang of the lower level. A similar option exists in the Coca-Cola Corner in right field. Behind sections 301-305 you'll find some of the most sought-after standing spaces. In fact, many fans crowd around this area even if they have a reserved seat. With a large deck for socializing, nearby concessions and even a little overhead cover, the porch has become a favorite target among fans looking for an inexpensive day at the game.
Other considerations include the bridge in right field or lower level sections in the corner where the overhang isn't an obstruction. Overall, the diversity of standing room at Citi Field makes SRO tickets a good bet among fans looking to save money and who don't mind not having a seat.
Note: These seats are highlighted on the map
Interactive Seating Chart
Standing Room Only Photos
Standing Room Only Seating Chart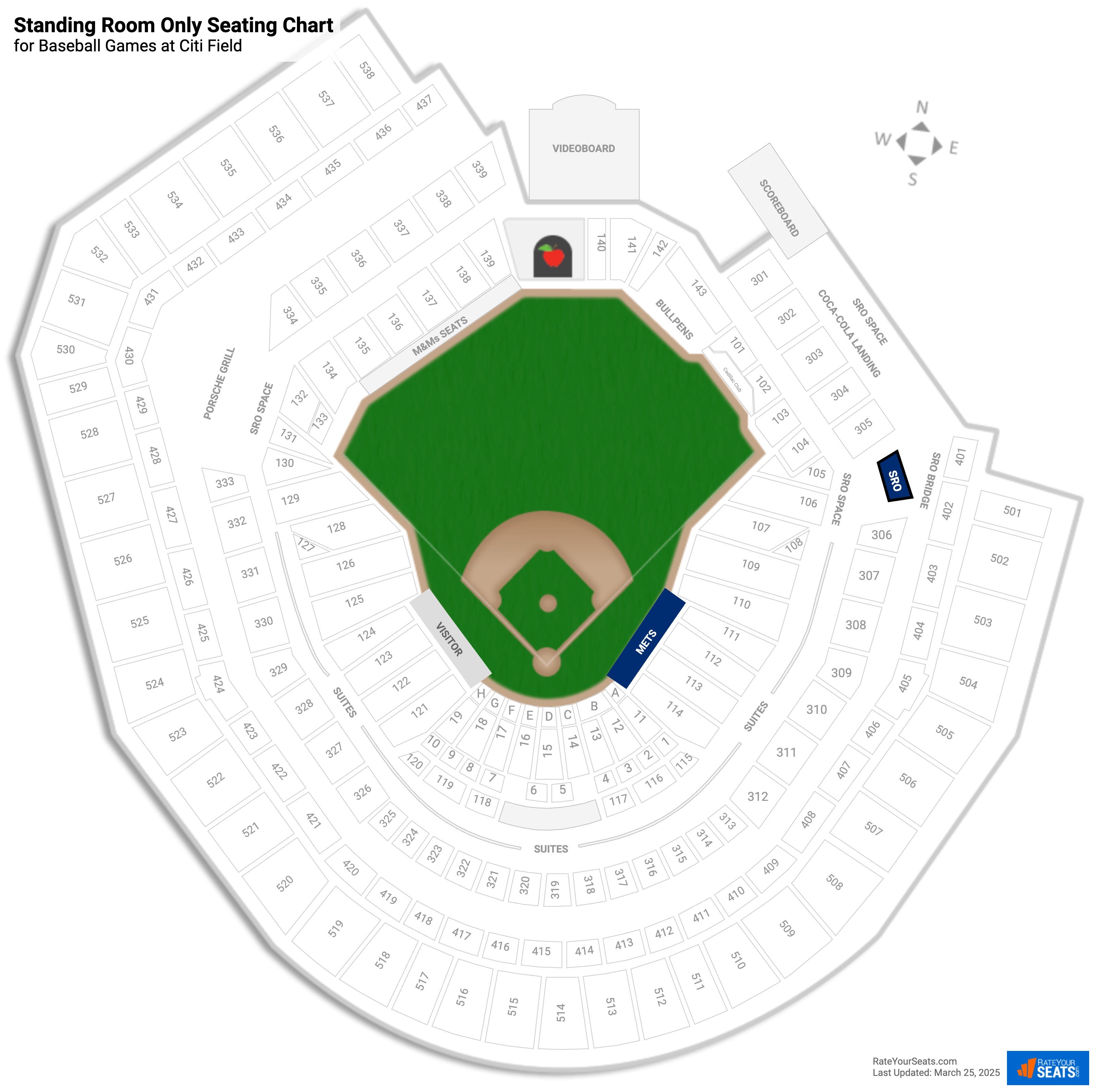 More Seating at Citi Field
Mets Ticket Information

The 2023 Mets tickets guide includes the season schedule, ticket price information and the best options for buying tickets.