Citi Field Excelsior Gold
Features & Amenities
The Excelsior Gold seats are located in the first row of all Excelsior Level sections 313-325. Being on the second seating tier, the seats not only have an ideal viewing height, but also feature smaller sections for easy access.
Sitting here is the perfect location directly behind home plate and in front of the Excelsior Silver seats in rows 2-6. All sections are smaller with just 6 rows of seating.
Excelsior Gold and Silver Club Access

Depending on the seller's ticket plan, most Excelsior tickets will come with access to Citi Field's Piazza 31, Jim Beam Highball, and Metropolitan Grille premium areas.
Check seller notes for any specifics on club access for Mets games.
Other Gold Seats
The first row of the entire Excelsior Level also receive "Gold" designation. All these seats have great unobstructed views out to the field from the front of the section. Similarly, club access will depend on the seller's ticket plan.
Note: These seats are highlighted on the map
Map Highlighting

Select rows in section are part of this seating zone
Interactive Seating Chart
Excelsior Gold Seating Chart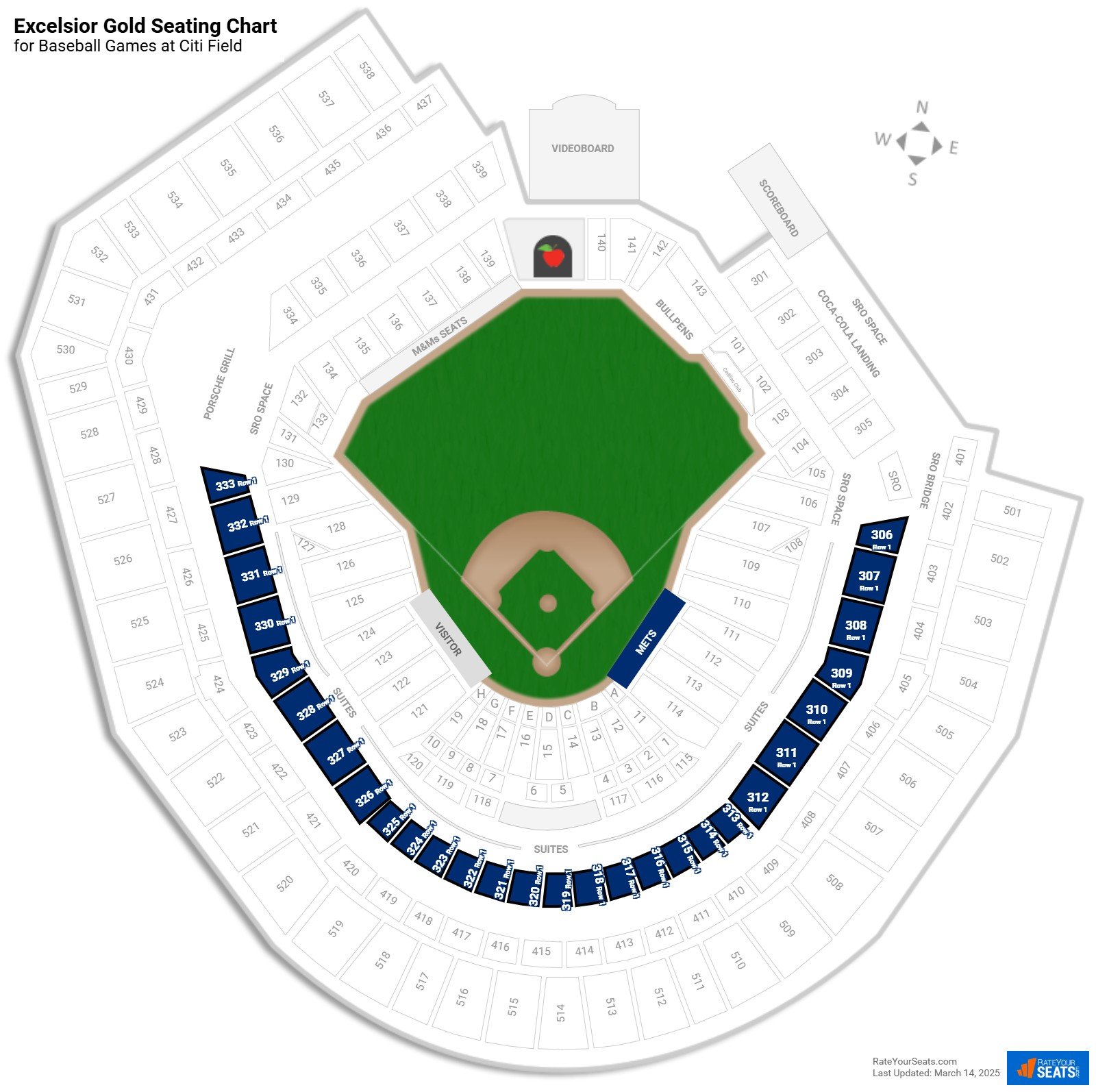 Excelsior Gold Reviews
Ratings & Reviews From Similar Seats

"Toronto Blue Jays at New York Mets - Jun 2, 2023"

(Section 319) - -

Section 319 is right in the center behind home plate and beneath the sportscasters' booths. Excellent view of the game. Very quick access to Piazza 31 Club. There was a rain delay at the beginning of the game. Rows 1 and 2 got rain, row 3 some mist, row 4 and above were dry. Most excellent seats.

"3rd baseline heaven"

(Section 329) - -

Really good side-on perspective of the pitcher. Almost all the ground is visible.

"Great seats"

(Section 316) - -

Amazing view
More Seating at Citi Field
Mets Ticket Information

The 2023 Mets tickets guide includes the season schedule, ticket price information and the best options for buying tickets.
Event Schedule
30Sep

Philadelphia Phillies at New York Mets

Citi Field - New York, NY

Saturday, September 30 at 4:10 PM

17Sep

Washington Nationals at New York Mets

Citi Field - New York, NY

Tuesday, September 17 at Time TBA

18Sep

Washington Nationals at New York Mets

Citi Field - New York, NY

Wednesday, September 18 at Time TBA

19Sep

Philadelphia Phillies at New York Mets

Citi Field - New York, NY

Thursday, September 19 at Time TBA

20Sep

Philadelphia Phillies at New York Mets

Citi Field - New York, NY

Friday, September 20 at Time TBA

21Sep

Philadelphia Phillies at New York Mets

Citi Field - New York, NY

Saturday, September 21 at Time TBA