Are the field boxes the best seats to watch the game at Oakland Coliseum?
Jun 2013
Answered by RateYourSeats.com staff...
Some of the best viewing options at Oakland Coliseum will be sections 110-124 due to the proximity to the field and viewing angles from being inside the infield. Section 120 is a great option for A's fan as it is also located behind the A's dugout on the third base side.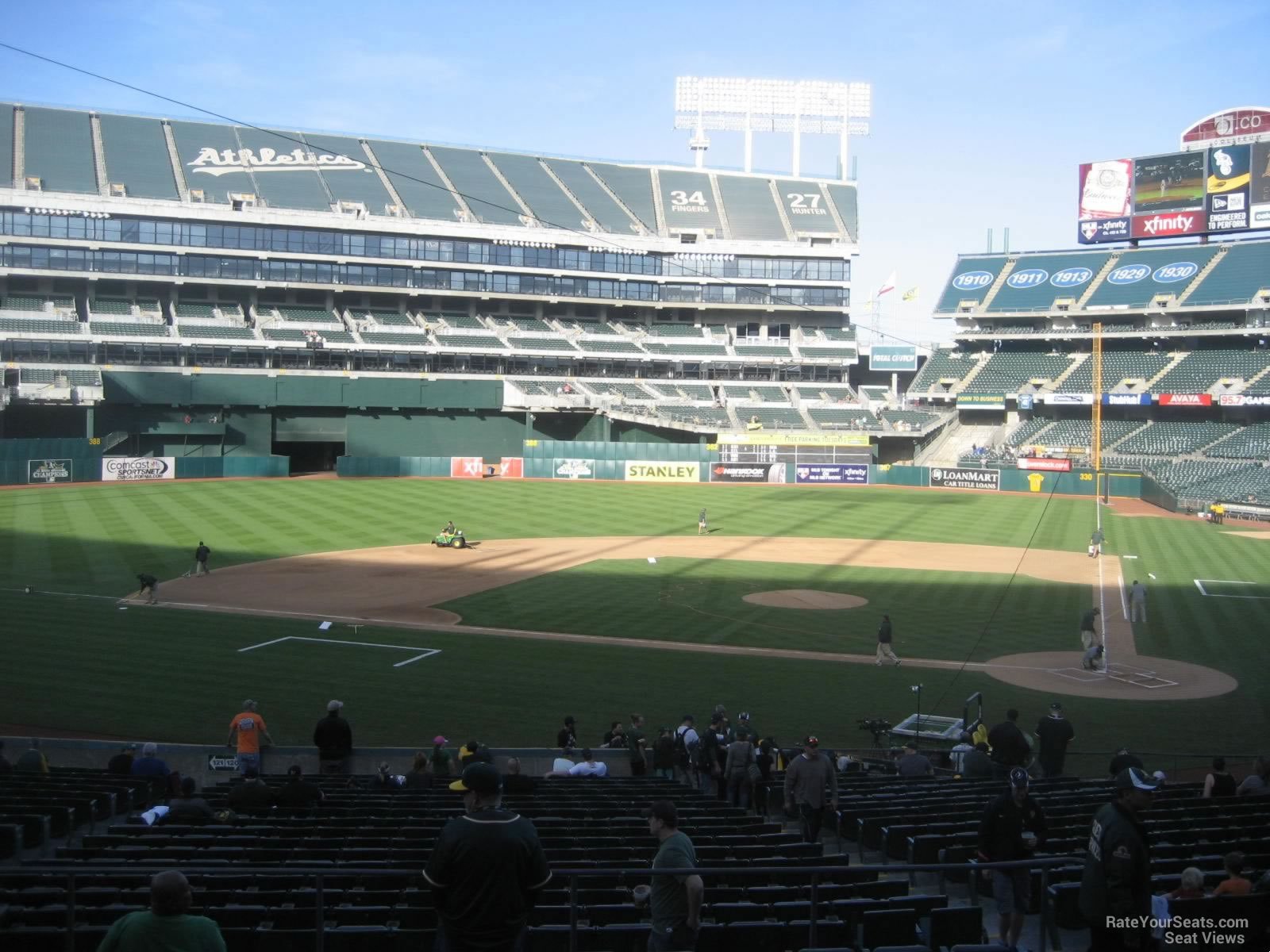 Asked June 22, 2013 for Toronto Blue Jays at Oakland Athletics on Jul 29, 2013
Other Popular Seating Choices
RateYourSeats.com is the best way to search, compare and buy tickets. Select an event to find out why!
Event Schedule
San Francisco Giants at Oakland Athletics

RingCentral Coliseum - Oakland, CA

Monday, March 23 at 7:05 PM

Minnesota Twins at Oakland Athletics

RingCentral Coliseum - Oakland, CA

Thursday, March 26 at 1:07 PM

Minnesota Twins at Oakland Athletics

RingCentral Coliseum - Oakland, CA

Friday, March 27 at 7:07 PM

Minnesota Twins at Oakland Athletics

RingCentral Coliseum - Oakland, CA

Saturday, March 28 at 1:07 PM

Minnesota Twins at Oakland Athletics

RingCentral Coliseum - Oakland, CA

Sunday, March 29 at 1:07 PM

Houston Astros at Oakland Athletics

RingCentral Coliseum - Oakland, CA

Monday, March 30 at 7:07 PM

Houston Astros at Oakland Athletics

RingCentral Coliseum - Oakland, CA

Tuesday, March 31 at 7:07 PM

Houston Astros at Oakland Athletics

RingCentral Coliseum - Oakland, CA

Wednesday, April 1 at 12:37 PM

New York Yankees at Oakland Athletics

RingCentral Coliseum - Oakland, CA

Friday, April 10 at 7:07 PM

New York Yankees at Oakland Athletics

RingCentral Coliseum - Oakland, CA

Saturday, April 11 at 6:07 PM

New York Yankees at Oakland Athletics

RingCentral Coliseum - Oakland, CA

Sunday, April 12 at 1:07 PM

Boston Red Sox at Oakland Athletics

RingCentral Coliseum - Oakland, CA

Monday, April 13 at 7:07 PM

Boston Red Sox at Oakland Athletics

RingCentral Coliseum - Oakland, CA

Tuesday, April 14 at 7:07 PM

Boston Red Sox at Oakland Athletics

RingCentral Coliseum - Oakland, CA

Wednesday, April 15 at 12:37 PM

Seattle Mariners at Oakland Athletics

RingCentral Coliseum - Oakland, CA

Thursday, April 16 at 7:07 PM

Seattle Mariners at Oakland Athletics

RingCentral Coliseum - Oakland, CA

Friday, April 17 at 7:07 PM

Seattle Mariners at Oakland Athletics

RingCentral Coliseum - Oakland, CA

Saturday, April 18 at 1:07 PM

Seattle Mariners at Oakland Athletics

RingCentral Coliseum - Oakland, CA

Sunday, April 19 at 1:07 PM

Tampa Bay Rays at Oakland Athletics

RingCentral Coliseum - Oakland, CA

Thursday, April 30 at 7:07 PM

Seattle Mariners at Oakland Athletics

RingCentral Coliseum - Oakland, CA

Tuesday, May 5 at 7:07 PM

Seattle Mariners at Oakland Athletics

RingCentral Coliseum - Oakland, CA

Wednesday, May 6 at 12:37 PM

Toronto Blue Jays at Oakland Athletics

RingCentral Coliseum - Oakland, CA

Friday, May 8 at Time TBA

Toronto Blue Jays at Oakland Athletics

RingCentral Coliseum - Oakland, CA

Saturday, May 9 at Time TBA

Toronto Blue Jays at Oakland Athletics

RingCentral Coliseum - Oakland, CA

Sunday, May 10 at Time TBA

Texas Rangers at Oakland Athletics

RingCentral Coliseum - Oakland, CA

Wednesday, May 20 at 7:07 PM

Texas Rangers at Oakland Athletics

RingCentral Coliseum - Oakland, CA

Thursday, May 21 at 12:37 PM

Los Angeles Angels of Anaheim at Oakland Athletics

RingCentral Coliseum - Oakland, CA

Friday, May 22 at 7:07 PM

Los Angeles Angels of Anaheim at Oakland Athletics

RingCentral Coliseum - Oakland, CA

Saturday, May 23 at 7:07 PM

Los Angeles Angels of Anaheim at Oakland Athletics

RingCentral Coliseum - Oakland, CA

Sunday, May 24 at 1:07 PM

Detroit Tigers at Oakland Athletics

RingCentral Coliseum - Oakland, CA

Wednesday, June 3 at 7:07 PM

Detroit Tigers at Oakland Athletics

RingCentral Coliseum - Oakland, CA

Thursday, June 4 at 12:37 PM

San Francisco Giants at Oakland Athletics

RingCentral Coliseum - Oakland, CA

Saturday, June 6 at 7:07 PM

San Francisco Giants at Oakland Athletics

RingCentral Coliseum - Oakland, CA

Sunday, June 7 at 1:07 PM

Los Angeles Angels of Anaheim at Oakland Athletics

RingCentral Coliseum - Oakland, CA

Monday, June 15 at 7:07 PM

Los Angeles Angels of Anaheim at Oakland Athletics

RingCentral Coliseum - Oakland, CA

Tuesday, June 16 at 7:07 PM

Los Angeles Angels of Anaheim at Oakland Athletics

RingCentral Coliseum - Oakland, CA

Wednesday, June 17 at 12:37 PM

Houston Astros at Oakland Athletics

RingCentral Coliseum - Oakland, CA

Friday, June 19 at 6:37 PM

Houston Astros at Oakland Athletics

RingCentral Coliseum - Oakland, CA

Saturday, June 20 at 5:15 PM

Houston Astros at Oakland Athletics

RingCentral Coliseum - Oakland, CA

Sunday, June 21 at 1:07 PM

Miami Marlins at Oakland Athletics

RingCentral Coliseum - Oakland, CA

Tuesday, June 30 at 7:07 PM

Miami Marlins at Oakland Athletics

RingCentral Coliseum - Oakland, CA

Wednesday, July 1 at 12:37 PM

Baltimore Orioles at Oakland Athletics

RingCentral Coliseum - Oakland, CA

Thursday, July 2 at 7:07 PM

Baltimore Orioles at Oakland Athletics

RingCentral Coliseum - Oakland, CA

Friday, July 3 at 7:07 PM

Baltimore Orioles at Oakland Athletics

RingCentral Coliseum - Oakland, CA

Saturday, July 4 at 1:07 PM

Baltimore Orioles at Oakland Athletics

RingCentral Coliseum - Oakland, CA

Sunday, July 5 at 1:07 PM

Houston Astros at Oakland Athletics

RingCentral Coliseum - Oakland, CA

Friday, July 17 at 7:07 PM

Houston Astros at Oakland Athletics

RingCentral Coliseum - Oakland, CA

Saturday, July 18 at 6:07 PM

Houston Astros at Oakland Athletics

RingCentral Coliseum - Oakland, CA

Sunday, July 19 at 1:07 PM

Atlanta Braves at Oakland Athletics

RingCentral Coliseum - Oakland, CA

Tuesday, July 21 at 7:07 PM

Atlanta Braves at Oakland Athletics

RingCentral Coliseum - Oakland, CA

Wednesday, July 22 at 12:37 PM

Texas Rangers at Oakland Athletics

RingCentral Coliseum - Oakland, CA

Thursday, July 30 at 7:07 PM

Texas Rangers at Oakland Athletics

RingCentral Coliseum - Oakland, CA

Saturday, August 1 at 1:05 PM

Seattle Mariners at Oakland Athletics

RingCentral Coliseum - Oakland, CA

Monday, August 3 at 7:07 PM

Seattle Mariners at Oakland Athletics

RingCentral Coliseum - Oakland, CA

Tuesday, August 4 at 12:37 PM

Cleveland Indians at Oakland Athletics

RingCentral Coliseum - Oakland, CA

Monday, August 17 at 7:07 PM

Cleveland Indians at Oakland Athletics

RingCentral Coliseum - Oakland, CA

Tuesday, August 18 at 7:07 PM

Cleveland Indians at Oakland Athletics

RingCentral Coliseum - Oakland, CA

Wednesday, August 19 at 12:37 PM

New York Mets at Oakland Athletics

RingCentral Coliseum - Oakland, CA

Friday, August 21 at 7:07 PM

New York Mets at Oakland Athletics

RingCentral Coliseum - Oakland, CA

Saturday, August 22 at 6:37 PM

New York Mets at Oakland Athletics

RingCentral Coliseum - Oakland, CA

Sunday, August 23 at 1:07 PM

Kansas City Royals at Oakland Athletics

RingCentral Coliseum - Oakland, CA

Monday, August 31 at 7:07 PM

Kansas City Royals at Oakland Athletics

RingCentral Coliseum - Oakland, CA

Tuesday, September 1 at 7:07 PM

Kansas City Royals at Oakland Athletics

RingCentral Coliseum - Oakland, CA

Wednesday, September 2 at 12:37 PM

Texas Rangers at Oakland Athletics

RingCentral Coliseum - Oakland, CA

Friday, September 4 at 7:07 PM

Texas Rangers at Oakland Athletics

RingCentral Coliseum - Oakland, CA

Saturday, September 5 at 1:07 PM

Texas Rangers at Oakland Athletics

RingCentral Coliseum - Oakland, CA

Sunday, September 6 at 1:07 PM

Chicago White Sox at Oakland Athletics

RingCentral Coliseum - Oakland, CA

Monday, September 14 at 7:07 PM

Chicago White Sox at Oakland Athletics

RingCentral Coliseum - Oakland, CA

Tuesday, September 15 at 7:07 PM

Chicago White Sox at Oakland Athletics

RingCentral Coliseum - Oakland, CA

Wednesday, September 16 at 12:37 PM

Los Angeles Angels of Anaheim at Oakland Athletics

RingCentral Coliseum - Oakland, CA

Thursday, September 17 at 7:07 PM

Los Angeles Angels of Anaheim at Oakland Athletics

RingCentral Coliseum - Oakland, CA

Friday, September 18 at 7:07 PM

Los Angeles Angels of Anaheim at Oakland Athletics

RingCentral Coliseum - Oakland, CA

Saturday, September 19 at 6:07 PM