Which rows in Section 227a at Yankee Stadium are in the shade?
Jul 2014
Answered by Keith at RateYourSeats.com...
There are 23 rows in Section 227A. Roughly the last six rows of seating down the 3B line are covered by the upper deck overhang. Rows 18-23 would be your best bet for being covered and shaded.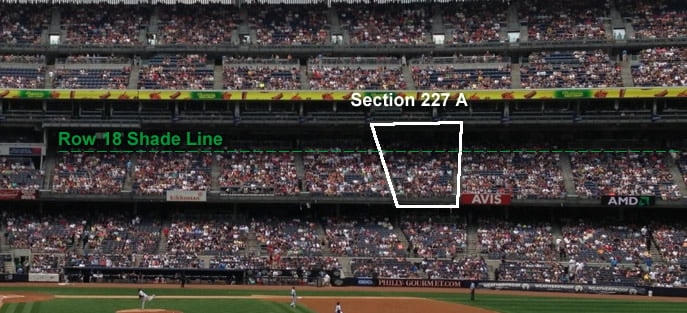 Asked July 28, 2014 for New York Yankees vs. Cleveland Indians on Aug 10, 2014
Interactive Seating Chart
Other Popular Seating Choices
Event Schedule
Los Angeles Angels of Anaheim at New York Yankees

Yankee Stadium - New York, NY

Thursday, July 1 at 1:05 PM

Philadelphia Phillies at New York Yankees

Yankee Stadium - New York, NY

Tuesday, July 20 at 7:05 PM

Philadelphia Phillies at New York Yankees

Yankee Stadium - New York, NY

Wednesday, July 21 at 7:05 PM

Baltimore Orioles at New York Yankees

Yankee Stadium - New York, NY

Wednesday, August 4 at 7:05 PM

Baltimore Orioles at New York Yankees

Yankee Stadium - New York, NY

Friday, September 3 at 7:05 PM

Baltimore Orioles at New York Yankees

Yankee Stadium - New York, NY

Saturday, September 4 at 1:05 PM

Baltimore Orioles at New York Yankees

Yankee Stadium - New York, NY

Sunday, September 5 at 1:05 PM

Toronto Blue Jays at New York Yankees

Yankee Stadium - New York, NY

Monday, September 6 at 1:05 PM

Toronto Blue Jays at New York Yankees

Yankee Stadium - New York, NY

Tuesday, September 7 at 7:05 PM

Toronto Blue Jays at New York Yankees

Yankee Stadium - New York, NY

Wednesday, September 8 at 7:05 PM

Toronto Blue Jays at New York Yankees

Yankee Stadium - New York, NY

Thursday, September 9 at 7:05 PM

Cleveland Indians at New York Yankees

Yankee Stadium - New York, NY

Friday, September 17 at 7:05 PM

Cleveland Indians at New York Yankees

Yankee Stadium - New York, NY

Saturday, September 18 at 1:05 PM

Cleveland Indians at New York Yankees

Yankee Stadium - New York, NY

Sunday, September 19 at 1:05 PM

Texas Rangers at New York Yankees

Yankee Stadium - New York, NY

Wednesday, September 22 at 7:05 PM