What section is best to see into the Visitor Bullpen at Minute Maid Park?
Jul 2013
Answered by RateYourSeats.com staff...
The visitor's bullpen at Minute Maid is difficult to see as it is behind the left-center field wall. It can only be seen through the outfield wall, so there are no sections that get a particularly good view of it. The best option would be to sit in the Crawford Box in section 100 because then you may be able to look over your shoulder and through the wall into the bullpen.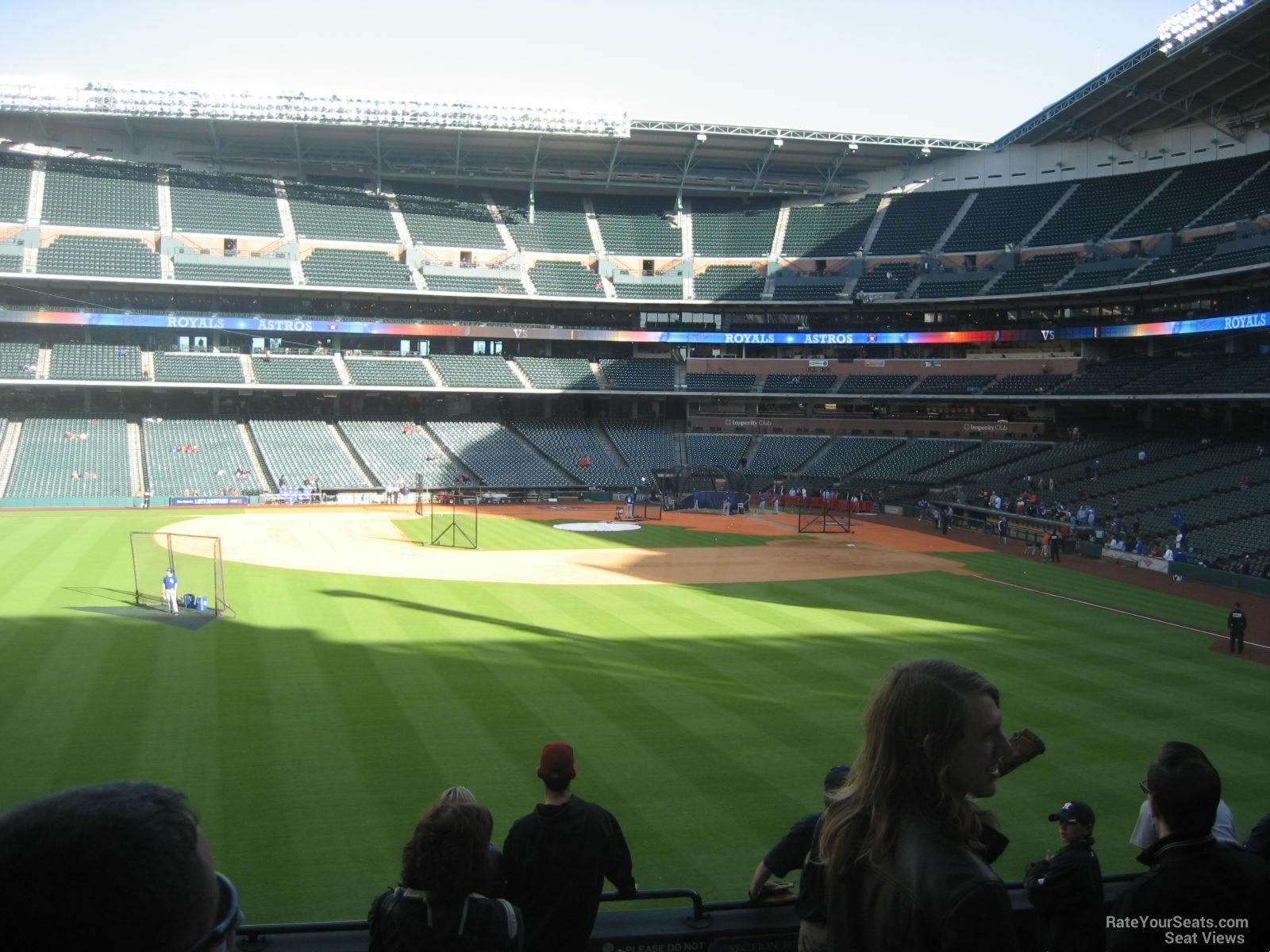 Asked July 30, 2013 for New York Yankees at Houston Astros on Sep 29, 2013
Other Popular Seating Choices
RateYourSeats.com is the best way to search, compare and buy tickets. Select an event to find out why!
Event Schedule
Spring Training - Cleveland Indians at Houston Astros

Minute Maid Park - Houston, TX

Monday, March 23 at Time TBA

Spring Training - Cleveland Indians at Houston Astros

Minute Maid Park - Houston, TX

Tuesday, March 24 at Time TBA

Los Angeles Angels of Anaheim at Houston Astros

Minute Maid Park - Houston, TX

Thursday, March 26 at 3:10 PM

Los Angeles Angels of Anaheim at Houston Astros

Minute Maid Park - Houston, TX

Friday, March 27 at 7:10 PM

Los Angeles Angels of Anaheim at Houston Astros

Minute Maid Park - Houston, TX

Saturday, March 28 at 6:10 PM

Los Angeles Angels of Anaheim at Houston Astros

Minute Maid Park - Houston, TX

Sunday, March 29 at 1:10 PM

Los Angeles Angels of Anaheim at Houston Astros

Minute Maid Park - Houston, TX

Friday, April 17 at 7:10 PM

Los Angeles Angels of Anaheim at Houston Astros

Minute Maid Park - Houston, TX

Saturday, April 18 at 6:10 PM

Los Angeles Angels of Anaheim at Houston Astros

Minute Maid Park - Houston, TX

Sunday, April 19 at 1:10 PM

Philadelphia Phillies at Houston Astros

Minute Maid Park - Houston, TX

Wednesday, July 8 at 7:10 PM

Philadelphia Phillies at Houston Astros

Minute Maid Park - Houston, TX

Thursday, July 9 at 7:10 PM

Arizona Diamondbacks at Houston Astros

Minute Maid Park - Houston, TX

Tuesday, August 4 at 7:10 PM

Arizona Diamondbacks at Houston Astros

Minute Maid Park - Houston, TX

Wednesday, August 5 at 7:10 PM

Seattle Mariners at Houston Astros

Minute Maid Park - Houston, TX

Wednesday, August 19 at 1:10 PM

Seattle Mariners at Houston Astros

Minute Maid Park - Houston, TX

Saturday, September 5 at 6:10 PM

Los Angeles Angels of Anaheim at Houston Astros

Minute Maid Park - Houston, TX

Monday, September 14 at 7:10 PM

Los Angeles Angels of Anaheim at Houston Astros

Minute Maid Park - Houston, TX

Tuesday, September 15 at 7:10 PM

Baltimore Orioles at Houston Astros

Minute Maid Park - Houston, TX

Thursday, September 17 at 7:10 PM

Baltimore Orioles at Houston Astros

Minute Maid Park - Houston, TX

Friday, September 18 at 7:10 PM

Baltimore Orioles at Houston Astros

Minute Maid Park - Houston, TX

Saturday, September 19 at 6:10 PM