Minute Maid Park Bullpen Boxes
Features & Amenities
The Bullpen Boxes at Minute Maid Park are a unique seating location in right field under the scoreboard. These are considered home-run seats, and the first 10 rows provide the best experience.
The Astros bullpen is in front of sections 155-156, while home run balls from left-handed batters are a common occurrence in sections 152-154.
These are some of the sunniest seats in the ballpark, but the overhead terrace provides shade for fans in rows 18 and above.
These are ideal seats for fans who want to save a little money on tickets and spend a little money on beers and concessions in the center-field plaza.
Note: These seats are highlighted on the map
Interactive Seating Chart
Bullpen Boxes Seating Chart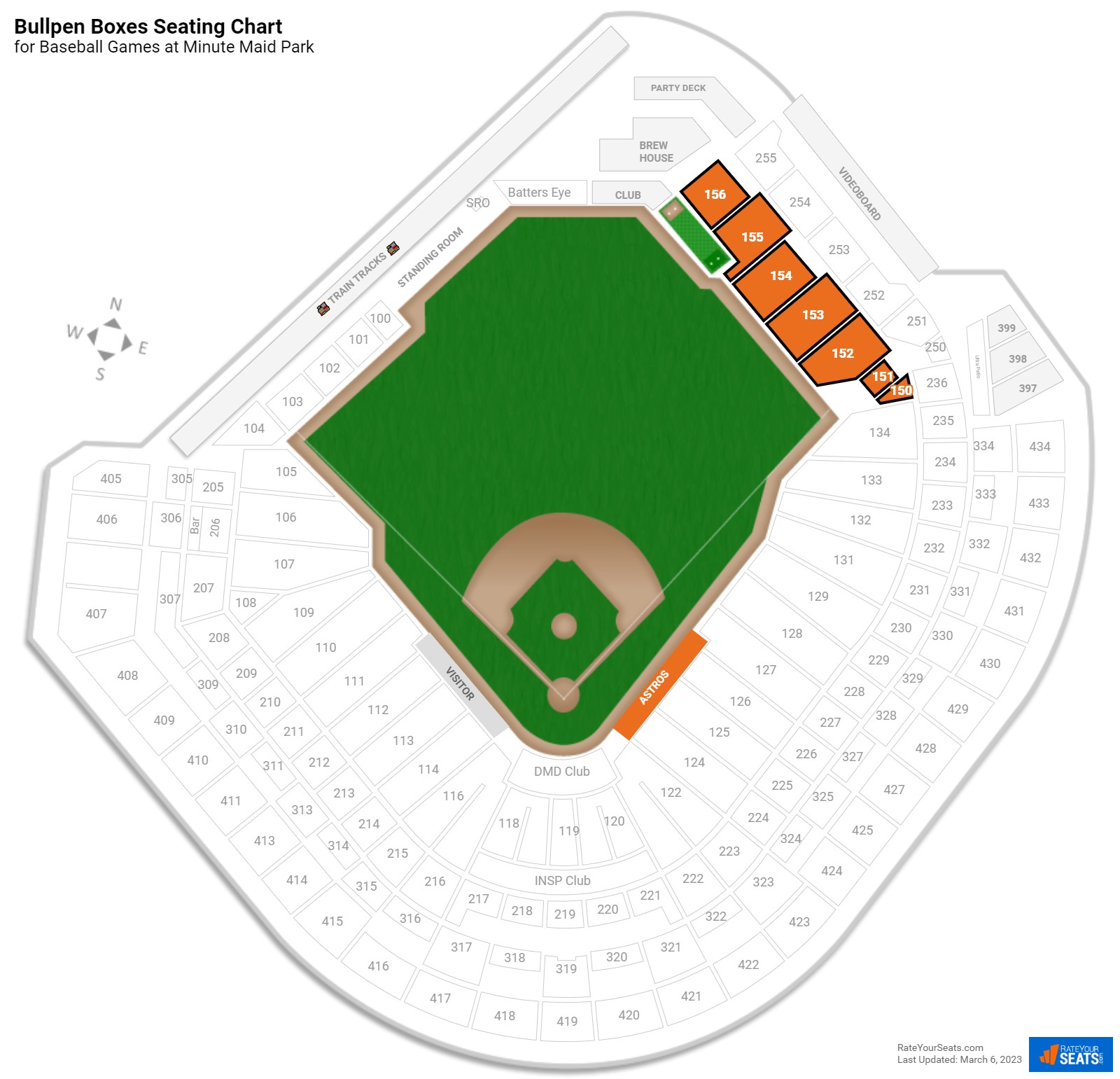 Bullpen Boxes Reviews
Ratings & Reviews From Similar Seats

"Texas Rangers at Houston Astros - Sep 18, 2019"

(Section 152) - -

These seats were phenomenal! We were in a section that received two home run balls and it's not behind any netting, so we could get give away items if we were so lucky. Right next to bathrooms and an easy walk to any concession stand we wanted! I will definitely buy in this section again.

"Great view of the field"

(Section 152) - -

Good view. Can't see the big video board.

"Tons of shade, but its like viewing through a tunnel"

(Section 153) - -

Located at the top of the 100 level seating behind right field, these seats are great for staying in the shade and out of the sun, but you pay the price when it comes to view. Row 25 is located at the very back of the section for quick access to the restrooms and concessions on the concourse, but t...
More Seating at Minute Maid Park