American Family Field Terrace Box
Features & Amenities
If you're looking for an affordable day at the ballpark, but don't want to find yourself with some of the very least desirable views, you might find yourself considering the Terrace Level Infield sections.
Being in the upper deck, these seats are often among the most inexpensive Brewers tickets, but the positioning between the dugouts makes the views more preferable to those in the Terrace Level Outfield (easier to see the pitchers mound, batters box, and center field videoboard).
Recommendations

We recommend opting for seats on the first base side as these will give you a better angle to Bernie's Clubhouse, keep you closer to the Brew Crew dugout, and will also have better shade when the roof is open.
Section 417 is the only designated Family section on the 400 level, where alcohol is strictly prohibited.
Areas to Avoid

Be careful when searching in Section 422 as roof supports located just above Row 8 can create viewing obstructions in Rows 9 and higher (safer to sit near the middle of the row in these higher rows).
Fans will also want to avoid front row seats in these sections as the support railing will make you have to lean forward for a clear view to the field.
Note: These seats are highlighted on the map
Interactive Seating Chart
Terrace Box Seating Chart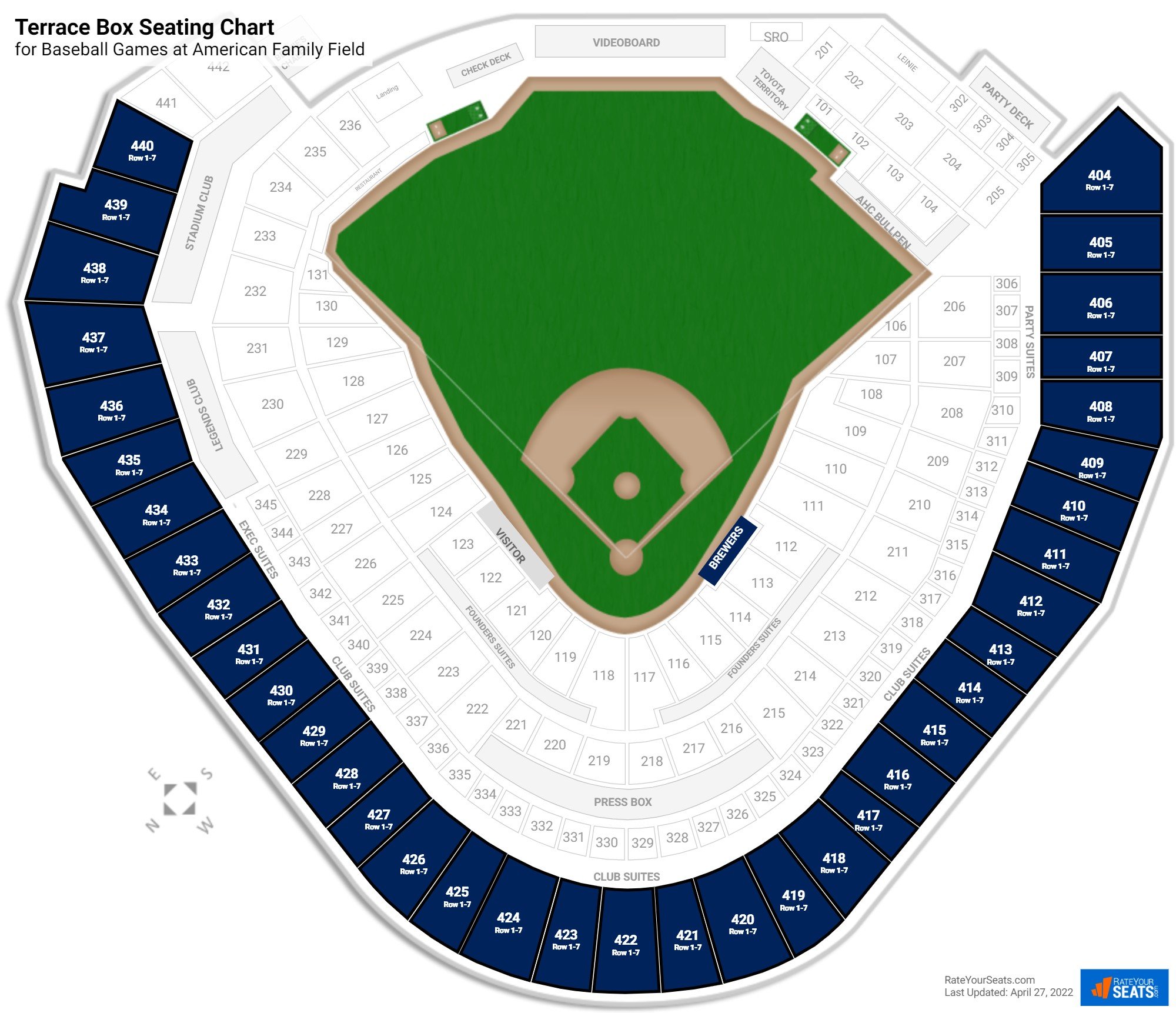 Terrace Box Reviews
Ratings & Reviews From Similar Seats

"Solid Views from the Upper Deck"

(Section 428) - -

I was surprised by how much I enjoyed sitting this high up at Miller Park. Second to last row in this section, but I still had good views of the ballpark as well as the scoreboard. It was also pretty cool to be able to see into the Brewers dugout on the first base line. The sun spent a decent amo...

"The most kid friendly section you'll find "

(Section 424) - -

This section is right by Bernie's Clubhouse so the kids can play if they get bored of the game. The view of the field itself is good, it's behind home plate and you can see everything including the jumbotron. The Brewers team store is right outside this section so it's nice if you wanted to get so...

"Good overall view of the stadium"

(Section 428) -
More Seating at American Family Field