American Family Field Field Infield Box
Features & Amenities
Widely considered some of the best seats at American Family Field (Miller Park), Box Level Infield seating has the best up close views for a Brewers game. Running from first base through third base and including behind home plate, this location includes both the Field Diamond Box and Field Infield Box seating sections.
The Field Diamond Box is located in the first 8 rows of sections 110-125 and are the top option for fans that want to be as close as possible to all the action on the field. The Field Infield Box is located behind the Diamond Box seats, offering similar excellent sight lines not as close to the field.
Sections 112-114 are great options for Brew Crew fans as they are located directly behind the Brewers dugout on the first base side, while sections 121-123 are located directly behind the visitor dugout. Due to the construction of American Family Field's retractable roof, most seats will have good protection from the sun in these sections.
Note: These seats are highlighted on the map
Interactive Seating Chart
Field Infield Box Seating Chart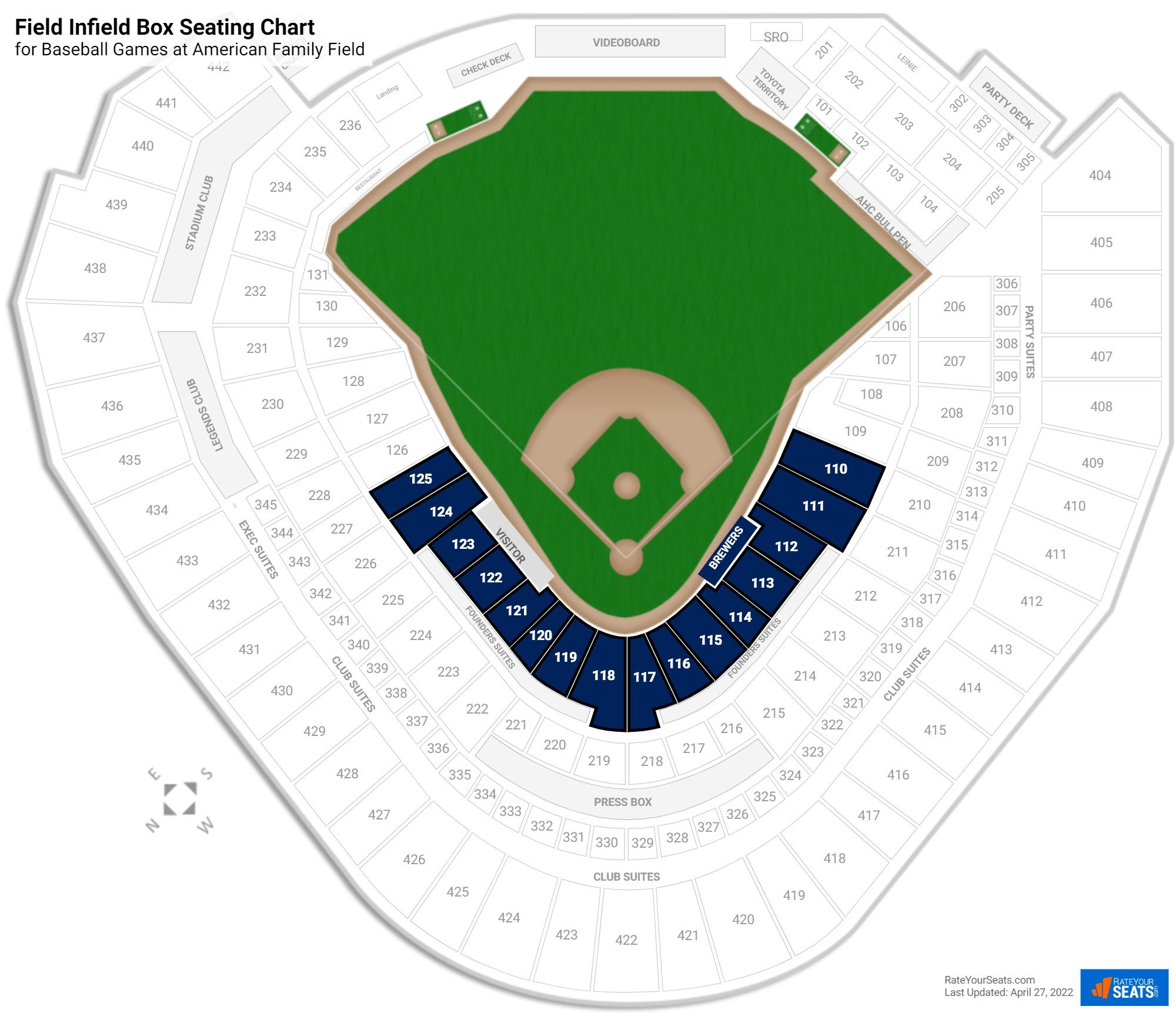 Field Infield Box Reviews
Ratings & Reviews From Similar Seats

"Section 110 Row 10 Seat 5"

(Section 110) -

"Chicago Cubs at Milwaukee Brewers - Sep 8, 2019"

(Section 122) - -

Great seats for visitors of the stadium. I would highly recommend purchasing again.

"Doesn't get any better than behind home plate!"

(Section 117) - -

These seats were absolutely awesome! I was in seat 1 of row 16 which happens to be an aisle seat so it was very easy to get to my seat. The view was incredible as I was right behind home plate and it doesn't get any better than that! I could see all the pitches coming and watch all the batters in th...
Field Infield Box Sections
More Seating at American Family Field