American Family Field Loge Infield Box
Features & Amenities
Located on the second tier up from the playing field and running from first base to third base, Loge Level Infield seats offer very good views for a baseball game, at a more affordable price than the lower level. Also known as the Loge Infield Box, this seating area contains 18 total sections as it wraps from the Brewers side of the field (1st base), to the visitors side of the field (third base).
Sections closer to the dugouts are larger with up to 21 rows of seating, while those behind home plate will be much smaller due to the Press Box located just behind the seats. These Loge Level sections behind home plate (216-221) feature just 10 rows of seating, making them a great option due to the smaller size (easier to access), and excellent viewing angles from behind home plate.
Section 217 is a designated family section, where alcohol is strictly prohibited.
Note: These seats are highlighted on the map
Interactive Seating Chart
Loge Infield Box Seating Chart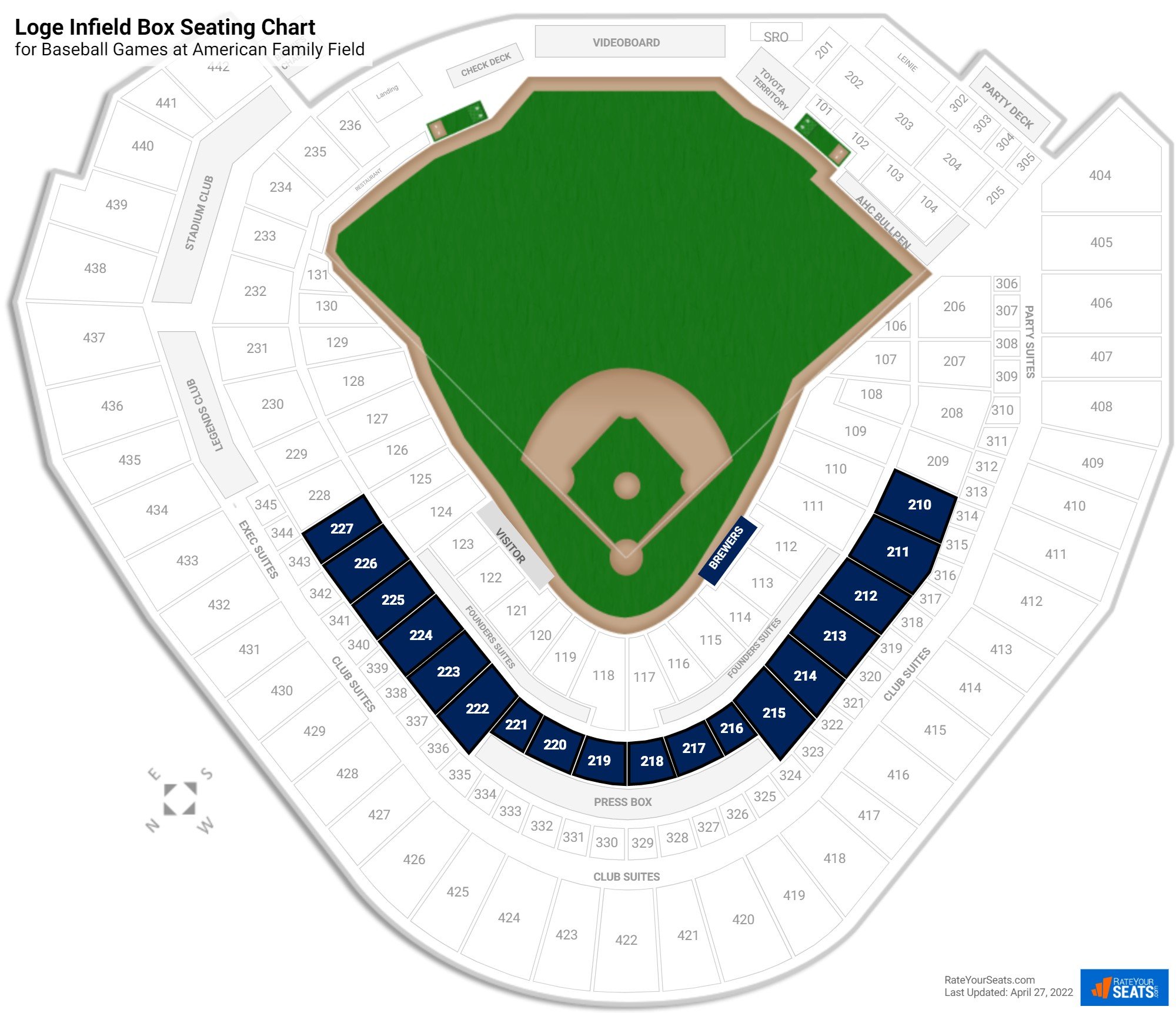 Loge Infield Box Reviews
Ratings & Reviews From Similar Seats

"Good seats"

(Section 210) -

"Near Home but No Replays"

(Section 222) - -

The overhang cuts off my view of the video screen in center but otherwise these are great seats at Miller Park. I enjoy being able to hear the play by play announcers overhead. Makes it feel kind of old school. Being near home plate is great. Overall good seats!

"Love the leg room!"

(Section 210) - -

I was lucky to have a seat in the front row of this section and there was a ton of leg room in front of me. I could fully stretch out and put my legs on the railing in front of me, which made this seat very comfortable. The view was great too because I could see pretty much the whole field except ...
Loge Infield Box Sections
More Seating at American Family Field