American Family Field Field Outfield Box
Features & Amenities
On the American Family Field (Miller Park) Seating Chart, the lowest tier between the corner bases and foul poles is where you will find the Box Level Outfield sections. Also known as the Field Outfield Box, this seating option includes sections 106-109 on the right field side and sections 126-131 on the left field side.
The right field sections will be closer to the Brewers dugout and offer better protection from the shade, while the left field sections will be closer to the visitor's dugout and will see more sun during most home games. The front rows are right up against the walls of the playing field, making these lower rows a great options for fans that prefer to sit up close but can't afford seats in the Box Level Infield (closer to home plate).
Sections nearest to the foul poles (129-131 in left field, 106-108 in right field) offer a further setting from home plate but are nicely angled towards the infield providing a better view orientation and less head turning to catch the majority of the action.
Note: These seats are highlighted on the map
Interactive Seating Chart
Field Outfield Box Seating Chart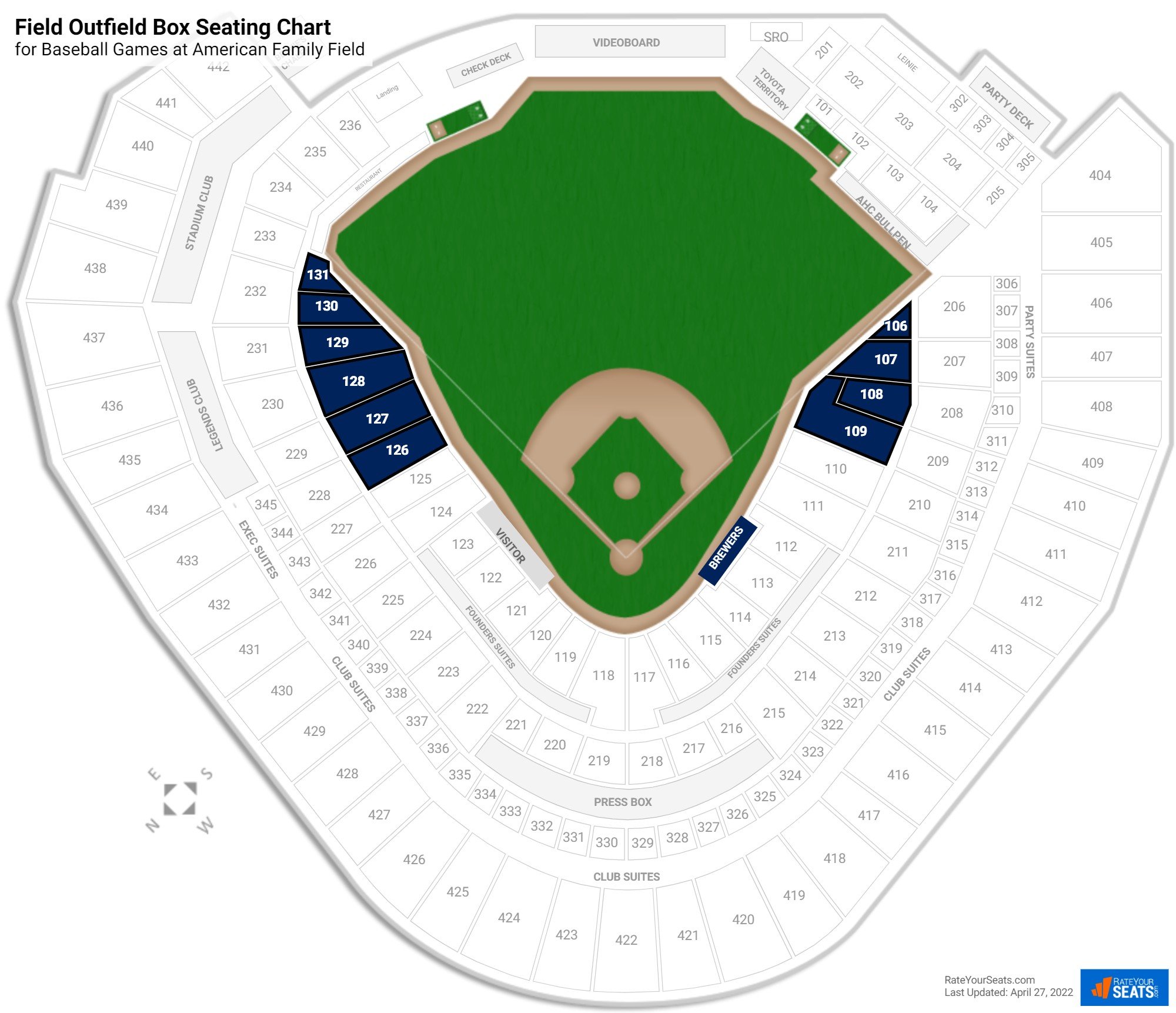 Field Outfield Box Reviews
Ratings & Reviews From Similar Seats

"San Diego Padres at Milwaukee Brewers - Sep 17, 2019"

(Section 126) - -

The seats were fantastic. I only wish we could sit in these seats every game.

"Amazing Seats"

(Section 131) - -

Row 20 is the first row in the section, and there are only 4 seats. Seat 4 is on the field rail while seat 1 is on the aisle. Great view, can see the whole field.

"Happily Shaded"

(Section 109) - -

The game I attended was very hot so I was very fortunate to have this seat that was completely protected from the sun. This seat was close to the back of the section and allowed for me to easily escape to the concourse and get some concessions. I liked the view but it was a little too far from the...
Field Outfield Box Sections
More Seating at American Family Field