American Family Field Loge Bleachers
Features & Amenities
The Loge Bleachers American Family Field (formerly Miller Park) are found on the second tier of seating behind the right and left field walls, offering a solid option if you are hoping to catch a home run ball.
Fans purchasing tickets in these sections should understand they will not be sitting in traditional stadium seats. These sections feature bleacher style benches with a back. Numbers printed on the bench represent the reserved area for each ticketholder.
Where to Sit in the Loge Bleachers

All Loge Bleacher sections have outfield views at about the same distance from home plate. Fans looking for a unique experience can look near Section 238 in left field due to its location close to the Brewers bullpen.
Sections in right field will have the best views to watch Bernie make his trip down the home run slide. During the day games with an open roof, right field will be the less sunny side of the field as well.
Views of the center field scoreboard will be at an angle for all sections.
Note: These seats are highlighted on the map
Interactive Seating Chart
Loge Bleachers Seating Chart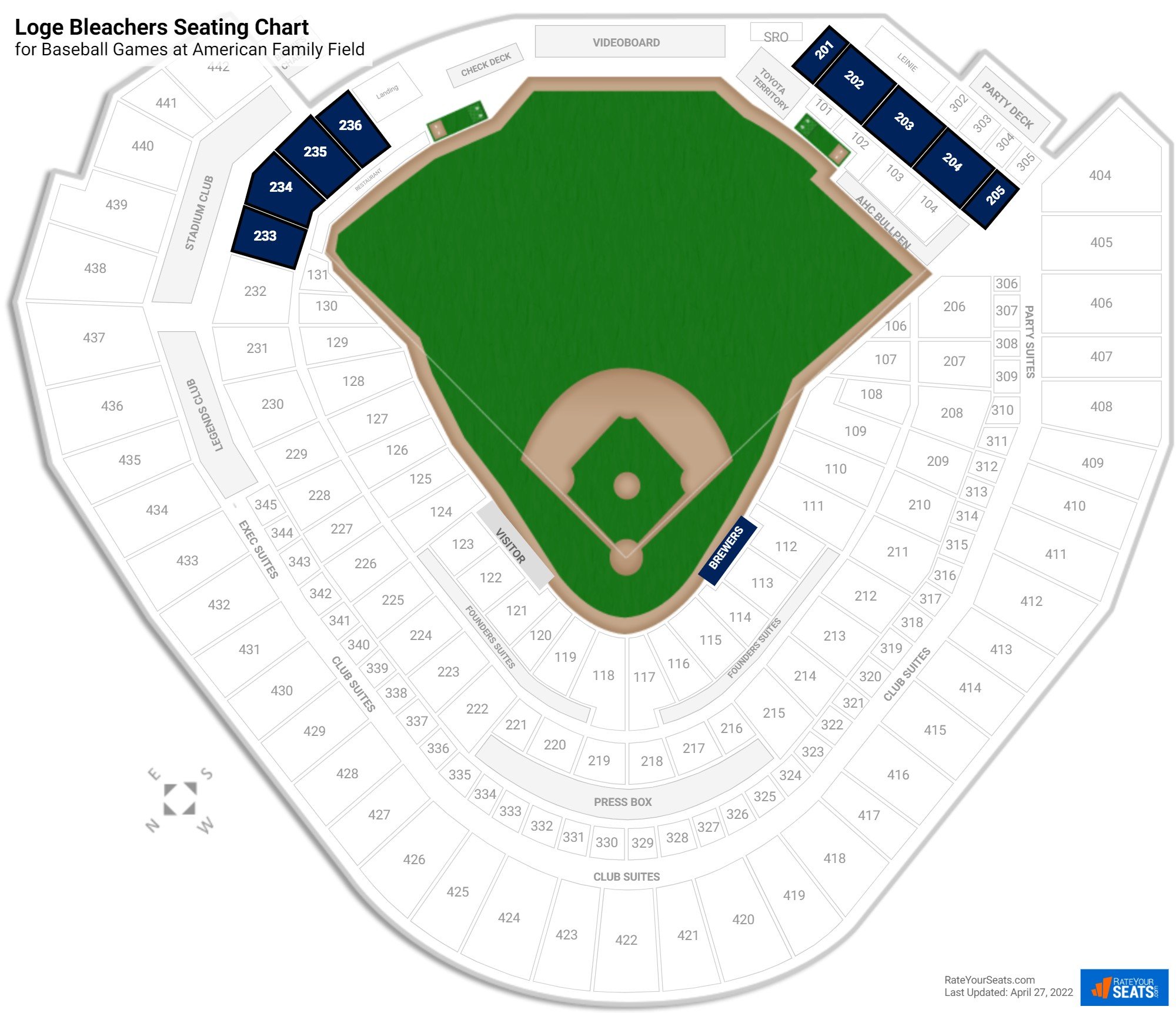 Loge Bleachers Reviews
Ratings & Reviews From Similar Seats

"Great seats for bleachers:)"

(Section 205) -

"Absolutely Amazing!"

(Section 202) - -

Great crowd, view was awesome, food was delicious!

"Nice outfield view in bleacher style seating"

(Section 205) - -

I was in the last seat of the last row and the seats were actually pretty comfortable. There wasn't too many people at the game, so I didn't have anyone next to me which was nice. I was hoping for some home run balls, but they never came my way. I was able to get a great view of the field and it was...
More Seating at American Family Field