American Family Field Field Bleachers
Features & Amenities
Just beyond the right field wall in fair territory are the 4 reserved seating sections that make up the Field Level Bleachers (Sections 101-104).
The low rows in these sections are referred to as Field Bleachers Box sections and are in prime home run territory when left handed power hitters step up to the plate.
Sitting here is also a lower and closer option to the field compared to the loge level bleachers.
Notes and Recommendations

Seats in these sections are bench-style with no arm rests. There will be a back rest for additional support and numbers on the bench will represent the reserved space for each ticket holder
The first 5 rows are uncovered, but the higher rows will be underneath an overhang from the bleachers above. This overhang will limit the view the further back you sit in the section and will take away from the possibility of catching a home run ball.
The main scoreboard (located above Center Field) will be very difficult to see from here as well. For this reason, televisions are placed on the supports holding up the sections above.
Sections 101 and 102 are unique options due to their location just above the visiting team's bullpen.
Note: These seats are highlighted on the map
Interactive Seating Chart
Field Bleachers Seating Chart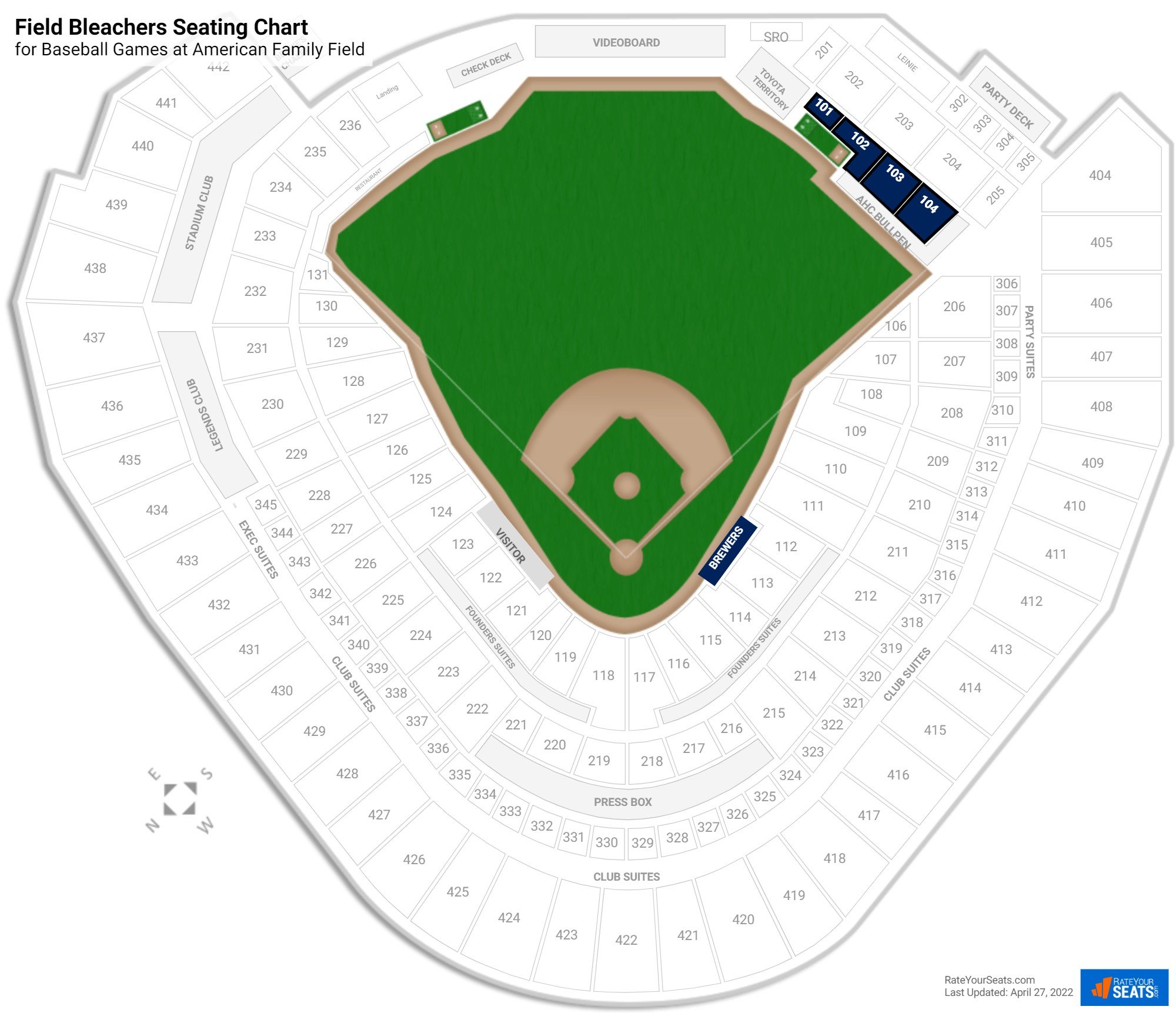 Field Bleachers Reviews
Ratings & Reviews From Similar Seats

"Great Seats, Great View, Cold Breeze"

(Section 101) - -

We had the first row of Section 101 behind the visitors bullpen. Tremendous view of the game and my son had some great interaction with some of the players. Beware, however that this area becomes crowded with people before and after the game that want baseballs and they do not have tickets for t...

"Good position to catch home run ball!"

(Section 104) - -

These seats have a great view from the front row of the right field bleachers in a great spot for potential home run balls. They do not extend all the way to the outfield wall because there is a small field level bar that is in front. There is bench bleacher seating in this section, making the sea...

"Great seats to enjoy the game!"

(Section 103) -
More Seating at American Family Field