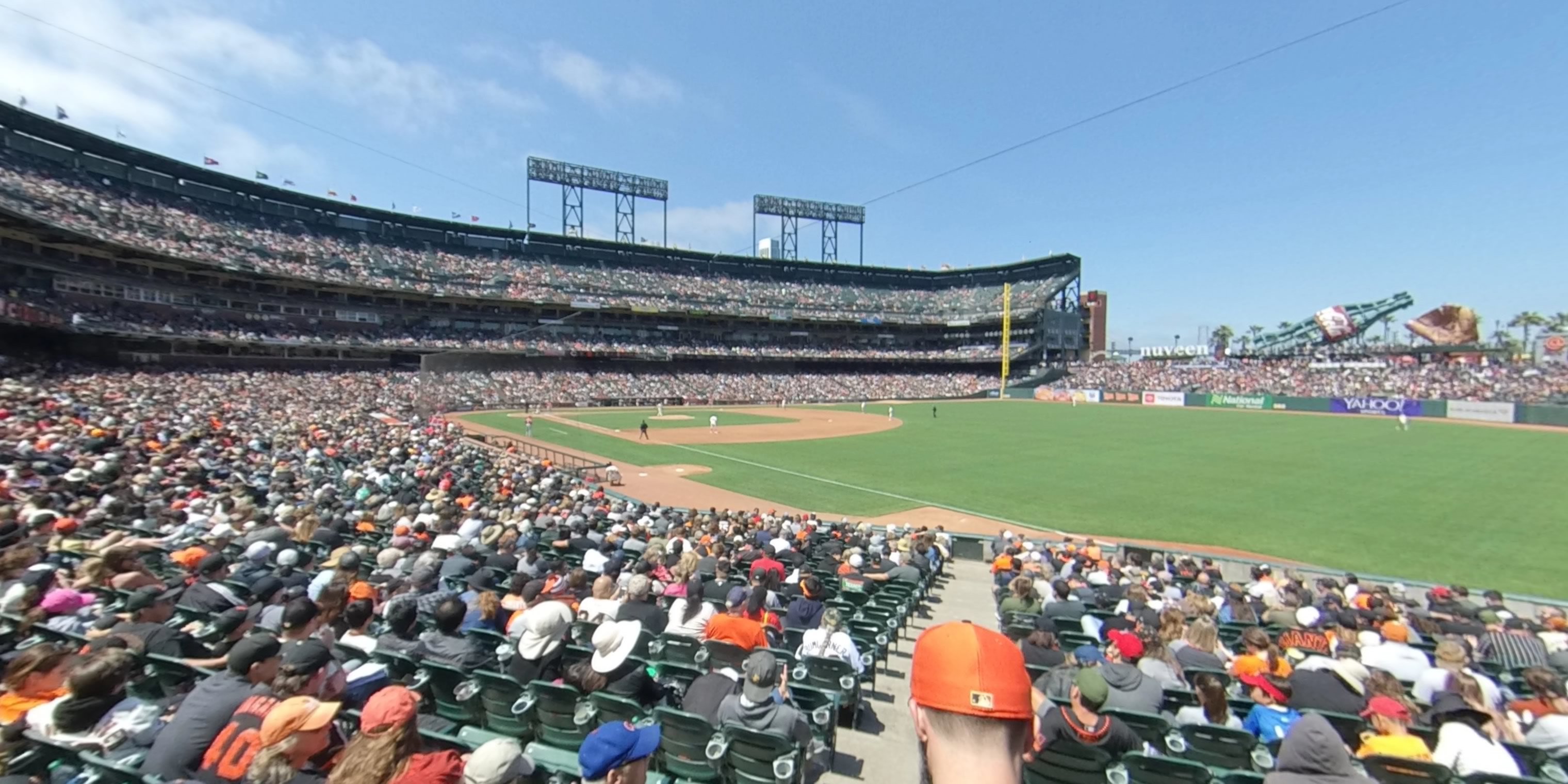 Oracle Park Section 102 - San Francisco Giants
Section 102 Seating Notes
Row Numbers
Rows in Section 102 are labeled 1-27
An entrance to this section is located at Row 27
When looking towards the field, lower number seats are on the right
Seat Views & Related Photos
Ratings, Reviews & Recommendations
Field Level Outfield

(Seating Zone) -

Field level outfield gives fans a more affordable option for sitting on the lowest tier of AT&T Park. These seats will be some of the best areas for catching a foul ball, but also have up to 42 number...

"Tight squeeze in a crowded section"

(Section 135) - -

I bought these tickets because they were the cheapest lower level options that were stadium seats (not bleacher style). Apparently I wasn't alone in that thought. These seats were pretty crowded even a full 45 minutes before first pitch -- and even before there were a lot of people seated in other s...

"Behind the Wheelchairs"

(Section 129) - -

It was impossible to see the field behind a row of wheelchair fans who were sitting in tall motorized wheelchairs. Terrible seats for which we paid over $100 each.
Other Popular Seating Choices
RateYourSeats.com is the best way to search, compare and buy tickets. Select an event to find out why!
Event Schedule
24Mar

Spring Training - Oakland Athletics San Francisco Giants

Oracle Park - San Francisco, CA

Tuesday, March 24 at Time TBA

3Apr

Los Angeles Dodgers at San Francisco Giants

Oracle Park - San Francisco, CA

Friday, April 3 at Time TBA

4Apr

Los Angeles Dodgers at San Francisco Giants

Oracle Park - San Francisco, CA

Saturday, April 4 at Time TBA

5Apr

Los Angeles Dodgers at San Francisco Giants

Oracle Park - San Francisco, CA

Sunday, April 5 at Time TBA

6Apr

Arizona Diamondbacks at San Francisco Giants

Oracle Park - San Francisco, CA

Monday, April 6 at Time TBA

7Apr

Arizona Diamondbacks at San Francisco Giants

Oracle Park - San Francisco, CA

Tuesday, April 7 at Time TBA

8Apr

Arizona Diamondbacks at San Francisco Giants

Oracle Park - San Francisco, CA

Wednesday, April 8 at Time TBA

9Apr

Arizona Diamondbacks at San Francisco Giants

Oracle Park - San Francisco, CA

Thursday, April 9 at Time TBA

21Apr

Colorado Rockies at San Francisco Giants

Oracle Park - San Francisco, CA

Tuesday, April 21 at Time TBA

22Apr

Colorado Rockies at San Francisco Giants

Oracle Park - San Francisco, CA

Wednesday, April 22 at Time TBA

23Apr

Colorado Rockies at San Francisco Giants

Oracle Park - San Francisco, CA

Thursday, April 23 at Time TBA

24Apr

Washington Nationals at San Francisco Giants

Oracle Park - San Francisco, CA

Friday, April 24 at Time TBA

25Apr

Washington Nationals at San Francisco Giants

Oracle Park - San Francisco, CA

Saturday, April 25 at Time TBA

26Apr

Washington Nationals at San Francisco Giants

Oracle Park - San Francisco, CA

Sunday, April 26 at Time TBA

27Apr

Philadelphia Phillies at San Francisco Giants

Oracle Park - San Francisco, CA

Monday, April 27 at Time TBA

28Apr

Philadelphia Phillies at San Francisco Giants

Oracle Park - San Francisco, CA

Tuesday, April 28 at Time TBA

29Apr

Philadelphia Phillies at San Francisco Giants

Oracle Park - San Francisco, CA

Wednesday, April 29 at Time TBA

8May

Chicago White Sox at San Francisco Giants

Oracle Park - San Francisco, CA

Friday, May 8 at Time TBA

9May

Chicago White Sox at San Francisco Giants

Oracle Park - San Francisco, CA

Saturday, May 9 at Time TBA

10May

Chicago White Sox at San Francisco Giants

Oracle Park - San Francisco, CA

Sunday, May 10 at Time TBA

15May

Atlanta Braves at San Francisco Giants

Oracle Park - San Francisco, CA

Friday, May 15 at Time TBA

16May

Atlanta Braves at San Francisco Giants

Oracle Park - San Francisco, CA

Saturday, May 16 at Time TBA

17May

Atlanta Braves at San Francisco Giants

Oracle Park - San Francisco, CA

Sunday, May 17 at Time TBA

19May

Detroit Tigers at San Francisco Giants

Oracle Park - San Francisco, CA

Tuesday, May 19 at Time TBA

20May

Detroit Tigers at San Francisco Giants

Oracle Park - San Francisco, CA

Wednesday, May 20 at Time TBA

29May

Colorado Rockies at San Francisco Giants

Oracle Park - San Francisco, CA

Friday, May 29 at Time TBA

30May

Colorado Rockies at San Francisco Giants

Oracle Park - San Francisco, CA

Saturday, May 30 at Time TBA

31May

Colorado Rockies at San Francisco Giants

Oracle Park - San Francisco, CA

Sunday, May 31 at Time TBA

1Jun

San Diego Padres at San Francisco Giants

Oracle Park - San Francisco, CA

Monday, June 1 at Time TBA

2Jun

San Diego Padres at San Francisco Giants

Oracle Park - San Francisco, CA

Tuesday, June 2 at Time TBA

3Jun

San Diego Padres at San Francisco Giants

Oracle Park - San Francisco, CA

Wednesday, June 3 at Time TBA

4Jun

San Diego Padres at San Francisco Giants

Oracle Park - San Francisco, CA

Thursday, June 4 at Time TBA

9Jun

Pittsburgh Pirates at San Francisco Giants

Oracle Park - San Francisco, CA

Tuesday, June 9 at Time TBA

10Jun

Pittsburgh Pirates at San Francisco Giants

Oracle Park - San Francisco, CA

Wednesday, June 10 at Time TBA

11Jun

Pittsburgh Pirates at San Francisco Giants

Oracle Park - San Francisco, CA

Thursday, June 11 at Time TBA

12Jun

Miami Marlins at San Francisco Giants

Oracle Park - San Francisco, CA

Friday, June 12 at Time TBA

13Jun

Miami Marlins at San Francisco Giants

Oracle Park - San Francisco, CA

Saturday, June 13 at Time TBA

14Jun

Miami Marlins at San Francisco Giants

Oracle Park - San Francisco, CA

Sunday, June 14 at Time TBA

22Jun

New York Mets at San Francisco Giants

Oracle Park - San Francisco, CA

Monday, June 22 at Time TBA

23Jun

New York Mets at San Francisco Giants

Oracle Park - San Francisco, CA

Tuesday, June 23 at Time TBA

24Jun

New York Mets at San Francisco Giants

Oracle Park - San Francisco, CA

Wednesday, June 24 at Time TBA

25Jun

New York Mets at San Francisco Giants

Oracle Park - San Francisco, CA

Thursday, June 25 at Time TBA

26Jun

Los Angeles Dodgers at San Francisco Giants

Oracle Park - San Francisco, CA

Friday, June 26 at Time TBA

27Jun

Los Angeles Dodgers at San Francisco Giants

Oracle Park - San Francisco, CA

Saturday, June 27 at Time TBA

28Jun

Los Angeles Dodgers at San Francisco Giants

Oracle Park - San Francisco, CA

Sunday, June 28 at Time TBA

7Jul

Oakland Athletics at San Francisco Giants

Oracle Park - San Francisco, CA

Tuesday, July 7 at Time TBA

8Jul

Oakland Athletics at San Francisco Giants

Oracle Park - San Francisco, CA

Wednesday, July 8 at Time TBA

10Jul

San Diego Padres at San Francisco Giants

Oracle Park - San Francisco, CA

Friday, July 10 at Time TBA

11Jul

San Diego Padres at San Francisco Giants

Oracle Park - San Francisco, CA

Saturday, July 11 at Time TBA

12Jul

San Diego Padres at San Francisco Giants

Oracle Park - San Francisco, CA

Sunday, July 12 at Time TBA

24Jul

Arizona Diamondbacks at San Francisco Giants

Oracle Park - San Francisco, CA

Friday, July 24 at Time TBA

25Jul

Arizona Diamondbacks at San Francisco Giants

Oracle Park - San Francisco, CA

Saturday, July 25 at Time TBA

26Jul

Arizona Diamondbacks at San Francisco Giants

Oracle Park - San Francisco, CA

Sunday, July 26 at Time TBA

28Jul

Chicago Cubs at San Francisco Giants

Oracle Park - San Francisco, CA

Tuesday, July 28 at Time TBA

29Jul

Chicago Cubs at San Francisco Giants

Oracle Park - San Francisco, CA

Wednesday, July 29 at Time TBA

30Jul

Chicago Cubs at San Francisco Giants

Oracle Park - San Francisco, CA

Thursday, July 30 at Time TBA

11Aug

Los Angeles Dodgers at San Francisco Giants

Oracle Park - San Francisco, CA

Tuesday, August 11 at Time TBA

12Aug

Los Angeles Dodgers at San Francisco Giants

Oracle Park - San Francisco, CA

Wednesday, August 12 at Time TBA

13Aug

Los Angeles Dodgers at San Francisco Giants

Oracle Park - San Francisco, CA

Thursday, August 13 at Time TBA

14Aug

Colorado Rockies at San Francisco Giants

Oracle Park - San Francisco, CA

Friday, August 14 at Time TBA

15Aug

Colorado Rockies at San Francisco Giants

Oracle Park - San Francisco, CA

Saturday, August 15 at Time TBA

16Aug

Colorado Rockies at San Francisco Giants

Oracle Park - San Francisco, CA

Sunday, August 16 at Time TBA

24Aug

San Diego Padres at San Francisco Giants

Oracle Park - San Francisco, CA

Monday, August 24 at Time TBA

25Aug

San Diego Padres at San Francisco Giants

Oracle Park - San Francisco, CA

Tuesday, August 25 at Time TBA

26Aug

San Diego Padres at San Francisco Giants

Oracle Park - San Francisco, CA

Wednesday, August 26 at Time TBA

28Aug

Kansas City Royals at San Francisco Giants

Oracle Park - San Francisco, CA

Friday, August 28 at Time TBA

29Aug

Kansas City Royals at San Francisco Giants

Oracle Park - San Francisco, CA

Saturday, August 29 at Time TBA

30Aug

Kansas City Royals at San Francisco Giants

Oracle Park - San Francisco, CA

Sunday, August 30 at Time TBA

7Sep

St. Louis Cardinals at San Francisco Giants

Oracle Park - San Francisco, CA

Monday, September 7 at Time TBA

8Sep

St. Louis Cardinals at San Francisco Giants

Oracle Park - San Francisco, CA

Tuesday, September 8 at Time TBA

9Sep

St. Louis Cardinals at San Francisco Giants

Oracle Park - San Francisco, CA

Wednesday, September 9 at Time TBA

10Sep

Cincinnati Reds at San Francisco Giants

Oracle Park - San Francisco, CA

Thursday, September 10 at Time TBA

11Sep

Cincinnati Reds at San Francisco Giants

Oracle Park - San Francisco, CA

Friday, September 11 at Time TBA

12Sep

Cincinnati Reds at San Francisco Giants

Oracle Park - San Francisco, CA

Saturday, September 12 at Time TBA

13Sep

Cincinnati Reds at San Francisco Giants

Oracle Park - San Francisco, CA

Sunday, September 13 at Time TBA

22Sep

Arizona Diamondbacks at San Francisco Giants

Oracle Park - San Francisco, CA

Tuesday, September 22 at Time TBA

23Sep

Arizona Diamondbacks at San Francisco Giants

Oracle Park - San Francisco, CA

Wednesday, September 23 at Time TBA

24Sep

Milwaukee Brewers at San Francisco Giants

Oracle Park - San Francisco, CA

Thursday, September 24 at Time TBA

25Sep

Milwaukee Brewers at San Francisco Giants

Oracle Park - San Francisco, CA

Friday, September 25 at Time TBA

26Sep

Milwaukee Brewers at San Francisco Giants

Oracle Park - San Francisco, CA

Saturday, September 26 at Time TBA