Oracle Park Silver Bullpen
Features & Amenities
The Silver Bullpen seats at a Giants game are located in deep center-field. They are some of the farthest seats from home plate, but they're also some of the most unique.
Also known as the Coors Light Silver Bullpen, these seats offer some conveniences that aren't often found at Oracle Park.
Each seat is a padded bar-style chair that swivels and has armrests. The swivel makes it easy to get in and out - and also allows you to quickly track home run balls that make it to the bay.
Guests will also enjoy a personal ledge for placing concessions and personal belongings. This makes it easier to enjoy a beer and some garlic fries while cheering on the Giants.
Note: These seats are highlighted on the map
Interactive Seating Chart
Silver Bullpen Seating Chart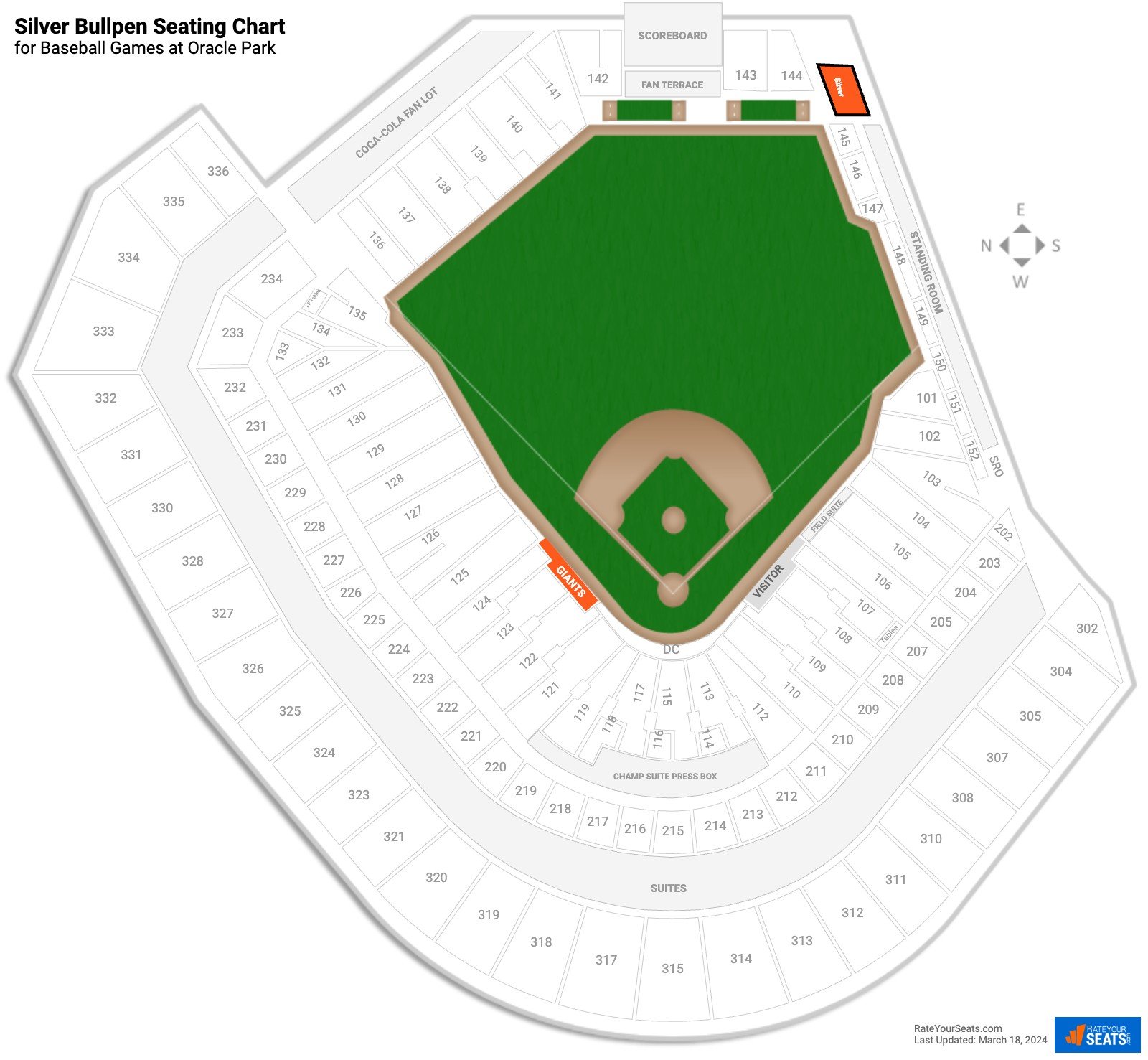 More Seating at Oracle Park
Giants Ticket Information

The 2023 Giants tickets guide includes the season schedule, ticket price information and the best options for buying tickets.
Event Schedule
San Diego Padres at San Francisco Giants

Oracle Park - San Francisco, CA

Monday, September 25 at 6:45 PM

San Diego Padres at San Francisco Giants

Oracle Park - San Francisco, CA

Tuesday, September 26 at 6:45 PM

San Diego Padres at San Francisco Giants

Oracle Park - San Francisco, CA

Wednesday, September 27 at 6:45 PM

Los Angeles Dodgers at San Francisco Giants

Oracle Park - San Francisco, CA

Friday, September 29 at 7:15 PM

Los Angeles Dodgers at San Francisco Giants

Oracle Park - San Francisco, CA

Saturday, September 30 at 6:05 PM

Los Angeles Dodgers at San Francisco Giants

Oracle Park - San Francisco, CA

Sunday, October 1 at 12:05 PM

NL Wild Card - TBD at San Francisco Giants

Oracle Park - San Francisco, CA

Tuesday, October 3 at Time TBA

NL Wild Card - TBD at San Francisco Giants

Oracle Park - San Francisco, CA

Wednesday, October 4 at Time TBA

NL Wild Card - TBD at San Francisco Giants

Oracle Park - San Francisco, CA

Thursday, October 5 at Time TBA

NLDS - TBD at San Francisco Giants

Oracle Park - San Francisco, CA

Saturday, October 7 at Time TBA

NLDS - TBD at San Francisco Giants

Oracle Park - San Francisco, CA

Saturday, October 14 at Time TBA

NLCS - TBD at San Francisco Giants

Oracle Park - San Francisco, CA

Monday, October 16 at Time TBA

NLCS - TBD at San Francisco Giants

Oracle Park - San Francisco, CA

Tuesday, October 17 at Time TBA

NLCS - TBD at San Francisco Giants

Oracle Park - San Francisco, CA

Monday, October 23 at Time TBA

NLCS - TBD at San Francisco Giants

Oracle Park - San Francisco, CA

Tuesday, October 24 at Time TBA

World Series - TBD at San Francisco Giants

Oracle Park - San Francisco, CA

Friday, October 27 at Time TBA

World Series - TBD at San Francisco Giants

Oracle Park - San Francisco, CA

Saturday, October 28 at Time TBA

World Series - TBD at San Francisco Giants

Oracle Park - San Francisco, CA

Friday, November 3 at Time TBA

World Series - TBD at San Francisco Giants

Oracle Park - San Francisco, CA

Saturday, November 4 at Time TBA

Spring Training - Oakland Athletics at San Francisco Giants

Oracle Park - San Francisco, CA

Tuesday, March 26 at Time TBA

San Diego Padres at San Francisco Giants

Oracle Park - San Francisco, CA

Friday, April 5 at Time TBA

San Diego Padres at San Francisco Giants

Oracle Park - San Francisco, CA

Saturday, April 6 at Time TBA

San Diego Padres at San Francisco Giants

Oracle Park - San Francisco, CA

Sunday, April 7 at Time TBA

Washington Nationals at San Francisco Giants

Oracle Park - San Francisco, CA

Monday, April 8 at Time TBA

Washington Nationals at San Francisco Giants

Oracle Park - San Francisco, CA

Tuesday, April 9 at Time TBA

Washington Nationals at San Francisco Giants

Oracle Park - San Francisco, CA

Wednesday, April 10 at Time TBA

Arizona Diamondbacks at San Francisco Giants

Oracle Park - San Francisco, CA

Thursday, April 18 at Time TBA

Arizona Diamondbacks at San Francisco Giants

Oracle Park - San Francisco, CA

Friday, April 19 at Time TBA

Arizona Diamondbacks at San Francisco Giants

Oracle Park - San Francisco, CA

Saturday, April 20 at Time TBA

Arizona Diamondbacks at San Francisco Giants

Oracle Park - San Francisco, CA

Sunday, April 21 at Time TBA

New York Mets at San Francisco Giants

Oracle Park - San Francisco, CA

Monday, April 22 at Time TBA

New York Mets at San Francisco Giants

Oracle Park - San Francisco, CA

Tuesday, April 23 at Time TBA

New York Mets at San Francisco Giants

Oracle Park - San Francisco, CA

Wednesday, April 24 at Time TBA

Pittsburgh Pirates at San Francisco Giants

Oracle Park - San Francisco, CA

Friday, April 26 at Time TBA

Pittsburgh Pirates at San Francisco Giants

Oracle Park - San Francisco, CA

Saturday, April 27 at Time TBA

Pittsburgh Pirates at San Francisco Giants

Oracle Park - San Francisco, CA

Sunday, April 28 at Time TBA

Cincinnati Reds at San Francisco Giants

Oracle Park - San Francisco, CA

Friday, May 10 at Time TBA

Cincinnati Reds at San Francisco Giants

Oracle Park - San Francisco, CA

Saturday, May 11 at Time TBA

Cincinnati Reds at San Francisco Giants

Oracle Park - San Francisco, CA

Sunday, May 12 at Time TBA

Los Angeles Dodgers at San Francisco Giants

Oracle Park - San Francisco, CA

Monday, May 13 at Time TBA

Los Angeles Dodgers at San Francisco Giants

Oracle Park - San Francisco, CA

Tuesday, May 14 at Time TBA

Los Angeles Dodgers at San Francisco Giants

Oracle Park - San Francisco, CA

Wednesday, May 15 at Time TBA

Colorado Rockies at San Francisco Giants

Oracle Park - San Francisco, CA

Friday, May 17 at Time TBA

Colorado Rockies at San Francisco Giants

Oracle Park - San Francisco, CA

Saturday, May 18 at Time TBA

Colorado Rockies at San Francisco Giants

Oracle Park - San Francisco, CA

Sunday, May 19 at Time TBA

Philadelphia Phillies at San Francisco Giants

Oracle Park - San Francisco, CA

Monday, May 27 at Time TBA

Philadelphia Phillies at San Francisco Giants

Oracle Park - San Francisco, CA

Tuesday, May 28 at Time TBA

Philadelphia Phillies at San Francisco Giants

Oracle Park - San Francisco, CA

Wednesday, May 29 at Time TBA

New York Yankees at San Francisco Giants

Oracle Park - San Francisco, CA

Friday, May 31 at Time TBA

New York Yankees at San Francisco Giants

Oracle Park - San Francisco, CA

Saturday, June 1 at Time TBA

New York Yankees at San Francisco Giants

Oracle Park - San Francisco, CA

Sunday, June 2 at Time TBA

Houston Astros at San Francisco Giants

Oracle Park - San Francisco, CA

Monday, June 10 at Time TBA

Houston Astros at San Francisco Giants

Oracle Park - San Francisco, CA

Tuesday, June 11 at Time TBA

Houston Astros at San Francisco Giants

Oracle Park - San Francisco, CA

Wednesday, June 12 at Time TBA

Los Angeles Angels at San Francisco Giants

Oracle Park - San Francisco, CA

Friday, June 14 at Time TBA

Los Angeles Angels at San Francisco Giants

Oracle Park - San Francisco, CA

Saturday, June 15 at Time TBA

Los Angeles Angels at San Francisco Giants

Oracle Park - San Francisco, CA

Sunday, June 16 at Time TBA

Chicago Cubs at San Francisco Giants

Oracle Park - San Francisco, CA

Tuesday, June 25 at Time TBA

Chicago Cubs at San Francisco Giants

Oracle Park - San Francisco, CA

Wednesday, June 26 at Time TBA

Chicago Cubs at San Francisco Giants

Oracle Park - San Francisco, CA

Thursday, June 27 at Time TBA

Los Angeles Dodgers at San Francisco Giants

Oracle Park - San Francisco, CA

Friday, June 28 at Time TBA

Los Angeles Dodgers at San Francisco Giants

Oracle Park - San Francisco, CA

Saturday, June 29 at Time TBA

Los Angeles Dodgers at San Francisco Giants

Oracle Park - San Francisco, CA

Sunday, June 30 at Time TBA

Toronto Blue Jays at San Francisco Giants

Oracle Park - San Francisco, CA

Tuesday, July 9 at Time TBA

Toronto Blue Jays at San Francisco Giants

Oracle Park - San Francisco, CA

Wednesday, July 10 at Time TBA

Toronto Blue Jays at San Francisco Giants

Oracle Park - San Francisco, CA

Thursday, July 11 at Time TBA

Minnesota Twins at San Francisco Giants

Oracle Park - San Francisco, CA

Friday, July 12 at Time TBA

Minnesota Twins at San Francisco Giants

Oracle Park - San Francisco, CA

Saturday, July 13 at Time TBA

Minnesota Twins at San Francisco Giants

Oracle Park - San Francisco, CA

Sunday, July 14 at Time TBA

Colorado Rockies at San Francisco Giants

Oracle Park - San Francisco, CA

Friday, July 26 at Time TBA

Colorado Rockies at San Francisco Giants

Oracle Park - San Francisco, CA

Saturday, July 27 at Time TBA

Colorado Rockies at San Francisco Giants

Oracle Park - San Francisco, CA

Sunday, July 28 at Time TBA

Oakland Athletics at San Francisco Giants

Oracle Park - San Francisco, CA

Tuesday, July 30 at Time TBA

Oakland Athletics at San Francisco Giants

Oracle Park - San Francisco, CA

Wednesday, July 31 at Time TBA

Detroit Tigers at San Francisco Giants

Oracle Park - San Francisco, CA

Friday, August 9 at Time TBA

Detroit Tigers at San Francisco Giants

Oracle Park - San Francisco, CA

Saturday, August 10 at Time TBA

Detroit Tigers at San Francisco Giants

Oracle Park - San Francisco, CA

Sunday, August 11 at Time TBA

Atlanta Braves at San Francisco Giants

Oracle Park - San Francisco, CA

Monday, August 12 at Time TBA

Atlanta Braves at San Francisco Giants

Oracle Park - San Francisco, CA

Tuesday, August 13 at Time TBA

Atlanta Braves at San Francisco Giants

Oracle Park - San Francisco, CA

Wednesday, August 14 at Time TBA

Atlanta Braves at San Francisco Giants

Oracle Park - San Francisco, CA

Thursday, August 15 at Time TBA

Chicago White Sox at San Francisco Giants

Oracle Park - San Francisco, CA

Monday, August 19 at Time TBA

Chicago White Sox at San Francisco Giants

Oracle Park - San Francisco, CA

Tuesday, August 20 at Time TBA

Chicago White Sox at San Francisco Giants

Oracle Park - San Francisco, CA

Wednesday, August 21 at Time TBA

Miami Marlins at San Francisco Giants

Oracle Park - San Francisco, CA

Friday, August 30 at Time TBA

Miami Marlins at San Francisco Giants

Oracle Park - San Francisco, CA

Saturday, August 31 at Time TBA

Miami Marlins at San Francisco Giants

Oracle Park - San Francisco, CA

Sunday, September 1 at Time TBA

Arizona Diamondbacks at San Francisco Giants

Oracle Park - San Francisco, CA

Tuesday, September 3 at Time TBA

Arizona Diamondbacks at San Francisco Giants

Oracle Park - San Francisco, CA

Wednesday, September 4 at Time TBA

Arizona Diamondbacks at San Francisco Giants

Oracle Park - San Francisco, CA

Thursday, September 5 at Time TBA

Milwaukee Brewers at San Francisco Giants

Oracle Park - San Francisco, CA

Tuesday, September 10 at Time TBA

Milwaukee Brewers at San Francisco Giants

Oracle Park - San Francisco, CA

Wednesday, September 11 at Time TBA

Milwaukee Brewers at San Francisco Giants

Oracle Park - San Francisco, CA

Thursday, September 12 at Time TBA

San Diego Padres at San Francisco Giants

Oracle Park - San Francisco, CA

Friday, September 13 at Time TBA

San Diego Padres at San Francisco Giants

Oracle Park - San Francisco, CA

Saturday, September 14 at Time TBA

San Diego Padres at San Francisco Giants

Oracle Park - San Francisco, CA

Sunday, September 15 at Time TBA

St. Louis Cardinals at San Francisco Giants

Oracle Park - San Francisco, CA

Friday, September 27 at Time TBA

St. Louis Cardinals at San Francisco Giants

Oracle Park - San Francisco, CA

Saturday, September 28 at Time TBA