Oracle Park Bleacher Seats
Features & Amenities
The Bleachers are located just beyond the outfield wall in left and center field of the Oracle Park seating chart. These seats will be your best bet for catching a home run ball (right field sections are quite narrow, surrendering most long balls to McCovey Cove instead of the seats).
The Left Field bleachers will be closest to the family-friendly Fan Lot area, where kids can run the bases of Little Giants Park, take a trip down one of the four slides located inside the Coca-Cola Bottle, and marvel at the world's largest baseball glove.
Row 1 is the first row in most Bleachers sections. The first five rows are also called Premium Bleachers, but that distinction does not come with any additional perks.
As the name suggests, these are bench-style bleacher seats. They do not have any back support.
Day vs. Night Games

For day games, these are some of the sunniest seats in the ballpark. They are in direct sunlight and will be some of the warmest seats on a hot day.
For night games, the exact opposite is true. Even during the summer months, they are some of the coldest seats at Oracle Park. These seats are no match for the cool ocean breeze. Guests should dress appropriately.
Note: These seats are highlighted on the map
Interactive Seating Chart
Bleacher Seats Seating Chart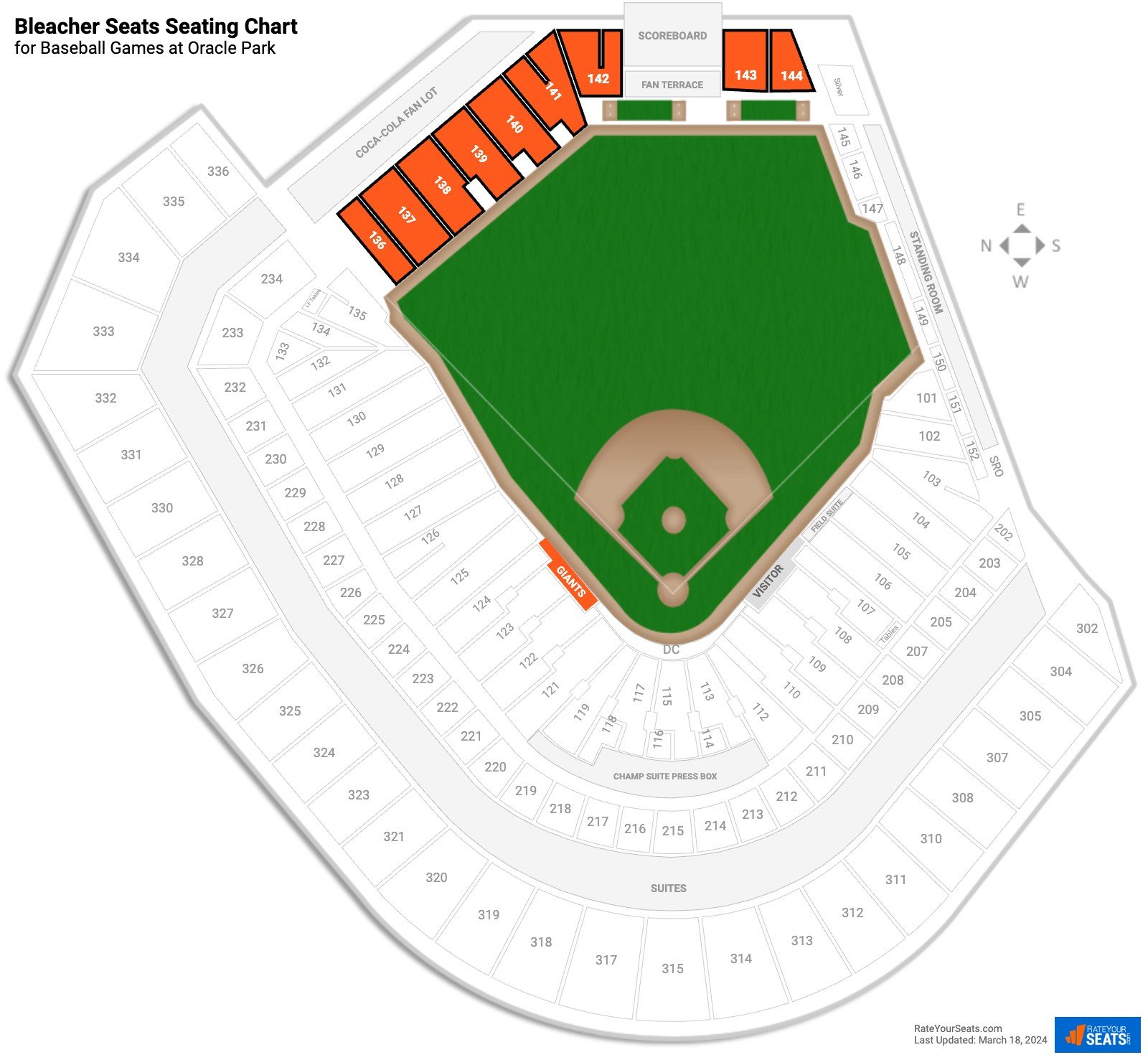 Bleacher Seats Reviews
Ratings & Reviews From Similar Seats

"Completely obstructed view."

(Section 142) - -

You have a view of a fence and only a fence. Yes it is the bleachers but it is an obstructed view not a limited view.

"Bleachers"

(Section 139) - -

Hey, an Orange Friday Night, in the Bleachers, and beating the Dodgers in a walk off homer by Buster Posey? Heck Yeah! Bleachers are very rowdy, part of the action is watching which fans will be tossed. It's a crazy party atmosphere. Seats are bench/bleacher seats, no backs. Lot's of crowding a...

"Really windy, but close to amenities"

(Section 144) - -

There's a reason these are among the cheapest bleacher seats in the park. They are really, really, really windy! It was 75 degrees outside of the stadium, but in these seats it was at least 25 degrees cooler. I was actually worried that my bottle of water was going to blow over. If you must sit in t...
More Seating at Oracle Park