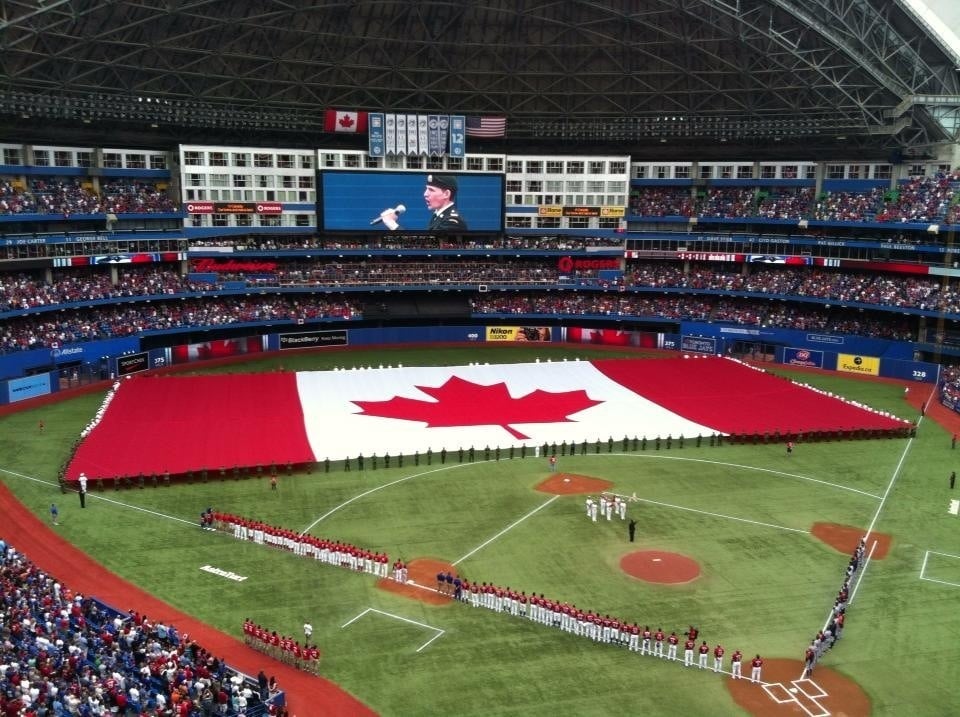 Features & Amenities
There are three distinct seating options on the 500 Level at Rogers Centre. Each of these options offer a different experience.
Infield

Infield seats in the 500 level are a great way to get a good view without breaking the bank. Sections 522-526 are behind home plate and have an incredible view of the center field scoreboard.
Unfortunately, the shape of the upper bowl has some sections much farther away from the field than they should be. For instance, you can save money by buying seats farther down the line instead of being in 518 or 530.
Down the Line

When you're purchasing tickets in a section farther away from home plate - whether for a baseball game or concert - aim for the lowest row you can afford. Views are much better and you won't have to walk as many stairs.
With the roof open, seats down the first base line are susceptible to the sun, while seats on the third base side will be covered.
Outfield

Well covered even when the roof is open, 500 level outfield seats are almost always available at bargain prices for Jays games. Their sheer distance from home plate and height above the field makes them undesirable for most fans who wish to watch the game.
Seats in left field have the best cover, though they've been known to feel indoorsy - even with the roof open.
Note: These seats are highlighted on the map
Interactive Seating Chart
500 Level Reviews
Ratings & Reviews From Similar Seats

"Great view of home plate"

(Section 534) - -

Great view of home plate and the whole field. Being in the second row was great because we didn't have to worry about so many heads to look over especially when people stood up to cheer. With small kids, I wasn't so nervous about the railing as I would have been in the first row.

"Best Value at Rogers Centre"

(Section 519) - -

Not sure what the earlier reviewer was talking about. 518/519 and 530/531 are closer to the field than behind home plate. Yes you're closer in the outfield, but the viewing angles are not nearly as good. The 200 level infield are by far the best seats to actually watch the game. Next is the 100 ...

"Good Relief From the Heat"

(Section 544) - -

Ended up moving here after our original seats were too hot. We weren't the only ones - saw a lot of other people come up here aimlessly and just sit in a seat. Completely under the roof when it is open, so you get nice shade at all times. Fairly wide open section during our game, but would be ...
More Seating at Rogers Centre