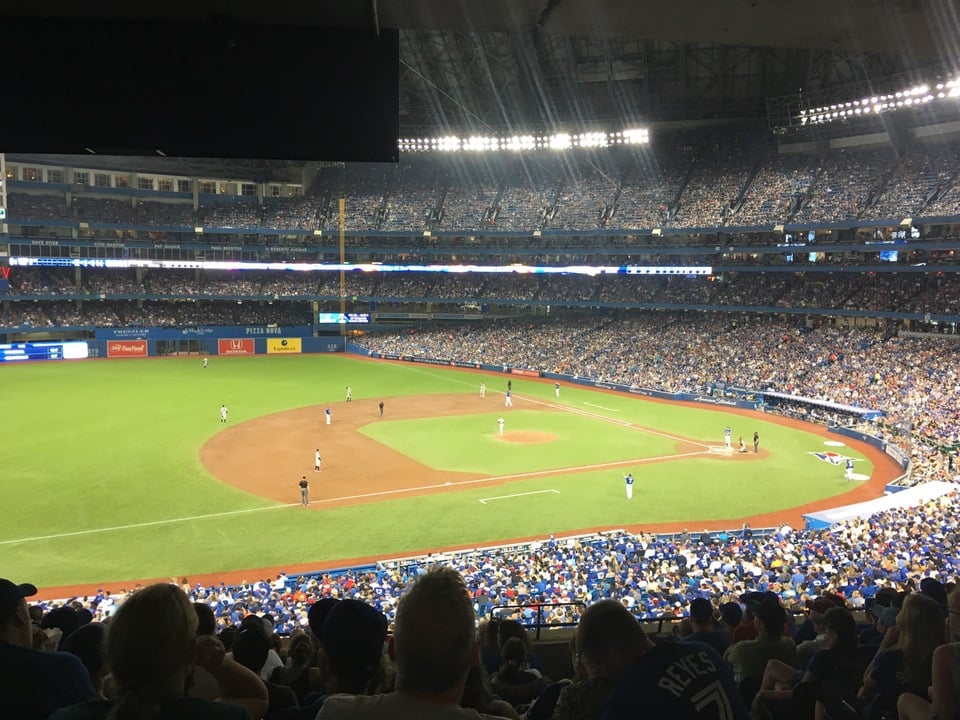 Features & Amenities
The 200 Level at Rogers Centre is a preferred option among guests who want a comfortable view and a smaller crowd. These elevated sections each have fewer than 15 rows with an entrance at the top.
200 Level For Baseball Games

On the Blue Jays seating chart, these sections are described as Infield, Bases or Outfield. While seats closer to home plate are better seats, the shape of the seating bowl pushes them farther away from the field. Fans can find good value in seats down the line (e.g.: 232-236) where sitelines are nearly as good.
The second deck of seating in the outfield at Rogers Centre is in home run range. In fact, it's a great place to hang out during batting practice. Section 239 in LF and 208 in RF will afford you the best opportunity at a ball. Besides for the chance at a home run ball, these outfield seats offer little else. Concessions and restrooms are sparse and the videoboard in center field may as well not even be there.
200 Level for Concerts

While these seats are very good for baseball games, they're not ideal for a concert.
Seats behind home plate have an excellent head-on view of the stage, but they're pretty far away. As you move away from home plate, the seats are closer to the stage, but they are angled away from it.
Unless you're getting a great deal in the comfortable Clubhouse Seats behind home plate, we recommend skipping this seating area for concerts.
Note: These seats are highlighted on the map
Interactive Seating Chart
200 Level Reviews
Ratings & Reviews From Similar Seats

"Good View for Concerts"

(Section 216) - -

No people standing in front of you since you are on the first row. A little obstruction to the view is the audio and light system, but this changes in every concert. Otherwise its a good position.

"Texas Rangers at Toronto Blue Jays - Aug 12, 2019"

(Section 222) -

"Great view and comfort"

(Section 225) - -

These are club seats so they are padded and have a cup holder. They are the last row of the section, just in front of the restaurant seating. There is full in-seat service so no need to leave your seats to get drinks or snacks.
More Seating at Rogers Centre