Is Section GA4 row 6 seat 17 good seats at Madison Square Garden?
I have tickets for tonight's Liberty game.
Aug 2014
Answered by Keith at RateYourSeats.com...
General Admission seats for New York Liberty games are located behind the basket in Sections 101-103. While behind the basket views aren't ideal, you are at a good height to see the entire court.
Because the seats are general admission, you will have an opportunity to move around and find a seat that works for you. We recommend corner Section 101 which will be less obstructed by the basket and will have a good view of the player benches.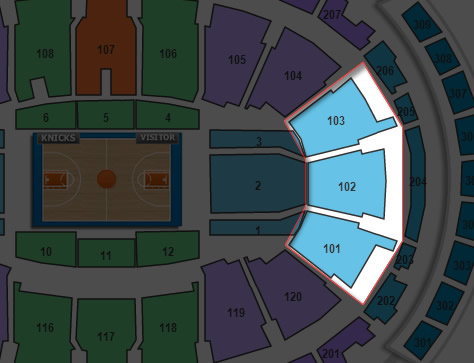 Asked August 12, 2014 for New York Liberty vs. Phoenix Mercury on Aug 12, 2014
Other Popular Seating Choices
RateYourSeats.com is the best way to search, compare and buy tickets. Select an event to find out why!
Event Schedule
Knicks
Other Basketball
Rangers
Concert
Other Hockey
Other
WWE Raw/Smackdown - 2-Day Package

Madison Square Garden - New York, NY

Monday, September 9 at 7:29 PM

NHL Preseason - New Jersey Devils at New York Rangers

Madison Square Garden - New York, NY

Wednesday, September 18 at 7:00 PM

NHL Preseason - New York Islanders at New York Rangers

Madison Square Garden - New York, NY

Tuesday, September 24 at 7:00 PM

NHL Preseason - Philadelphia Flyers at New York Rangers

Madison Square Garden - New York, NY

Thursday, September 26 at 7:00 PM

2019-2020 New York Rangers Season Tickets

Madison Square Garden - New York, NY

Wednesday, October 2 at 12:55 PM

Winnipeg Jets at New York Rangers

Madison Square Garden - New York, NY

Thursday, October 3 at 7:00 PM

NBA Preseason - Washington Wizards at New York Knicks

Madison Square Garden - New York, NY

Friday, October 11 at 7:30 PM

Edmonton Oilers at New York Rangers

Madison Square Garden - New York, NY

Saturday, October 12 at 1:00 PM

NBA Preseason - Atlanta Hawks at New York Knicks

Madison Square Garden - New York, NY

Wednesday, October 16 at 7:30 PM

NBA Preseason - New Orleans Pelicans at New York Knicks

Madison Square Garden - New York, NY

Friday, October 18 at 7:30 PM

Vancouver Canucks at New York Rangers

Madison Square Garden - New York, NY

Sunday, October 20 at 1:00 PM

Arizona Coyotes at New York Rangers

Madison Square Garden - New York, NY

Tuesday, October 22 at 7:00 PM

Buffalo Sabres at New York Rangers

Madison Square Garden - New York, NY

Thursday, October 24 at 7:00 PM

Boston Bruins at New York Rangers

Madison Square Garden - New York, NY

Sunday, October 27 at 7:00 PM

Tampa Bay Lightning at New York Rangers

Madison Square Garden - New York, NY

Tuesday, October 29 at 7:00 PM

Ottawa Senators at New York Rangers

Madison Square Garden - New York, NY

Monday, November 4 at 7:00 PM

Detroit Red Wings at New York Rangers

Madison Square Garden - New York, NY

Wednesday, November 6 at 8:00 PM

Florida Panthers at New York Rangers

Madison Square Garden - New York, NY

Sunday, November 10 at 1:00 PM

Pittsburgh Penguins at New York Rangers

Madison Square Garden - New York, NY

Tuesday, November 12 at 7:00 PM

Washington Capitals at New York Rangers

Madison Square Garden - New York, NY

Wednesday, November 20 at 8:00 PM

Minnesota Wild at New York Rangers

Madison Square Garden - New York, NY

Monday, November 25 at 7:00 PM

Carolina Hurricanes at New York Rangers

Madison Square Garden - New York, NY

Wednesday, November 27 at 7:00 PM

Boston University Terriers vs Cornell Big Red Hockey

Madison Square Garden - New York, NY

Saturday, November 30 at 8:00 PM

Vegas Golden Knights at New York Rangers

Madison Square Garden - New York, NY

Monday, December 2 at 7:00 PM

Montreal Canadiens at New York Rangers

Madison Square Garden - New York, NY

Friday, December 6 at 7:00 PM

Nashville Predators at New York Rangers

Madison Square Garden - New York, NY

Monday, December 16 at 7:00 PM

Toronto Maple Leafs at New York Rangers

Madison Square Garden - New York, NY

Friday, December 20 at 7:00 PM

Anaheim Ducks at New York Rangers

Madison Square Garden - New York, NY

Sunday, December 22 at 12:30 PM

Carolina Hurricanes at New York Rangers

Madison Square Garden - New York, NY

Friday, December 27 at 7:00 PM

Colorado Avalanche at New York Rangers

Madison Square Garden - New York, NY

Tuesday, January 7 at 7:00 PM

New Jersey Devils at New York Rangers

Madison Square Garden - New York, NY

Thursday, January 9 at 7:00 PM

New York Islanders at New York Rangers

Madison Square Garden - New York, NY

Monday, January 13 at 7:00 PM

Columbus Blue Jackets at New York Rangers

Madison Square Garden - New York, NY

Sunday, January 19 at 7:00 PM

New York Islanders at New York Rangers

Madison Square Garden - New York, NY

Tuesday, January 21 at 7:00 PM

Detroit Red Wings at New York Rangers

Madison Square Garden - New York, NY

Friday, January 31 at 7:00 PM

Dallas Stars at New York Rangers

Madison Square Garden - New York, NY

Monday, February 3 at 7:00 PM

Toronto Maple Leafs at New York Rangers

Madison Square Garden - New York, NY

Wednesday, February 5 at 7:30 PM

Buffalo Sabres at New York Rangers

Madison Square Garden - New York, NY

Friday, February 7 at 7:00 PM

Los Angeles Kings at New York Rangers

Madison Square Garden - New York, NY

Sunday, February 9 at 6:00 PM

Boston Bruins at New York Rangers

Madison Square Garden - New York, NY

Sunday, February 16 at 3:30 PM

San Jose Sharks at New York Rangers

Madison Square Garden - New York, NY

Saturday, February 22 at 7:00 PM

Philadelphia Flyers at New York Rangers

Madison Square Garden - New York, NY

Sunday, March 1 at 12:00 PM

St. Louis Blues at New York Rangers

Madison Square Garden - New York, NY

Tuesday, March 3 at 7:00 PM

Washington Capitals at New York Rangers

Madison Square Garden - New York, NY

Thursday, March 5 at 7:00 PM

New Jersey Devils at New York Rangers

Madison Square Garden - New York, NY

Saturday, March 7 at 7:00 PM

Calgary Flames at New York Rangers

Madison Square Garden - New York, NY

Monday, March 16 at 7:00 PM

Pittsburgh Penguins at New York Rangers

Madison Square Garden - New York, NY

Wednesday, March 18 at 7:30 PM

Columbus Blue Jackets at New York Rangers

Madison Square Garden - New York, NY

Tuesday, March 24 at 7:00 PM

2020 NCAA Tournament East Regional - All Sessions

Madison Square Garden - New York, NY

Friday, March 27 at Time TBA

2020 NCAA Tournament East Regional - Session 1

Madison Square Garden - New York, NY

Friday, March 27 at 6:00 PM

2020 NCAA Tournament East Regional - Session 2

Madison Square Garden - New York, NY

Sunday, March 29 at 6:00 PM

Philadelphia Flyers at New York Rangers

Madison Square Garden - New York, NY

Wednesday, April 1 at 7:30 PM

Chicago Blackhawks at New York Rangers

Madison Square Garden - New York, NY

Saturday, April 4 at 1:00 PM