Diamond Club at Angel Stadium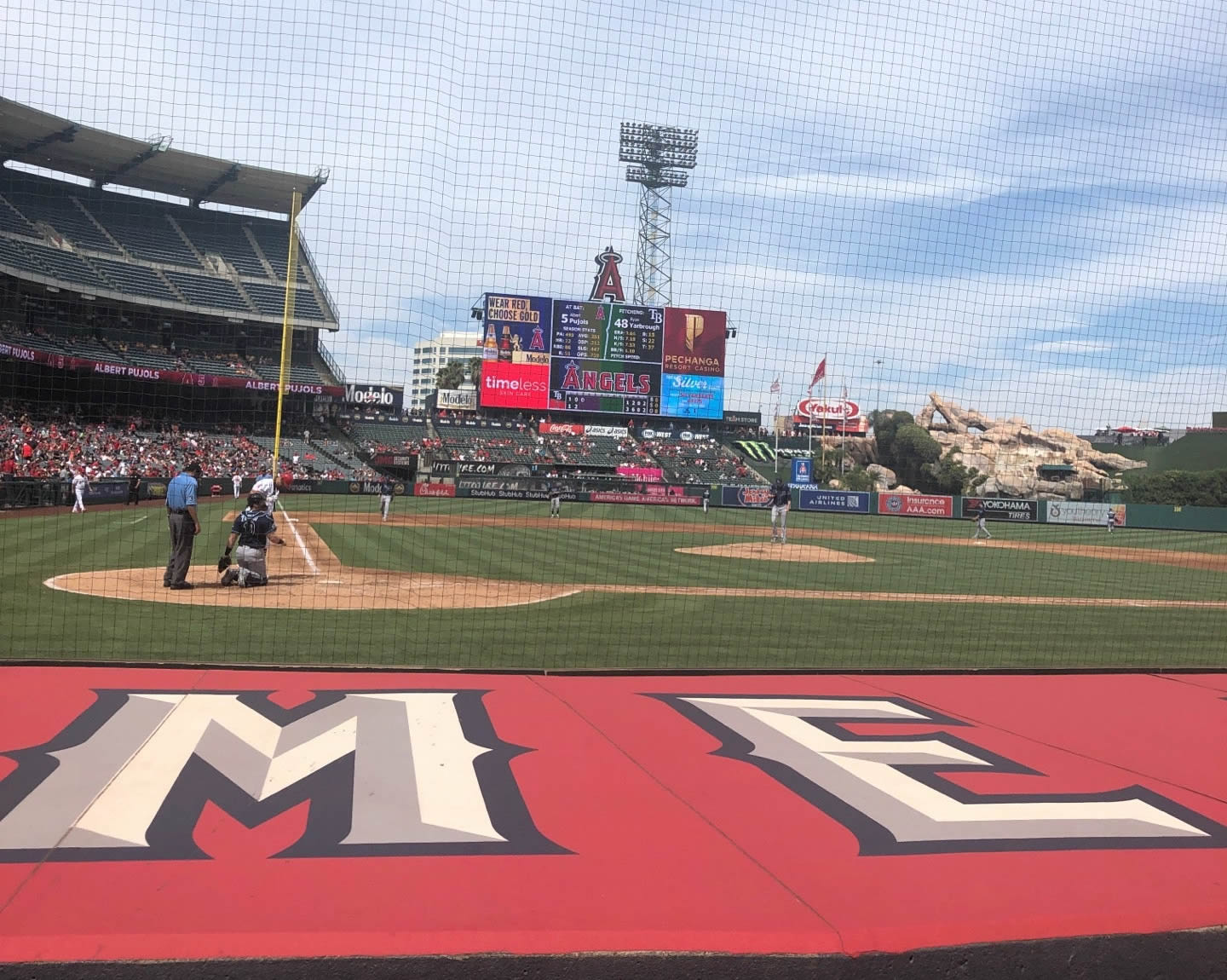 Features & Amenities
Some of the best seats in the lower level at an Angels game are in the nine sections that make of Diamond Club seating behind home plate. Sections 114-122 are a part of this premium location. Each seat in these sections is wider than a normal stadium seat, padded and has a home plate view from within 20 rows of the field.
Ticket holders in these club seats will have access to the private Diamond Club Restaurant and Lounge.
Being within 20 rows of the field and the heightened elevation creates great sight lines of the field and allows fans to take in the action in comfort behind home plate. While all sections will have great views, we recommend sitting in sections 117-119.
Amenities available for Angels home games. For other events, some amenities may not be available or offered.
Please note: Due to health and safety protocols in 2021, food availability, club access, wait service and other amenities are subject to change without notice.
Note: These seats are highlighted on the map
Interactive Seating Chart
Diamond Club Seating Chart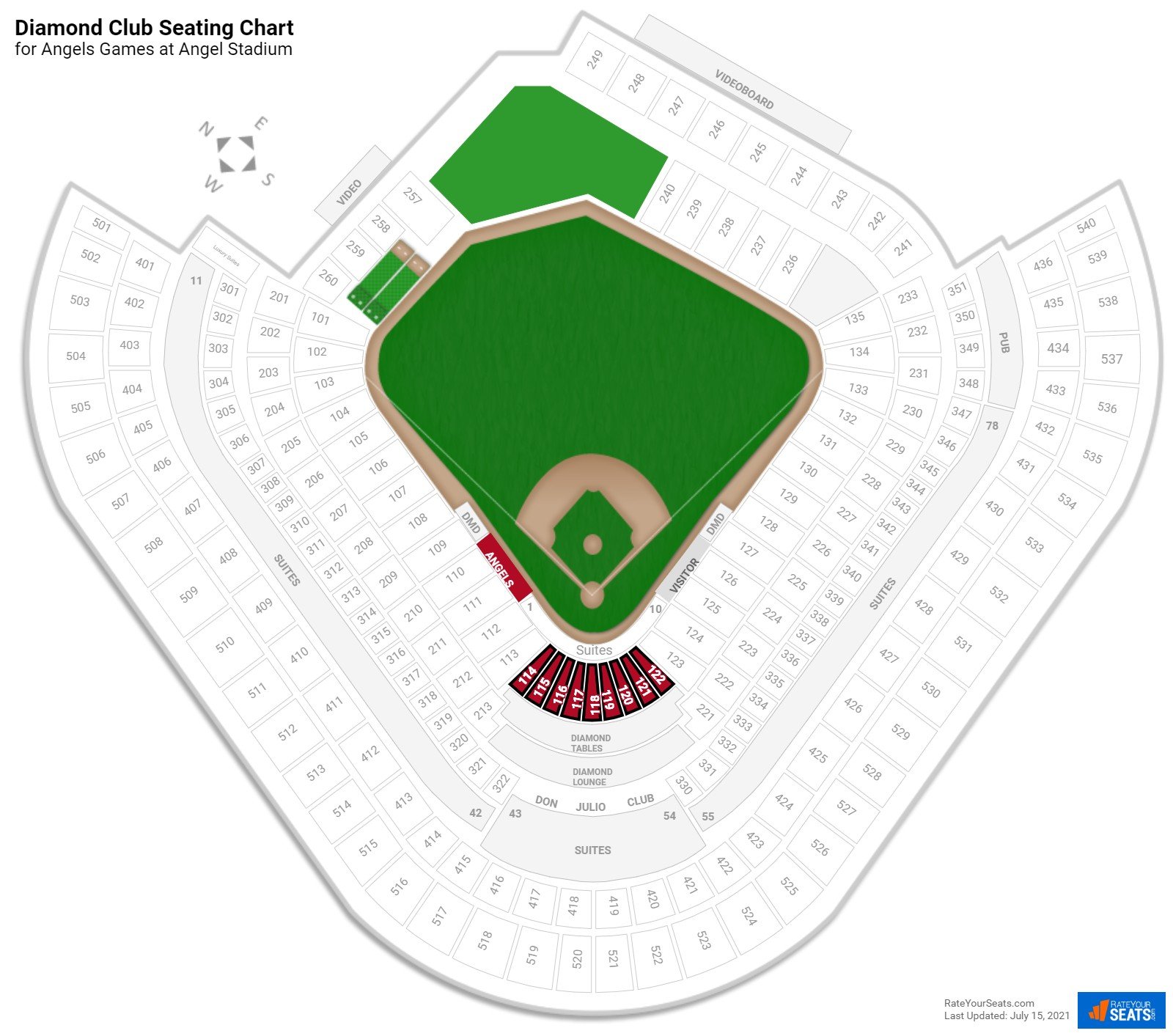 Diamond Club Reviews
Ratings & Reviews From Similar Seats

"Tampa Bay Rays at Los Angeles Angels of Anaheim - Sep 14, 2019"

(Section 117) - -

Great seats great view of game. Good food brought to your seat. Loved the whole experience.
More Seating at Angel Stadium
Event Schedule
27Mar

Spring Training - Los Angeles Dodgers at Los Angeles Angels of Anaheim

Angel Stadium - Anaheim, CA

Sunday, March 27 at Time TBA

7Apr

Houston Astros at Los Angeles Angels of Anaheim

Angel Stadium - Anaheim, CA

Thursday, April 7 at Time TBA

8Apr

Houston Astros at Los Angeles Angels of Anaheim

Angel Stadium - Anaheim, CA

Friday, April 8 at Time TBA

9Apr

Houston Astros at Los Angeles Angels of Anaheim

Angel Stadium - Anaheim, CA

Saturday, April 9 at 6:07 PM

10Apr

Houston Astros at Los Angeles Angels of Anaheim

Angel Stadium - Anaheim, CA

Sunday, April 10 at Time TBA

11Apr

Miami Marlins at Los Angeles Angels of Anaheim

Angel Stadium - Anaheim, CA

Monday, April 11 at Time TBA

12Apr

Miami Marlins at Los Angeles Angels of Anaheim

Angel Stadium - Anaheim, CA

Tuesday, April 12 at Time TBA

22Apr

Baltimore Orioles at Los Angeles Angels of Anaheim

Angel Stadium - Anaheim, CA

Friday, April 22 at Time TBA

23Apr

Baltimore Orioles at Los Angeles Angels of Anaheim

Angel Stadium - Anaheim, CA

Saturday, April 23 at Time TBA

24Apr

Baltimore Orioles at Los Angeles Angels of Anaheim

Angel Stadium - Anaheim, CA

Sunday, April 24 at Time TBA

25Apr

Cleveland Guardians at Los Angeles Angels of Anaheim

Angel Stadium - Anaheim, CA

Monday, April 25 at Time TBA

26Apr

Cleveland Guardians at Los Angeles Angels of Anaheim

Angel Stadium - Anaheim, CA

Tuesday, April 26 at Time TBA

27Apr

Cleveland Guardians at Los Angeles Angels of Anaheim

Angel Stadium - Anaheim, CA

Wednesday, April 27 at Time TBA

28Apr

Cleveland Guardians at Los Angeles Angels of Anaheim

Angel Stadium - Anaheim, CA

Thursday, April 28 at Time TBA

6May

Washington Nationals at Los Angeles Angels of Anaheim

Angel Stadium - Anaheim, CA

Friday, May 6 at Time TBA

7May

Washington Nationals at Los Angeles Angels of Anaheim

Angel Stadium - Anaheim, CA

Saturday, May 7 at Time TBA

8May

Washington Nationals at Los Angeles Angels of Anaheim

Angel Stadium - Anaheim, CA

Sunday, May 8 at Time TBA

9May

Tampa Bay Rays at Los Angeles Angels of Anaheim

Angel Stadium - Anaheim, CA

Monday, May 9 at Time TBA

10May

Tampa Bay Rays at Los Angeles Angels of Anaheim

Angel Stadium - Anaheim, CA

Tuesday, May 10 at Time TBA

11May

Tampa Bay Rays at Los Angeles Angels of Anaheim

Angel Stadium - Anaheim, CA

Wednesday, May 11 at Time TBA

20May

Oakland Athletics at Los Angeles Angels of Anaheim

Angel Stadium - Anaheim, CA

Friday, May 20 at Time TBA

21May

Oakland Athletics at Los Angeles Angels of Anaheim

Angel Stadium - Anaheim, CA

Saturday, May 21 at Time TBA

22May

Oakland Athletics at Los Angeles Angels of Anaheim

Angel Stadium - Anaheim, CA

Sunday, May 22 at Time TBA

24May

Texas Rangers at Los Angeles Angels of Anaheim

Angel Stadium - Anaheim, CA

Tuesday, May 24 at Time TBA

25May

Texas Rangers at Los Angeles Angels of Anaheim

Angel Stadium - Anaheim, CA

Wednesday, May 25 at Time TBA

26May

Toronto Blue Jays at Los Angeles Angels of Anaheim

Angel Stadium - Anaheim, CA

Thursday, May 26 at Time TBA

27May

Toronto Blue Jays at Los Angeles Angels of Anaheim

Angel Stadium - Anaheim, CA

Friday, May 27 at 6:38 PM

28May

Toronto Blue Jays at Los Angeles Angels of Anaheim

Angel Stadium - Anaheim, CA

Saturday, May 28 at Time TBA

29May

Toronto Blue Jays at Los Angeles Angels of Anaheim

Angel Stadium - Anaheim, CA

Sunday, May 29 at Time TBA

6Jun

Boston Red Sox at Los Angeles Angels of Anaheim

Angel Stadium - Anaheim, CA

Monday, June 6 at Time TBA

7Jun

Boston Red Sox at Los Angeles Angels of Anaheim

Angel Stadium - Anaheim, CA

Tuesday, June 7 at Time TBA

8Jun

Boston Red Sox at Los Angeles Angels of Anaheim

Angel Stadium - Anaheim, CA

Wednesday, June 8 at Time TBA

9Jun

Boston Red Sox at Los Angeles Angels of Anaheim

Angel Stadium - Anaheim, CA

Thursday, June 9 at Time TBA

10Jun

New York Mets at Los Angeles Angels of Anaheim

Angel Stadium - Anaheim, CA

Friday, June 10 at Time TBA

11Jun

New York Mets at Los Angeles Angels of Anaheim

Angel Stadium - Anaheim, CA

Saturday, June 11 at Time TBA

12Jun

New York Mets at Los Angeles Angels of Anaheim

Angel Stadium - Anaheim, CA

Sunday, June 12 at Time TBA

20Jun

Kansas City Royals at Los Angeles Angels of Anaheim

Angel Stadium - Anaheim, CA

Monday, June 20 at Time TBA

21Jun

Kansas City Royals at Los Angeles Angels of Anaheim

Angel Stadium - Anaheim, CA

Tuesday, June 21 at Time TBA

22Jun

Kansas City Royals at Los Angeles Angels of Anaheim

Angel Stadium - Anaheim, CA

Wednesday, June 22 at Time TBA

24Jun

Seattle Mariners at Los Angeles Angels of Anaheim

Angel Stadium - Anaheim, CA

Friday, June 24 at Time TBA

25Jun

Seattle Mariners at Los Angeles Angels of Anaheim

Angel Stadium - Anaheim, CA

Saturday, June 25 at 7:07 PM

26Jun

Seattle Mariners at Los Angeles Angels of Anaheim

Angel Stadium - Anaheim, CA

Sunday, June 26 at Time TBA

27Jun

Chicago White Sox at Los Angeles Angels of Anaheim

Angel Stadium - Anaheim, CA

Monday, June 27 at Time TBA

28Jun

Chicago White Sox at Los Angeles Angels of Anaheim

Angel Stadium - Anaheim, CA

Tuesday, June 28 at Time TBA

29Jun

Chicago White Sox at Los Angeles Angels of Anaheim

Angel Stadium - Anaheim, CA

Wednesday, June 29 at Time TBA

12Jul

Houston Astros at Los Angeles Angels of Anaheim

Angel Stadium - Anaheim, CA

Tuesday, July 12 at Time TBA

13Jul

Houston Astros at Los Angeles Angels of Anaheim

Angel Stadium - Anaheim, CA

Wednesday, July 13 at Time TBA

14Jul

Houston Astros at Los Angeles Angels of Anaheim

Angel Stadium - Anaheim, CA

Thursday, July 14 at Time TBA

15Jul

Los Angeles Dodgers at Los Angeles Angels of Anaheim

Angel Stadium - Anaheim, CA

Friday, July 15 at Time TBA

16Jul

Los Angeles Dodgers at Los Angeles Angels of Anaheim

Angel Stadium - Anaheim, CA

Saturday, July 16 at Time TBA

28Jul

Texas Rangers at Los Angeles Angels of Anaheim

Angel Stadium - Anaheim, CA

Thursday, July 28 at Time TBA

29Jul

Texas Rangers at Los Angeles Angels of Anaheim

Angel Stadium - Anaheim, CA

Friday, July 29 at Time TBA

30Jul

Texas Rangers at Los Angeles Angels of Anaheim

Angel Stadium - Anaheim, CA

Saturday, July 30 at Time TBA

31Jul

Texas Rangers at Los Angeles Angels of Anaheim

Angel Stadium - Anaheim, CA

Sunday, July 31 at Time TBA

2Aug

Oakland Athletics at Los Angeles Angels of Anaheim

Angel Stadium - Anaheim, CA

Tuesday, August 2 at Time TBA

3Aug

Oakland Athletics at Los Angeles Angels of Anaheim

Angel Stadium - Anaheim, CA

Wednesday, August 3 at Time TBA

4Aug

Oakland Athletics at Los Angeles Angels of Anaheim

Angel Stadium - Anaheim, CA

Thursday, August 4 at Time TBA

12Aug

Minnesota Twins at Los Angeles Angels of Anaheim

Angel Stadium - Anaheim, CA

Friday, August 12 at Time TBA

13Aug

Minnesota Twins at Los Angeles Angels of Anaheim

Angel Stadium - Anaheim, CA

Saturday, August 13 at Time TBA

14Aug

Minnesota Twins at Los Angeles Angels of Anaheim

Angel Stadium - Anaheim, CA

Sunday, August 14 at Time TBA

15Aug

Seattle Mariners at Los Angeles Angels of Anaheim

Angel Stadium - Anaheim, CA

Monday, August 15 at Time TBA

16Aug

Seattle Mariners at Los Angeles Angels of Anaheim

Angel Stadium - Anaheim, CA

Tuesday, August 16 at Time TBA

17Aug

Seattle Mariners at Los Angeles Angels of Anaheim

Angel Stadium - Anaheim, CA

Wednesday, August 17 at Time TBA

29Aug

New York Yankees at Los Angeles Angels of Anaheim

Angel Stadium - Anaheim, CA

Monday, August 29 at Time TBA

30Aug

New York Yankees at Los Angeles Angels of Anaheim

Angel Stadium - Anaheim, CA

Tuesday, August 30 at Time TBA

31Aug

New York Yankees at Los Angeles Angels of Anaheim

Angel Stadium - Anaheim, CA

Wednesday, August 31 at Time TBA

2Sep

Houston Astros at Los Angeles Angels of Anaheim

Angel Stadium - Anaheim, CA

Friday, September 2 at Time TBA

3Sep

Houston Astros at Los Angeles Angels of Anaheim

Angel Stadium - Anaheim, CA

Saturday, September 3 at Time TBA

4Sep

Houston Astros at Los Angeles Angels of Anaheim

Angel Stadium - Anaheim, CA

Sunday, September 4 at Time TBA

5Sep

Detroit Tigers at Los Angeles Angels of Anaheim

Angel Stadium - Anaheim, CA

Monday, September 5 at Time TBA

6Sep

Detroit Tigers at Los Angeles Angels of Anaheim

Angel Stadium - Anaheim, CA

Tuesday, September 6 at Time TBA

7Sep

Detroit Tigers at Los Angeles Angels of Anaheim

Angel Stadium - Anaheim, CA

Wednesday, September 7 at Time TBA

16Sep

Seattle Mariners at Los Angeles Angels of Anaheim

Angel Stadium - Anaheim, CA

Friday, September 16 at Time TBA

17Sep

Seattle Mariners at Los Angeles Angels of Anaheim

Angel Stadium - Anaheim, CA

Saturday, September 17 at Time TBA

18Sep

Seattle Mariners at Los Angeles Angels of Anaheim

Angel Stadium - Anaheim, CA

Sunday, September 18 at Time TBA

19Sep

Seattle Mariners at Los Angeles Angels of Anaheim

Angel Stadium - Anaheim, CA

Monday, September 19 at Time TBA

27Sep

Oakland Athletics at Los Angeles Angels of Anaheim

Angel Stadium - Anaheim, CA

Tuesday, September 27 at Time TBA

28Sep

Oakland Athletics at Los Angeles Angels of Anaheim

Angel Stadium - Anaheim, CA

Wednesday, September 28 at Time TBA

29Sep

Oakland Athletics at Los Angeles Angels of Anaheim

Angel Stadium - Anaheim, CA

Thursday, September 29 at Time TBA

30Sep

Texas Rangers at Los Angeles Angels of Anaheim

Angel Stadium - Anaheim, CA

Friday, September 30 at Time TBA

1Oct

Texas Rangers at Los Angeles Angels of Anaheim

Angel Stadium - Anaheim, CA

Saturday, October 1 at Time TBA