Is there a ladies room close to Section 134 at Levis Stadium?
Also, is it a long walk to these seats?  I have some problems with my hip sockets and can't walk super long distances.  This is my first game at Levi's and I don't want to be a problem with my pain, so any input or suggestions are appreciated.  Thank you for your help.
Oct 2014
Answered by Steve at RateYourSeats.com...
We are happy to confirm that there is a women's restroom close to Section 134, located in the concourse just outside the entry tunnel between neighboring sections Sections 133 and 132. There is also a family restroom located just outside Section 135 which would be even closer for you. There are a total of 35 rows of seating in Section 134, running from Row 1 at the front, and ending in Row 35W (handicap accessible seating) at the back. To minimize the amount of stairs you have to walk when moving to and from the seats, we recommend staying in Rows 30 and higher.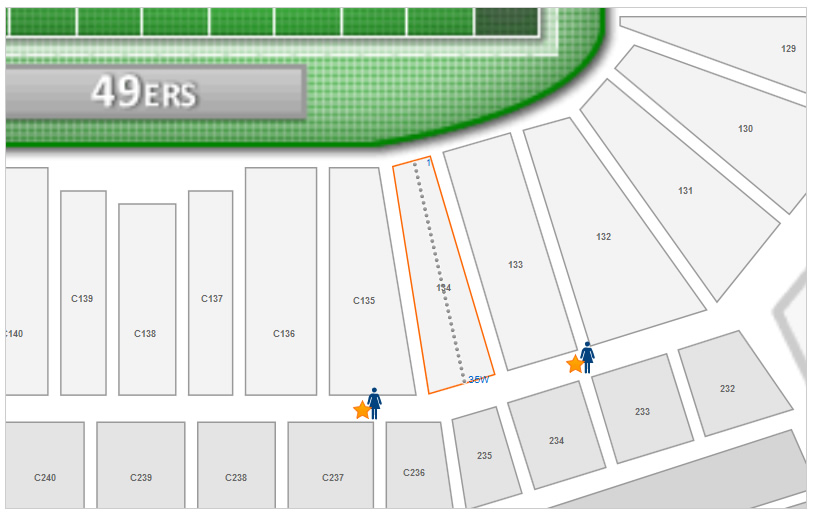 Some of the best options for staying close to a women's restroom and limiting the number of steps to walk will be found in the 200 level sections on the southwest side of Levis Stadium (Sections 232-235 and 243-246). These sections feature no more than 14 rows in each section, and will be close to the restrooms on the less crowded 200 level concourse on this side of the stadium.
Other good options can also be found in the 300 level sections, as these have no more than 8 rows of seating in each section allowing for shorter walks to and from the concourse. From this level you will have a better chance to find an aisle seat for a decent price, which will give you easier access to the seats without climbing over numerous other fans. However as the concourse on this seating tier is shared with the 400 level sections, the restrooms lines may be longer than other options.
Asked October 07, 2014 for San Francisco 49ers vs. St. Louis Rams on Nov 2, 2014
Interactive Seating Chart
Other Popular Seating Choices