Broadcast Club at Levi's Stadium
Features & Amenities
The Broadcast Club sections are found along the west sideline of the second seating deck in sections C236 through C242. These club seats are often compared to the Levi's Club Seats on the opposite sideline. These sections compare favorably for a few reasons:
Just 10-12 rows per section
On the 49ers side of the field
This side is shaded before the east side
This area may also be referred to as the Yahoo Club Seats because ticketholders have access to the Yahoo Fantasy Football Lounge. This area has its own private entrance, premium food and beverage options, a number of televisions and plenty of space for hanging out.
While the club lounge has a number of different attractions, it might be tough to abandon your seat while the game is going on. All club seats are full padded and larger than chairs in non-club areas. Plus, you'll have one of the most comfortable views at Levi's Stadium. It's tough to beat a sideline view with elevation.
Amenities available for 49ers home games. For other events, some amenities may not be available or offered.
Please note: Due to health and safety protocols in 2023, food availability, club access, wait service and other amenities are subject to change without notice.
Note: These seats are highlighted on the map
Interactive Seating Chart
Broadcast Club Seating Chart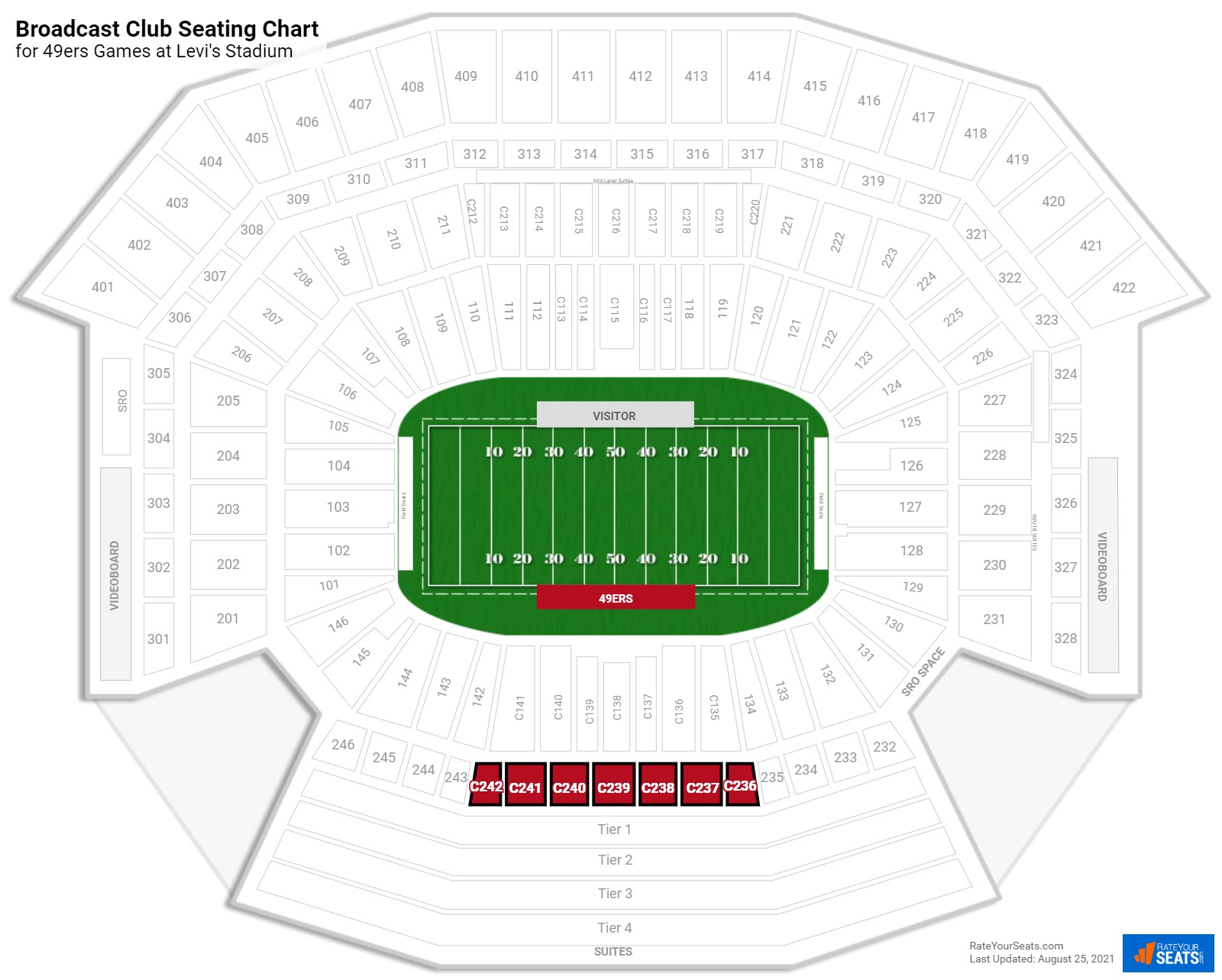 Broadcast Club Reviews
Ratings & Reviews From Similar Seats

"First Visit to Levi's - An Exercise in Frustration"

(Section C240) - -

55 minutes in line to buy popcorn. 55. What more can be said? Not to fault the hardworking staff behind the counter, but fault the system. At each line the counter person takes the order, puts on gloves, fills the order, removes the gloves, and rings you up. No assistance in expediting. Ridiculous. ...
More Seating at Levi's Stadium