Hollywood Bowl Terrace Boxes
Features & Amenities
Terrace Boxes are located just behind the Garden Boxes, and provide ticket holders with very good views of the stage. Fans will enjoy the roomier, more comfortable seating, and will have the option to order a catered meal delivered directly to their box.
The Terrace boxes at the Hollywood Bowl allow you the opportunity to relax and enjoy the show in unique fashion. If you don't want to have a full dinner there are alternate areas in the Terrace boxes that are designed for snacking and comfort. These are four person boxes. Try to avoid the main aisle for Terrace Box seats at the Hollywood Bowl, it can get a bit noisy in this area from those around you. Overall, Terrace Boxes at Hollywood Bowl are a great opportunity to have premium views and relaxation as well.
Please note: Due to health and safety protocols in 2022, food availability, club access, wait service and other amenities are subject to change without notice.
Note: These seats are highlighted on the map
Interactive Seating Chart
Terrace Boxes Seating Chart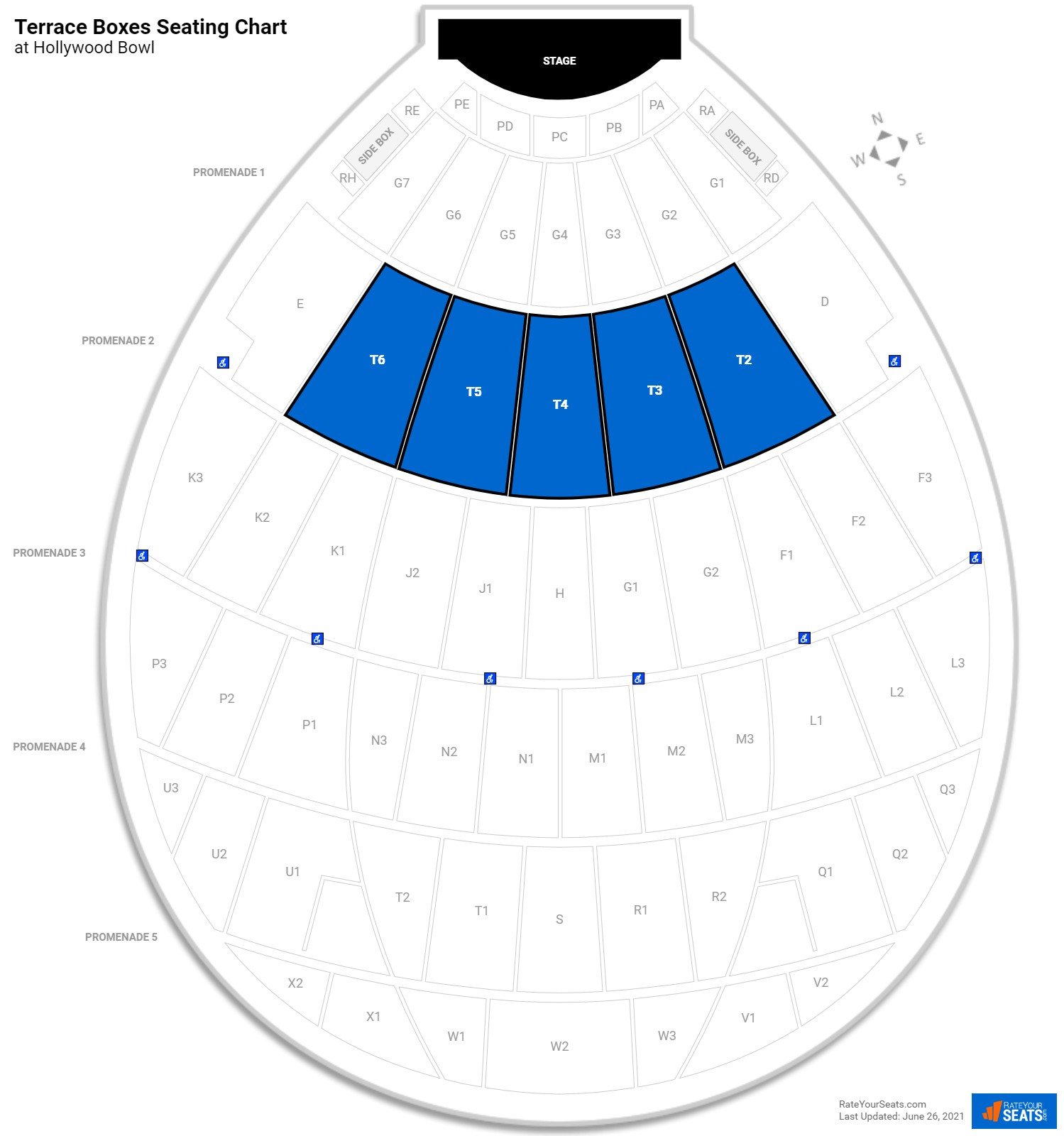 More Seating at Hollywood Bowl
Event Schedule
28Apr

Netflix Is A Joke Fest - Dave Chappelle and Friends

Hollywood Bowl - Los Angeles, CA

Thursday, April 28 at 7:00 PM

29Apr

Netflix Is A Joke Fest - Dave Chappelle and Friends

Hollywood Bowl - Los Angeles, CA

Friday, April 29 at 7:00 PM

30Apr

Netflix Is A Joke Fest - Dave Chappelle and Friends

Hollywood Bowl - Los Angeles, CA

Saturday, April 30 at 7:00 PM

2Jul

July 4th Fireworks Spectacular with Steve Martin and Martin Short

Hollywood Bowl - Los Angeles, CA

Saturday, July 2 at 7:30 PM

3Jul

July 4th Fireworks Spectacular with Steve Martin and Martin Short

Hollywood Bowl - Los Angeles, CA

Sunday, July 3 at 7:30 PM

4Jul

July 4th Fireworks Spectacular with Steve Martin and Martin Short

Hollywood Bowl - Los Angeles, CA

Monday, July 4 at 7:00 PM