Hollywood Bowl Terrace Boxes
Features & Amenities
Terrace Boxes at Hollywood Bowl are the third tier of seating and are the last option of dedicated box seating. Fans will enjoy roomier and more comfortable seating with clear views to the stage. Additionally, those in Terrace box sections have the option to order a catered meal or wine directly to the box.
Terrace seats are very similar to the Garden Boxes located one level in front. The only difference is the Terrace sections are slightly further from the stage.
Each box is separated by a wood partition and includes cloth folding chairs. There is enough room to set up a table to enjoy food and beverage from the seats!
Tickets in these sections are a great option for those looking for a more upscale night at Hollywood Bowl.
Views from the Terrace Seats

Due to the slope of the bowl, the views from the terrace seats will be clear to the stage. Of course there will be other fans in the boxes nearby so views can vary by the height of those sitting around you.
For the best views, choose tickets in T3-T5 to be centered to the stage.
Terrace Box Seat Numbering

All boxes on this level are four-digit numbers. All boxes will have a first digit of 1. The second digit is similar to a row number and will increase as you move further back in the section. The third digit represents the section number. The final number acts similar to a seat number and will increase as you move from left to right when looking at the stage.
Example: 1031 is at the front of the section and 1831 is at the back of section 3. Both boxes will be on the right side of the section.
Please note: Due to health and safety protocols in 2022, food availability, club access, wait service and other amenities are subject to change without notice.
Note: These seats are highlighted on the map
Interactive Seating Chart
Terrace Boxes Seating Chart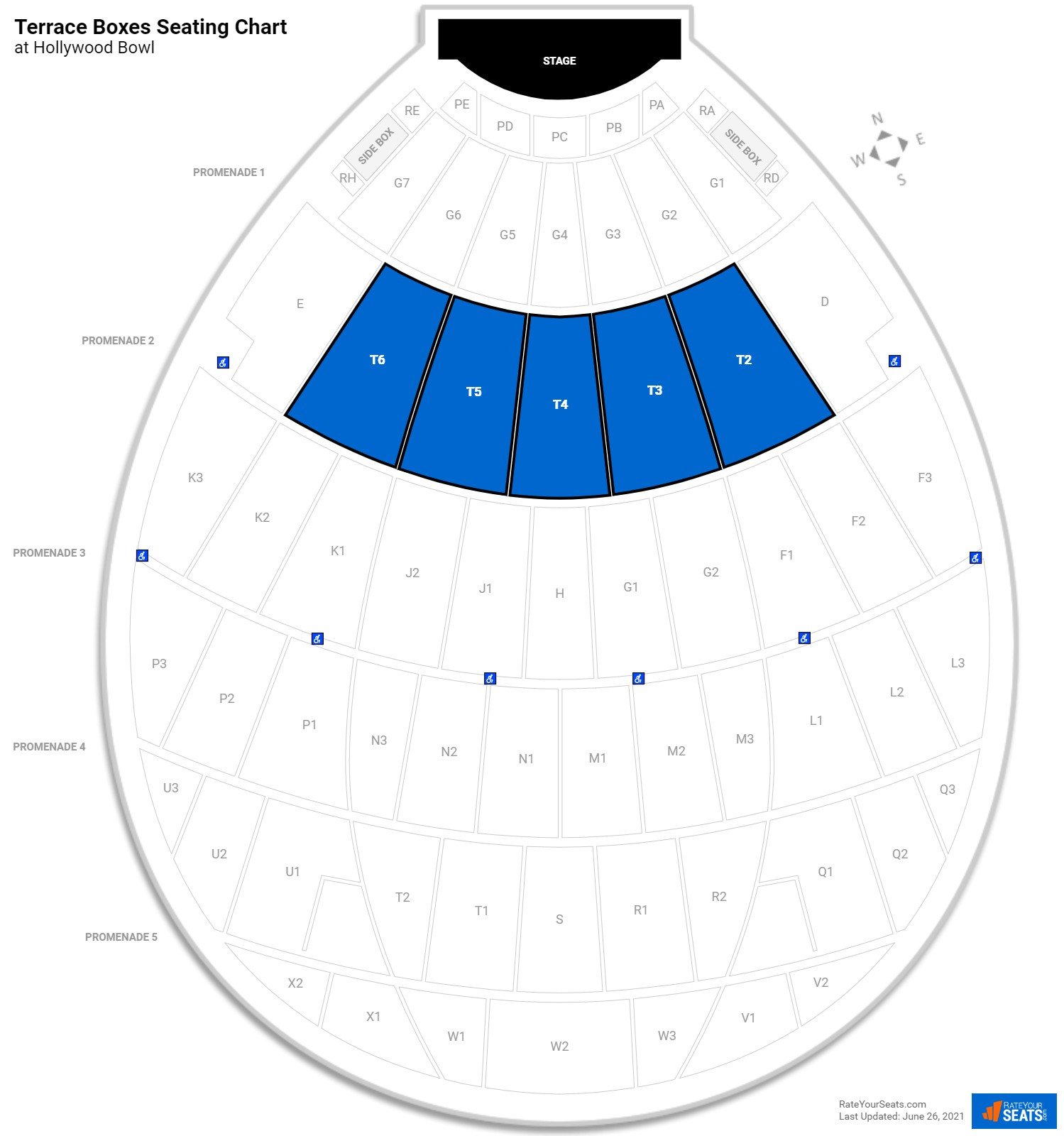 More Seating at Hollywood Bowl