Hollywood Bowl Pool Circle
Features & Amenities
The Pool Circle at Hollywood Bowl is as close as you can sit for an event without actually being a performer on stage. The seating area is partitioned off from the rest of the venue making these sections the most exclusive seats in the venue. Depending on the show, Pool Circle seating can take a variety of forms.
Standard Concert Setup

Commonly seen in the Pool Circle are five sections labeled A-E. Each section will have between 7-8 rows which means all fans sitting here will be within 8 rows of the artists on stage. Chairs are temporary folding chairs with some padding on them.
The best views will be in section C due to its location center to the stage. However, all sections provide great views to the stage being this close to the stage. We suggest choosing a closer row over a centered view when comparing tickets in Pool Circle sections.
Philharmonic Setup

For most traditional Philharmonic and Weekend Spectacular shows these seats will be three lettered rows of box-style table seating. These boxes offer slightly more space than the Garden Seats and Terrace Boxes behind them.
Read seller notes for specifics to the amenities for these events.
General Admission Pool Circle

The final setup in the Pool Circle makes this location general admission. All seats are removed making this an open floor. This setup is rare for a show at the Hollywood Bowl, but is sometimes used for touring artists that have a lively atmosphere.
Note: These seats are highlighted on the map
Interactive Seating Chart
Pool Circle Seating Chart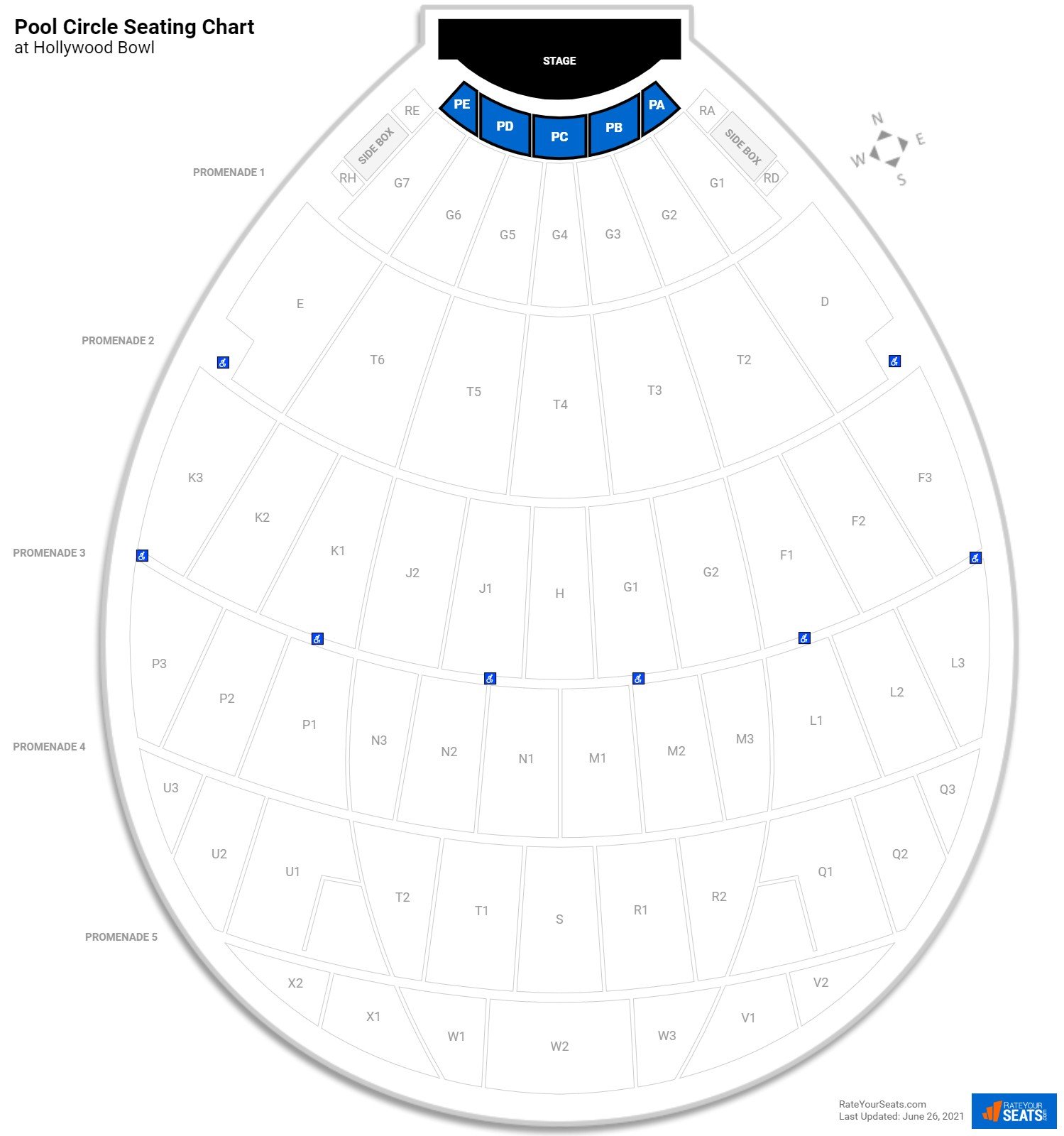 More Seating at Hollywood Bowl
Event Schedule
30Jun

Los Angeles Philharmonic - Harry Potter and the Deathly Hallows Part 1

Hollywood Bowl - Los Angeles, CA

Thursday, June 30 at 8:00 PM

2Jul

July 4th Fireworks Spectacular with Steve Martin and Martin Short

Hollywood Bowl - Los Angeles, CA

Saturday, July 2 at 7:30 PM

3Jul

July 4th Fireworks Spectacular with Steve Martin and Martin Short

Hollywood Bowl - Los Angeles, CA

Sunday, July 3 at 7:30 PM

4Jul

July 4th Fireworks Spectacular with Steve Martin and Martin Short

Hollywood Bowl - Los Angeles, CA

Monday, July 4 at 7:00 PM

12Jul

Los Angeles Philharmonic - The Music of Leonard Bernstein

Hollywood Bowl - Los Angeles, CA

Tuesday, July 12 at 8:00 PM

14Jul

Los Angeles Philharmonic - The Music of Leonard Bernstein

Hollywood Bowl - Los Angeles, CA

Thursday, July 14 at 8:00 PM

17Jul

Los Angeles Philharmonic - The Valkyries

Hollywood Bowl - Los Angeles, CA

Sunday, July 17 at 7:30 PM

20Jul

Gustavo Dudamel and Paris Opera Ballet

Hollywood Bowl - Los Angeles, CA

Wednesday, July 20 at 8:00 PM

21Jul

Gustavo Dudamel and Paris Opera Ballet

Hollywood Bowl - Los Angeles, CA

Thursday, July 21 at 8:00 PM

22Jul

Los Angeles Philharmonic - Ricky Martin

Hollywood Bowl - Los Angeles, CA

Friday, July 22 at 8:00 PM

23Jul

Los Angeles Philharmonic - Ricky Martin

Hollywood Bowl - Los Angeles, CA

Saturday, July 23 at 8:00 PM

27Jul

Count Basie Orchestra - Tribute to Frank Sinatra and Peggy Lee

Hollywood Bowl - Los Angeles, CA

Wednesday, July 27 at 8:00 PM

5Aug

Los Angeles Philharmonic - Back to the Future

Hollywood Bowl - Los Angeles, CA

Friday, August 5 at 8:00 PM

6Aug

Los Angeles Philharmonic - Back to the Future

Hollywood Bowl - Los Angeles, CA

Saturday, August 6 at 8:00 PM

12Aug

Los Angeles Philharmonic - Tchaikovsky Spectacular

Hollywood Bowl - Los Angeles, CA

Friday, August 12 at 8:00 PM

13Aug

Los Angeles Philharmonic - Tchaikovsky Spectacular

Hollywood Bowl - Los Angeles, CA

Saturday, August 13 at 8:00 PM

21Aug

Hollywood Bowl Orchestra - Flying Lotus and Hiatus Kaiyote

Hollywood Bowl - Los Angeles, CA

Sunday, August 21 at 8:00 PM

24Aug

Hollywood Bowl Orchestra - Black Movie Soundtrack

Hollywood Bowl - Los Angeles, CA

Wednesday, August 24 at 8:00 PM

30Aug

Los Angeles Philharmonic - Beethovens Ninth

Hollywood Bowl - Los Angeles, CA

Tuesday, August 30 at 8:00 PM

1Sep

Los Angeles Philharmonic - Beethovens Ninth

Hollywood Bowl - Los Angeles, CA

Thursday, September 1 at 8:00 PM

2Sep

Los Angeles Philharmonic - Maestro of the Movies

Hollywood Bowl - Los Angeles, CA

Friday, September 2 at 8:00 PM

3Sep

Los Angeles Philharmonic - Maestro of the Movies

Hollywood Bowl - Los Angeles, CA

Saturday, September 3 at 8:00 PM

4Sep

Los Angeles Philharmonic - Maestro of the Movies

Hollywood Bowl - Los Angeles, CA

Sunday, September 4 at 7:30 PM

7Sep

Jazz at Lincoln Center Orchestra with Wynton Marsalis

Hollywood Bowl - Los Angeles, CA

Wednesday, September 7 at 8:00 PM

8Sep

Wynton Marsalis All Rise Jazz at Lincoln Center Orchestra

Hollywood Bowl - Los Angeles, CA

Thursday, September 8 at 8:00 PM

13Sep

Itzhak Perlman leads Tchaikovsky

Hollywood Bowl - Los Angeles, CA

Tuesday, September 13 at 8:00 PM

21Sep

Chucho Valdes and the Yoruban Orchestra

Hollywood Bowl - Los Angeles, CA

Wednesday, September 21 at 8:00 PM

19Nov

Smashing Pumpkins with Janes Addiction

Hollywood Bowl - Los Angeles, CA

Saturday, November 19 at 6:30 PM