Hollywood Bowl Garden Seats
Features & Amenities
Hollywood Bowl Garden Seats have excellent views of the performance and are only separated from the stage by the Pool Circle. Boxes provide fans with a roomier more comfortable seating environment, with the option to order a catered meal delivered right to the box.
The combination being able to dine while being close to the stage make these one of the best seating options for a show at Hollywood Bowl. Garden seats are in high-demand especially for Friday and Saturday night shows.
Inside the Garden Box

Garden Box seats are canvas, collapsible chairs which come in either groups of 4 of 6. Many people choose to set up tables with tablecloths to dine before the show.
While each box is a private space, only a wood partition separates the box seats from one another. Those with tickets should still expect to have neighbors nearby!
Garden Box Numbering

A majority of Garden Boxes at Hollywood Bowl are three digit numbers.
The first digit will represent how from the front of the section the box is. Those with a two-digit row will be the first row, followed by boxes in the 100's. The last row will be in the 900's.
The middle digit will be the same for the entire section and the last digit will increase as you move from the left to the right of the section.
Please note: Due to health and safety protocols in 2022, food availability, club access, wait service and other amenities are subject to change without notice.
Note: These seats are highlighted on the map
Interactive Seating Chart
Garden Seats Seating Chart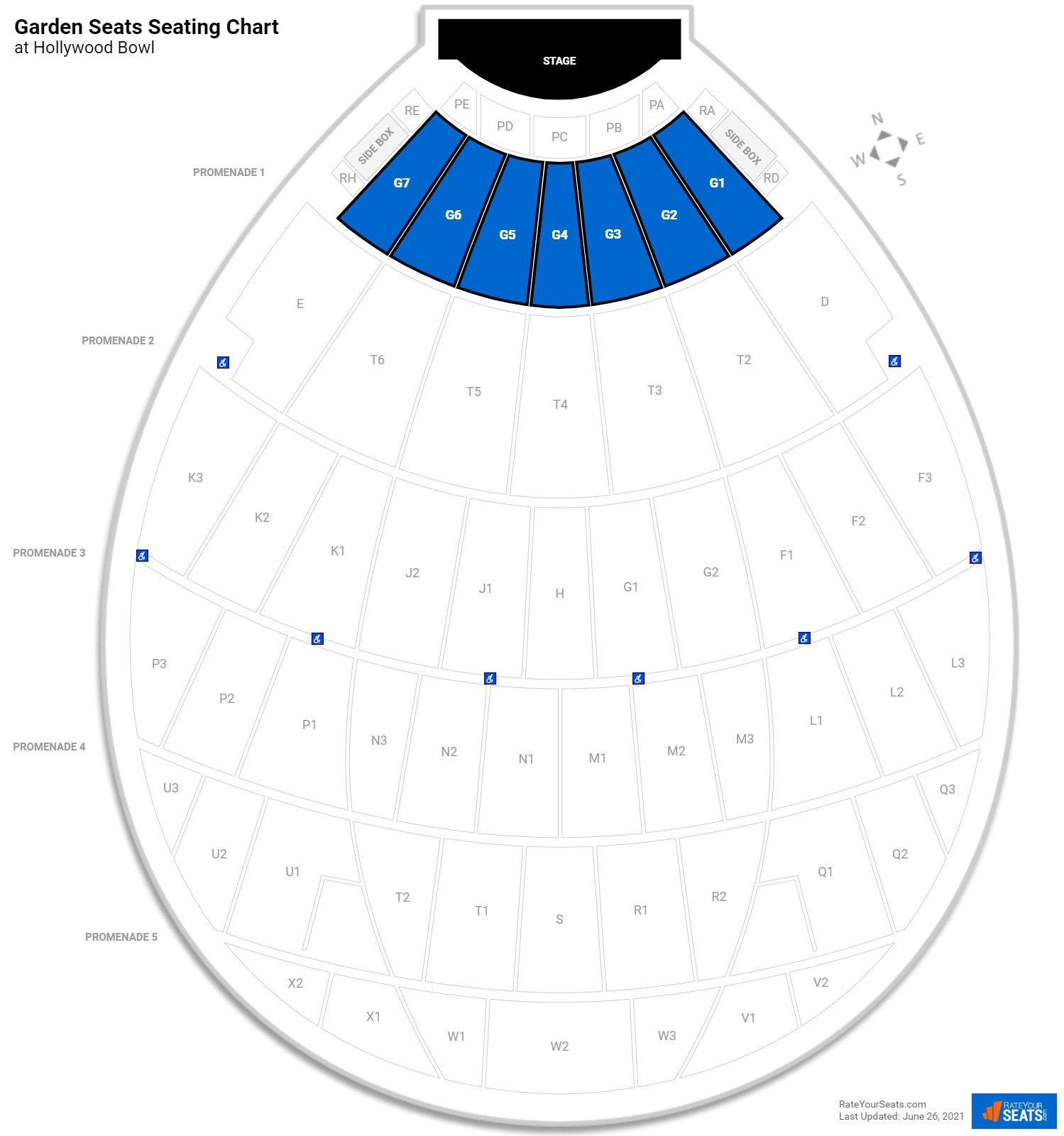 Garden Seats Reviews
Ratings & Reviews From Similar Seats

"Andrea Bocelli - Jun 18, 2019"

(Garden Box 3) -
More Seating at Hollywood Bowl
Event Schedule
30Jun

Los Angeles Philharmonic - Harry Potter and the Deathly Hallows Part 1

Hollywood Bowl - Los Angeles, CA

Thursday, June 30 at 8:00 PM

2Jul

July 4th Fireworks Spectacular with Steve Martin and Martin Short

Hollywood Bowl - Los Angeles, CA

Saturday, July 2 at 7:30 PM

3Jul

July 4th Fireworks Spectacular with Steve Martin and Martin Short

Hollywood Bowl - Los Angeles, CA

Sunday, July 3 at 7:30 PM

4Jul

July 4th Fireworks Spectacular with Steve Martin and Martin Short

Hollywood Bowl - Los Angeles, CA

Monday, July 4 at 7:00 PM

12Jul

Los Angeles Philharmonic - The Music of Leonard Bernstein

Hollywood Bowl - Los Angeles, CA

Tuesday, July 12 at 8:00 PM

14Jul

Los Angeles Philharmonic - The Music of Leonard Bernstein

Hollywood Bowl - Los Angeles, CA

Thursday, July 14 at 8:00 PM

17Jul

Los Angeles Philharmonic - The Valkyries

Hollywood Bowl - Los Angeles, CA

Sunday, July 17 at 7:30 PM

20Jul

Gustavo Dudamel and Paris Opera Ballet

Hollywood Bowl - Los Angeles, CA

Wednesday, July 20 at 8:00 PM

21Jul

Gustavo Dudamel and Paris Opera Ballet

Hollywood Bowl - Los Angeles, CA

Thursday, July 21 at 8:00 PM

22Jul

Los Angeles Philharmonic - Ricky Martin

Hollywood Bowl - Los Angeles, CA

Friday, July 22 at 8:00 PM

23Jul

Los Angeles Philharmonic - Ricky Martin

Hollywood Bowl - Los Angeles, CA

Saturday, July 23 at 8:00 PM

27Jul

Count Basie Orchestra - Tribute to Frank Sinatra and Peggy Lee

Hollywood Bowl - Los Angeles, CA

Wednesday, July 27 at 8:00 PM

5Aug

Los Angeles Philharmonic - Back to the Future

Hollywood Bowl - Los Angeles, CA

Friday, August 5 at 8:00 PM

6Aug

Los Angeles Philharmonic - Back to the Future

Hollywood Bowl - Los Angeles, CA

Saturday, August 6 at 8:00 PM

12Aug

Los Angeles Philharmonic - Tchaikovsky Spectacular

Hollywood Bowl - Los Angeles, CA

Friday, August 12 at 8:00 PM

13Aug

Los Angeles Philharmonic - Tchaikovsky Spectacular

Hollywood Bowl - Los Angeles, CA

Saturday, August 13 at 8:00 PM

21Aug

Hollywood Bowl Orchestra - Flying Lotus and Hiatus Kaiyote

Hollywood Bowl - Los Angeles, CA

Sunday, August 21 at 8:00 PM

24Aug

Hollywood Bowl Orchestra - Black Movie Soundtrack

Hollywood Bowl - Los Angeles, CA

Wednesday, August 24 at 8:00 PM

30Aug

Los Angeles Philharmonic - Beethovens Ninth

Hollywood Bowl - Los Angeles, CA

Tuesday, August 30 at 8:00 PM

1Sep

Los Angeles Philharmonic - Beethovens Ninth

Hollywood Bowl - Los Angeles, CA

Thursday, September 1 at 8:00 PM

2Sep

Los Angeles Philharmonic - Maestro of the Movies

Hollywood Bowl - Los Angeles, CA

Friday, September 2 at 8:00 PM

3Sep

Los Angeles Philharmonic - Maestro of the Movies

Hollywood Bowl - Los Angeles, CA

Saturday, September 3 at 8:00 PM

4Sep

Los Angeles Philharmonic - Maestro of the Movies

Hollywood Bowl - Los Angeles, CA

Sunday, September 4 at 7:30 PM

7Sep

Jazz at Lincoln Center Orchestra with Wynton Marsalis

Hollywood Bowl - Los Angeles, CA

Wednesday, September 7 at 8:00 PM

8Sep

Wynton Marsalis All Rise Jazz at Lincoln Center Orchestra

Hollywood Bowl - Los Angeles, CA

Thursday, September 8 at 8:00 PM

13Sep

Itzhak Perlman leads Tchaikovsky

Hollywood Bowl - Los Angeles, CA

Tuesday, September 13 at 8:00 PM

21Sep

Chucho Valdes and the Yoruban Orchestra

Hollywood Bowl - Los Angeles, CA

Wednesday, September 21 at 8:00 PM

19Nov

Smashing Pumpkins with Janes Addiction

Hollywood Bowl - Los Angeles, CA

Saturday, November 19 at 6:30 PM