Hollywood Bowl Super Seats
Features & Amenities
The Super Seats at Hollywood Bowl are among some of the best seats options for any show. They are located in the middle of the entire venue giving them a great viewing height and a perfect, centered view. Super Seat sections have 23 numbered rows of seating, beginning with Row 1 at the front - all of which have perfect views to the performance.
Besides the view, these seats are super for their comfort. Most of the Hollywood Bowl has wooden benches for fans to sit on. Super Seats are individual seats with chairbacks and armrest which is closer to a more traditional style that fans are used to.
Fans walking to their seats will have a little bit of a hike since everyone enters the venue from the bottom. However, Hollywood Bowl is a very accessible venue and will have ramps and escalators to help all fans get to their seats.
Note: These seats are highlighted on the map
Interactive Seating Chart
Super Seats Seating Chart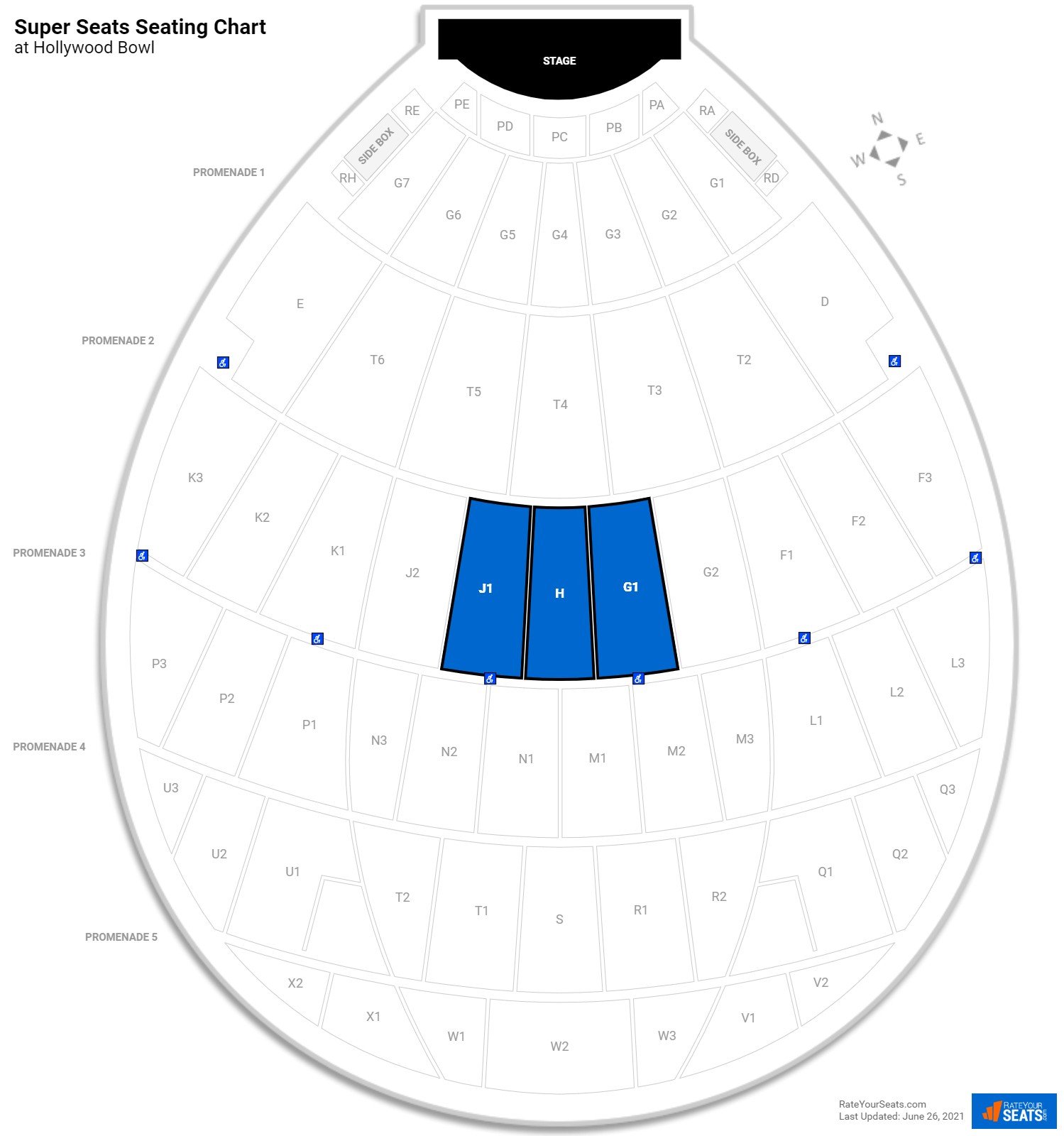 Super Seats Reviews
Ratings & Reviews From Similar Seats

"Lionel Richie - Aug 5, 2019"

(Section H) -

"Lionel Richie - Aug 5, 2019"

(Section H) - -

Awesome seats ! Directly in the middle of the stage for a head on view.

"Great seats for the price"

- -

Comfortable, unobstructed, center. Best you can get, without paying for box seats! The seats are NOT bench, and have arms and cup holders. Very roomy. Definitely worth the extra bucks.
More Seating at Hollywood Bowl
Event Schedule
28Apr

Netflix Is A Joke Fest - Dave Chappelle and Friends

Hollywood Bowl - Los Angeles, CA

Thursday, April 28 at 7:00 PM

29Apr

Netflix Is A Joke Fest - Dave Chappelle and Friends

Hollywood Bowl - Los Angeles, CA

Friday, April 29 at 7:00 PM

30Apr

Netflix Is A Joke Fest - Dave Chappelle and Friends

Hollywood Bowl - Los Angeles, CA

Saturday, April 30 at 7:00 PM

2Jul

July 4th Fireworks Spectacular with Steve Martin and Martin Short

Hollywood Bowl - Los Angeles, CA

Saturday, July 2 at 7:30 PM

3Jul

July 4th Fireworks Spectacular with Steve Martin and Martin Short

Hollywood Bowl - Los Angeles, CA

Sunday, July 3 at 7:30 PM

4Jul

July 4th Fireworks Spectacular with Steve Martin and Martin Short

Hollywood Bowl - Los Angeles, CA

Monday, July 4 at 7:00 PM