Hollywood Bowl Promenade Seats
Features & Amenities
Hollywood Bowl Promenade Seats are the most common type of seating available for a concert or show. All seats in these sections are wooden benches with assigned seat numbers.
With five levels of promenade seating, views and experiences can vary significantly.
Promenade 1 (Sections D and E)

The closest promenade seats to the stage are in sections D and E. While they may be close, the sections are located on the far sides creating sharper angles to the stage. The Terrace Box seats take up the best views from this level.
Since these seats are off to the side, some elements deeper on stage can get blocked by various structures of the venue. Fans purchasing tickets should be aware before committing to tickets in these sections.
Promenade 2
Views start to become noticeably further when moving up to the second level of promenade seating. This is because the height of the level starts to increase more with a staircase leading up to the front of the level. Steps become steeper as row numbers increase.
Located in the middle of Promenade 2 are Super Seats in sections G1, H, and J1. These are the only standard stadium-style seats with a chairback and armrest at Hollywood Bowl.
Those sitting on the far sides of F3 and K3 are almost certain to have some sort of obstructed view from screen and the side of the stage. For this reason we recommend going up to the Promenade 3 level with seats that are more centered to the stage.
Promenades 3, 4, and 5
Nearly half of Hollywood Bowl seating is located in Promenades 3-5. There is not much differentiation between levels other than their distance to the stage. Ideally, look for tickets in sections that begin with N or M on this level for the best view of the performance.
Located at the back of Promenade 1 are video screens to help those sitting in these seats see the details of the event. While seats in the back are far from the stage, there is something special about sitting toward the back and taking in everything this unique venue has to offer.
This is also the first level of seating that will have views of the Hollywood Sign in the hills off to the distance. For any fans that want a view of the stage and sign at all times look in sections N1 or N2 in rows 15 or higher.
Due to their distance, these seats are also commonly associated with the lowest price tag. Hollywood Bowl is also very accessible and has ramps and escalators to keep fans from being exhausted before the show even begins!
Note: These seats are highlighted on the map
Interactive Seating Chart
Promenade Seats Seating Chart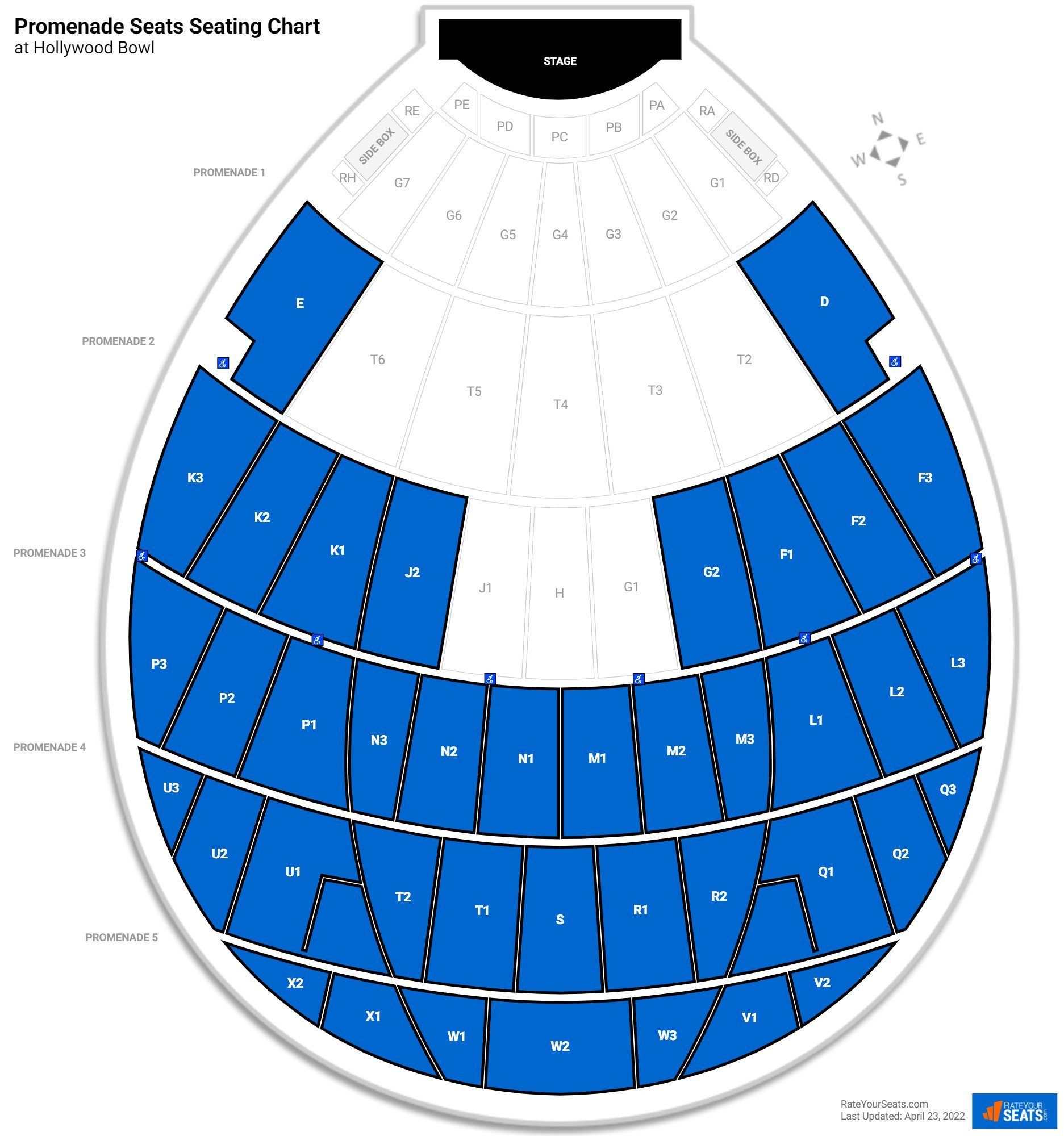 Promenade Seats Reviews
Ratings & Reviews From Similar Seats

"Weekend Spectacular: Leon Bridges - Jul 5, 2019"

(Section K2) -
More Seating at Hollywood Bowl