Saratoga Performing Arts Center Orchestra Sections
Features & Amenities
On the Saratoga Performing Arts Center seating chart, sections 1-14 make up the Orchestra. There are two distinct tiers of seating in this area.
Lower Orchestra

Sections 1-7 are considered the Lower Orchestra. Rows in these sections are continuous; there is no walkway between sections 4/6, 5/7, etc.
When purchasing tickets, carefully consider the row you will be sitting in. The biggest complaint is that the rows aren't sloped enough and it's difficult to see over other guests. Consider tickets near Row A if you are concerned about this issue.
The first row in sections 1, 4 and 5 is labeled A. This row is behind the Pit - only about five rows from the stage.
Upper Orchestra

Sections 8-14 are Upper Orchestra seats. Each of these sections has about 20 rows of seats with Row AA at the front.
Besides for being farther from the stage, the main difference vs. the Lower Orchestra is that these sections are below the Balcony overhang. As a result, sitelines to the stage are hit or miss. Views from the back can be sort of "tunneled" which some guests do not like. Furthermore, the poles that support the Balcony can obstruct some views.
To avoid tunnel vision and any potential obstructions, choose tickets in Rows AA-GG where these issues are minimized.
Additional Notes

All Orchestra seats are fully covered
Most rows contain 15-35 seats
Note: These seats are highlighted on the map
Interactive Seating Chart
Orchestra Sections Seating Chart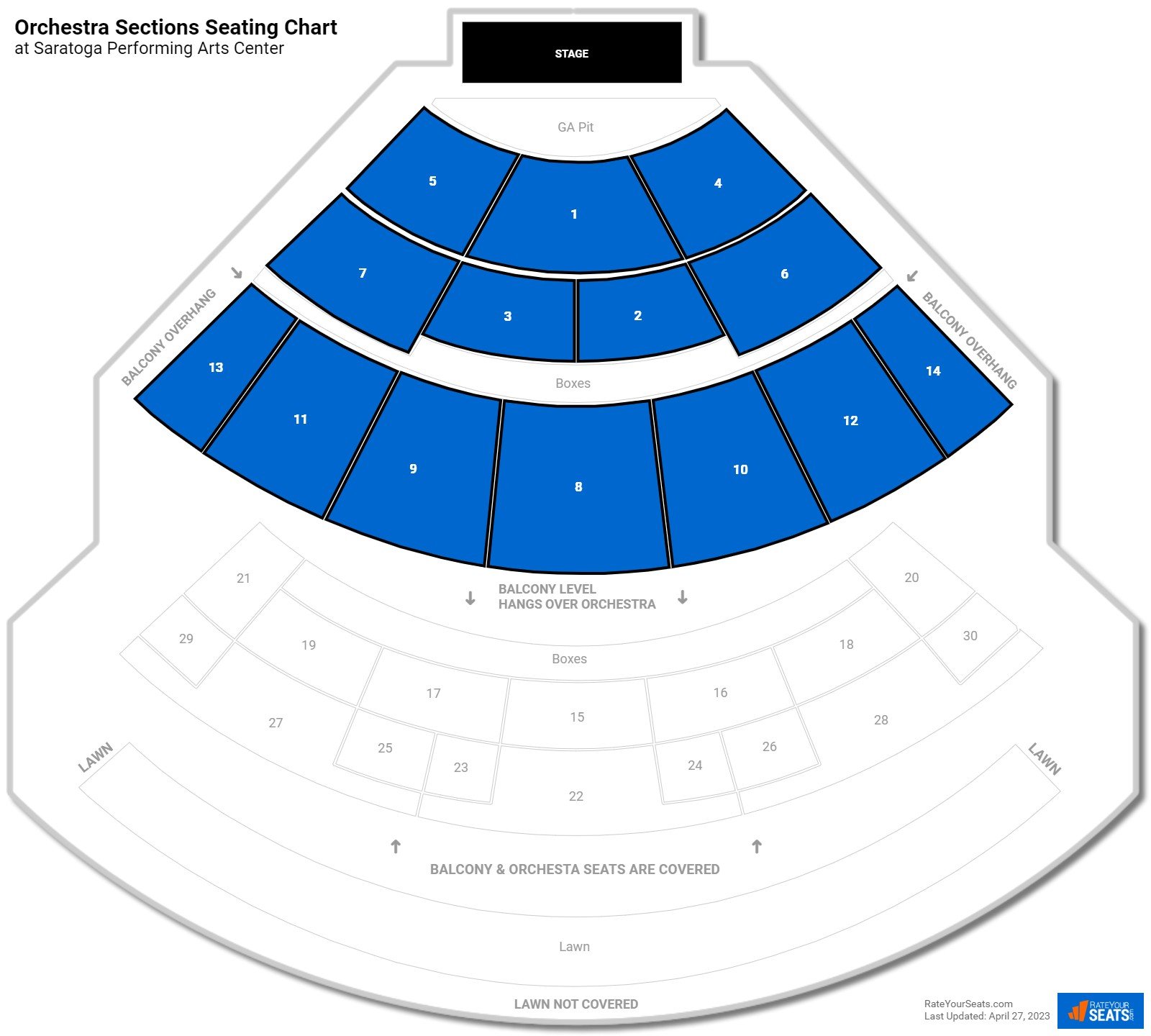 More Seating at Saratoga Performing Arts Center