Are the 400s sections good for a concert at Soldier Field?
Feb 2016
Answered by RateYourSeats.com staff...
When looking for cheap tickets to a concert at Soldier Field, you'll inevitably be presented with a number of options on the 400 level. With prices often at or below the critical $100 threshold, these seats get a lot of attention from prospective ticket buyers. So are they worth it?
Where is the 400 Level?
Before diving in to the worthiness of these seats, it's important to understand where they're located and what other comparable options exist.
Soldier Field is asymmetrical in that the west end of the stadium contains four levels of non-suite seating, while the east end only contains three. For concerts, this leaves about 15 sections of un-obstructed bargain seats (427-421).
What's important to understand about the 400s is that they share a tunnel with the 300s sections located beneath them. So for all intents and purposes, the first row in the 400 level is similar to the last row in the 300 level.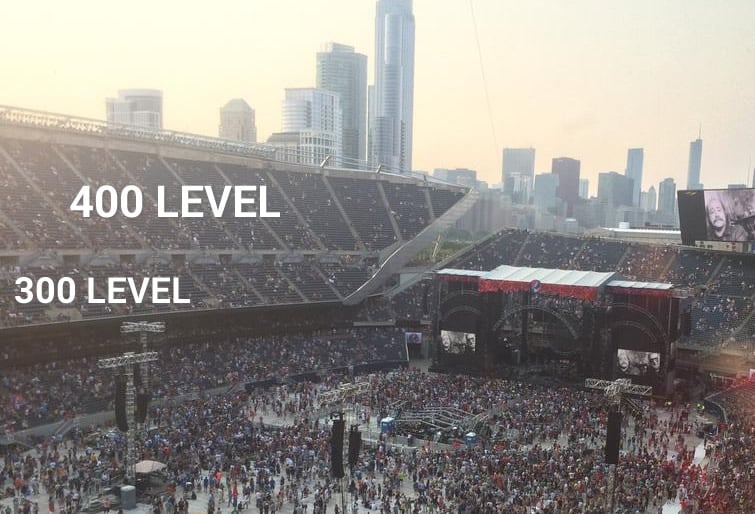 So are the seats any good?
Yes and no. In the upper deck at Solider Field, it's all about row placement. If you can help it, you do not want to be in a double-digit row. Besides for a high view and potential wind gusts, just getting to these seats is a nightmare. A steep set of stairs awaits each time you enter and exit your seats. And going to the bathroom at intermission or leaving when the show is a bigger traffic nightmare than the Kennedy Expressway on a Friday afternoon.
You'll find much better views and more accessible seating in the lower rows. Based on ticket prices we analyzed for the 2016 Beyonce concert, the first six rows are commanding the largest premiums. Meanwhile, rows 7-10 are priced comparably to rows 11-20. So sitting in the first ten rows shouldn't completely break the bank.
Our Recommendations
Pay the premium for the 300 level if you are in the first three rows
Always choose rows 1-5 in the 400 level over rows 10 and above in the 300 level
If seated in rows 15 or higher on the 400 level, you may want to practice on a stairclimber before heading to the stadium
Asked February 11, 2016
Interactive Seating Chart
Other Popular Seating Choices
Event Schedule
Concert
Fire
Bears
Other Football