What and where is the 49ers Red Zone Rally?
Aug 2015
Answered by RateYourSeats.com staff...

The Red Zone Rally is a pre-game party held before each 49ers home game. The party is located at the Great America Pavilion, just a short walk from Levi's Stadium in one of the parking lots. In order to attend the Rally, you must have a game ticket AND a Rally ticket.

What's included with the ticket?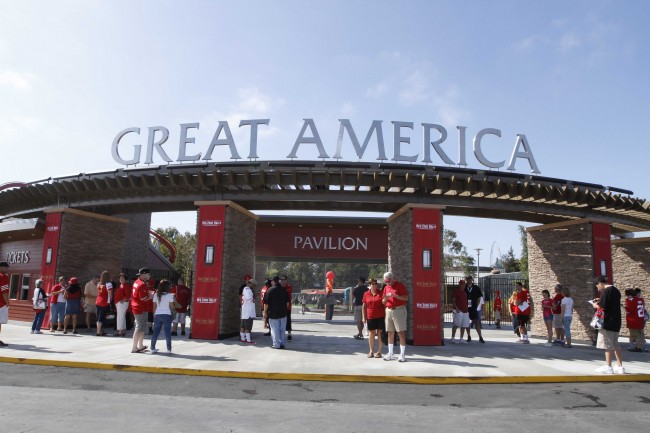 Photo Credit: levisstadium.com


First, fans will get access to the GAP (no, not the clothing store, the Pavilion) which opens three hours before kick-off. The exclusive area is a great way to catch-up on all the early NFL action on one of 45 different television monitors. Fans will also find interactive games, activities, live music and the 49ers cheerleaders roaming around and photo-bombing you (or more likely, you'll be photo-bombing them).


Food: This is the one of the top reasons to purchase a ticket. If you're not a pro at grilling 30 pounds of fresh sausage on a portable tailgating grill, you can simply grab a plate and load up on a myriad of food options; prime rib, nachos, shrimp, BBQ, pasta, sushi, sandwiches, and the list goes on and on.

Check out the Yelp Photos for some mouth-watering selections.

Drinks: The Niners are being extra kind this year and knocking a whole shiny quarter off each beer you purchase in the stadium for 2015. With a Rally ticket, you get as much as you want and it won't cost you a quarter (or 32 quarters like in the stadium). Please do remember to tip your waitresses though. If you're a high-roller and want to upgrade to premium adult beverages, you can show off to your friends and pay $6 for a Stella. Because nothing says football game like conspicuous consumption.


Restrooms: When you tailgate in the parking lot, sometimes the parking lot also becomes the bathroom. If that's not cool with you, the Pavilion has you covered: Clean restrooms, no 95-degree porta-potties and no chance of a public urination ticket. That's called a win-win-win!

Should I buy a ticket for the rally?
Photo Credit: youtube.com

If you've already got a parking pass, a sweet tailgate setup and plenty of friends, definitely not! Nothing beats throwing the pigskin in the parking lot (even though this is
explicitly banned) and DIYing it. But if you answer yes to any of the following questions, you might consider a Rally ticket:



Are you embarrassed to be seen tailgating with just you and one other dude out of the back of your dad's Prius?


Do you not have a mobile grilling device?


Do you want to beat traffic AND watch the early NFL games?


Will you drink more than 8 beers* and/or eat your weight in turkey legs? (*excessive drinking not encouraged)


Are you looking to turn your one-game-a-year into an all-day event?


How much do tickets cost?

The
49ers sell rally tickets directly for $85/each or for $75/game if you purchase all ten games (including the pre-season). Other fans report having bought tickets from secondary sources for as little as $40-$50. The consensus seems to be that it's worth it at $45, but a little pricey at twice that.


More Resources


Yelp Reviews of Red Zone Rally

Asked August 19, 2015
Interactive Seating Chart
Other Popular Seating Choices