Highmark Stadium West End Suites
Features & Amenities
The West End Suites at Highmark Stadium are located above 200s sections near the West endzone. These are fully-enclosed private spaces which are highly sought-after during cold-weather games.
Each suite has an interior space with comfortable seating, televisions, private restroom access and available catering. When purchasing tickets in a suite, read the seller notes to determine if you are purchasing an entire box or a single ticket in a shared suite.
Please note: Due to health and safety protocols in 2023, food availability, club access, wait service and other amenities are subject to change without notice.
Note: These seats are highlighted on the map
Interactive Seating Chart
West End Suites Seating Chart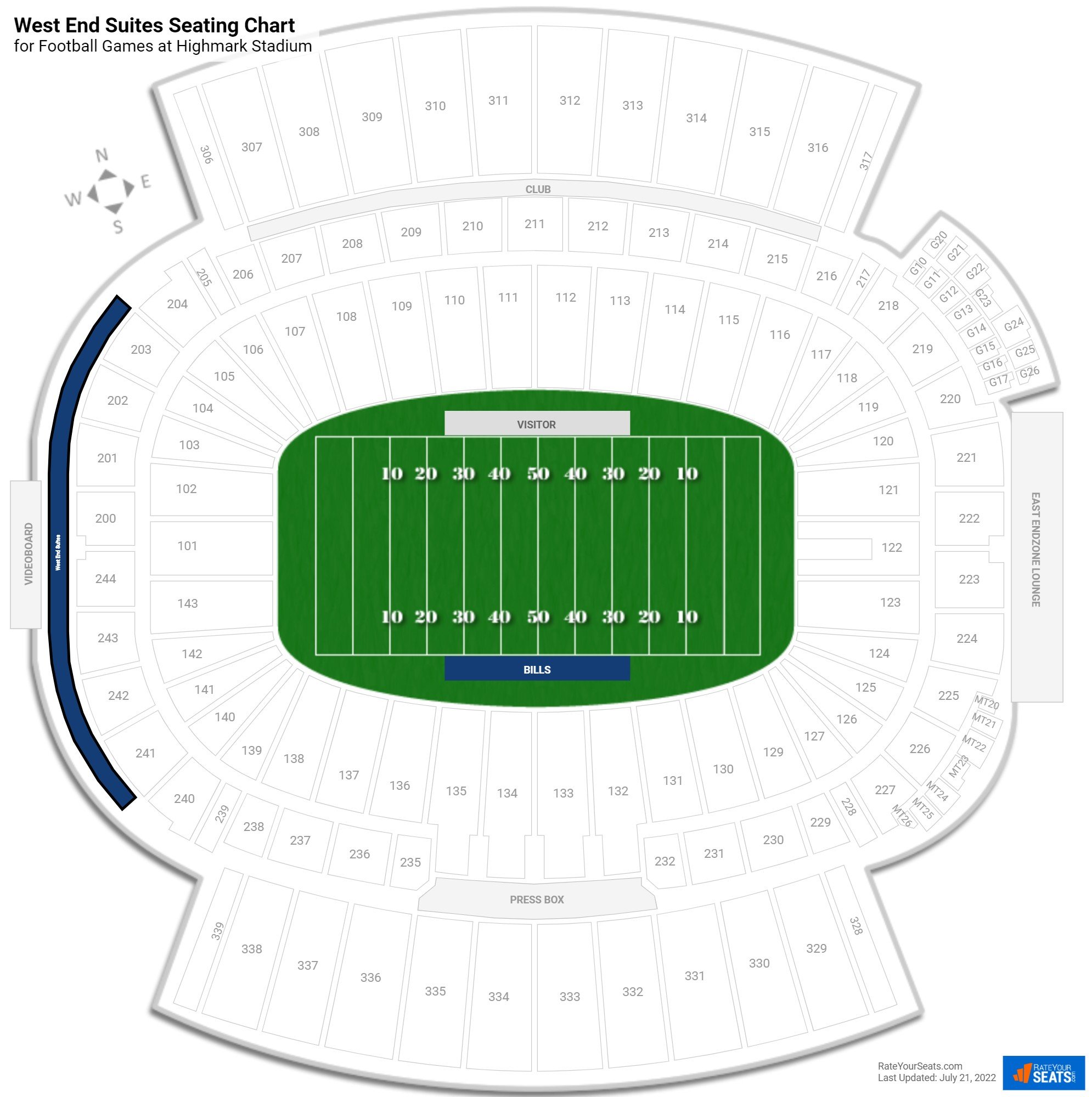 More Seating at Highmark Stadium
Event Schedule
NFL Preseason - Indianapolis Colts at Buffalo Bills

Highmark Stadium - Orchard Park, NY

Saturday, August 12 at 1:00 PM

Las Vegas Raiders at Buffalo Bills

Highmark Stadium - Orchard Park, NY

Sunday, September 17 at 1:00 PM

New York Giants at Buffalo Bills

Highmark Stadium - Orchard Park, NY

Sunday, October 15 at 8:20 PM

Tampa Bay Buccaneers at Buffalo Bills

Highmark Stadium - Orchard Park, NY

Thursday, October 26 at 8:15 PM

Denver Broncos at Buffalo Bills

Highmark Stadium - Orchard Park, NY

Monday, November 13 at 8:15 PM

New York Jets at Buffalo Bills

Highmark Stadium - Orchard Park, NY

Sunday, November 19 at 4:25 PM

Dallas Cowboys at Buffalo Bills

Highmark Stadium - Orchard Park, NY

Sunday, December 17 at 4:25 PM

New England Patriots at Buffalo Bills

Highmark Stadium - Orchard Park, NY

Sunday, December 31 at 1:00 PM