Highmark Stadium Family Section (No Alcohol)
Features & Amenities
The Buffalo Bills have created a Family Section at Highmark Stadium. Sections 225-227 in the southeast corner of the stadium are meant to promote a family atmosphere and no alcohol is allowed in any of these sections. Bringing alcohol into the Family Section can lead to being ejected from the stadium and potentially arrested.
The view from these seats is highly under-rated. The elevation of the 200 level makes it easy to see everything without being too high. And there's a good look at the west-end videoboard.
Although these sections are relatively small (not many stairs), we recommend being in a lower row if you have young children. It will reduce your walk to the concourse and lower the likelihood of being behind standing guests. Just be aware of the safety railing in the front rows that might block your view.
All seats in these sections are bleacher-style with back support. There are no armrests or cupholders.
Note: These seats are highlighted on the map
Interactive Seating Chart
Family Section (No Alcohol) Seating Chart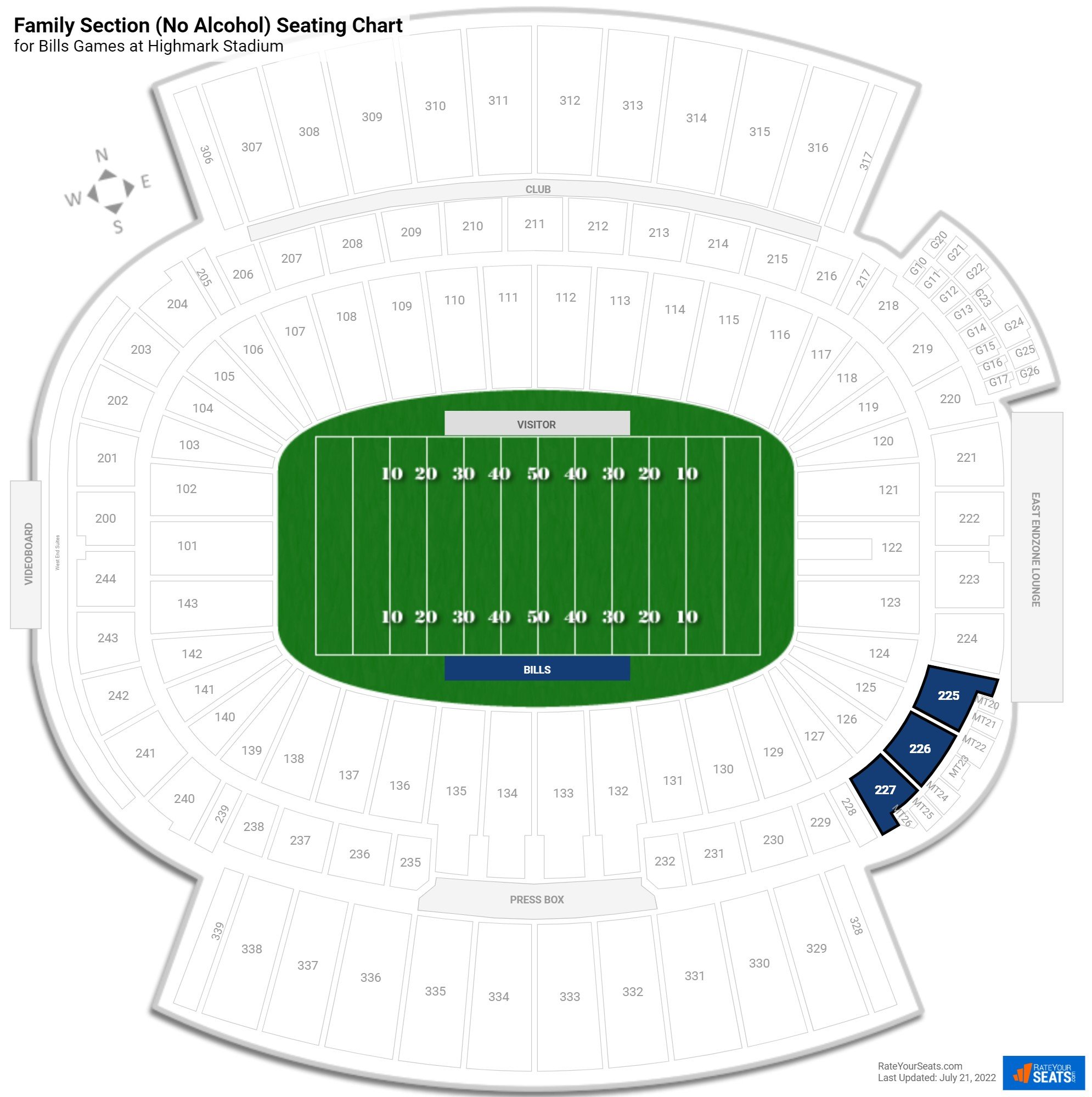 Family Section (No Alcohol) Reviews
Ratings & Reviews From Similar Seats

"Best seats in the stadium"

(Section 227) - -

They sell you the whole seat but with the given view you are only going to need the edge. it is like you are right there in the action with fitzpatrick just planning out your next interception. only negative is that there are no giveaways and we are the family section!

"Great atmosphere in the family section"

-

No booze strictly enforced by stadium personnel which is a positive if you are bringing kids to the game. Great fans here, no bs like in some of the other low cost seats at the Ralph.
Family Section (No Alcohol)
More Seating at Highmark Stadium
Event Schedule
12Aug

NFL Preseason - Indianapolis Colts at Buffalo Bills

Highmark Stadium - Orchard Park, NY

Saturday, August 12 at 1:00 PM

17Sep

Las Vegas Raiders at Buffalo Bills

Highmark Stadium - Orchard Park, NY

Sunday, September 17 at 1:00 PM

15Oct

New York Giants at Buffalo Bills

Highmark Stadium - Orchard Park, NY

Sunday, October 15 at 8:20 PM

26Oct

Tampa Bay Buccaneers at Buffalo Bills

Highmark Stadium - Orchard Park, NY

Thursday, October 26 at 8:15 PM

13Nov

Denver Broncos at Buffalo Bills

Highmark Stadium - Orchard Park, NY

Monday, November 13 at 8:15 PM

19Nov

New York Jets at Buffalo Bills

Highmark Stadium - Orchard Park, NY

Sunday, November 19 at 4:25 PM

17Dec

Dallas Cowboys at Buffalo Bills

Highmark Stadium - Orchard Park, NY

Sunday, December 17 at 4:25 PM

31Dec

New England Patriots at Buffalo Bills

Highmark Stadium - Orchard Park, NY

Sunday, December 31 at 1:00 PM