Sideline Club at Highmark Stadium
Features & Amenities
Sideline Club Seats at Highmark Stadium are located on both sides of the field on the 200 level. Sections 206-216 are on the north side of the stadium, while 229-238 are on the south side.
For Bills games, ticketholders in these seats receive some of the stadium's most desirable amenities. Among these is access to an indoor club area located just above the seats. These clubs include the Pepsi Club on the North side and the Toyota and Dunn Tire Clubs on the South side. Each club includes exclusive concessions, private restrooms, comfortable seating and televisions.
In addition to an indoor area to warm up in, many Sideline Club seats are covered from above which helps block the wind and snow. Additionally, radiant heating systems are located above the seats to warm up Bills fans on those cold Buffalo days.
Amenities available for Bills home games. For other events, some amenities may not be available or offered.
Please note: Due to health and safety protocols in 2023, food availability, club access, wait service and other amenities are subject to change without notice.
Note: These seats are highlighted on the map
Interactive Seating Chart
Sideline Club Seating Chart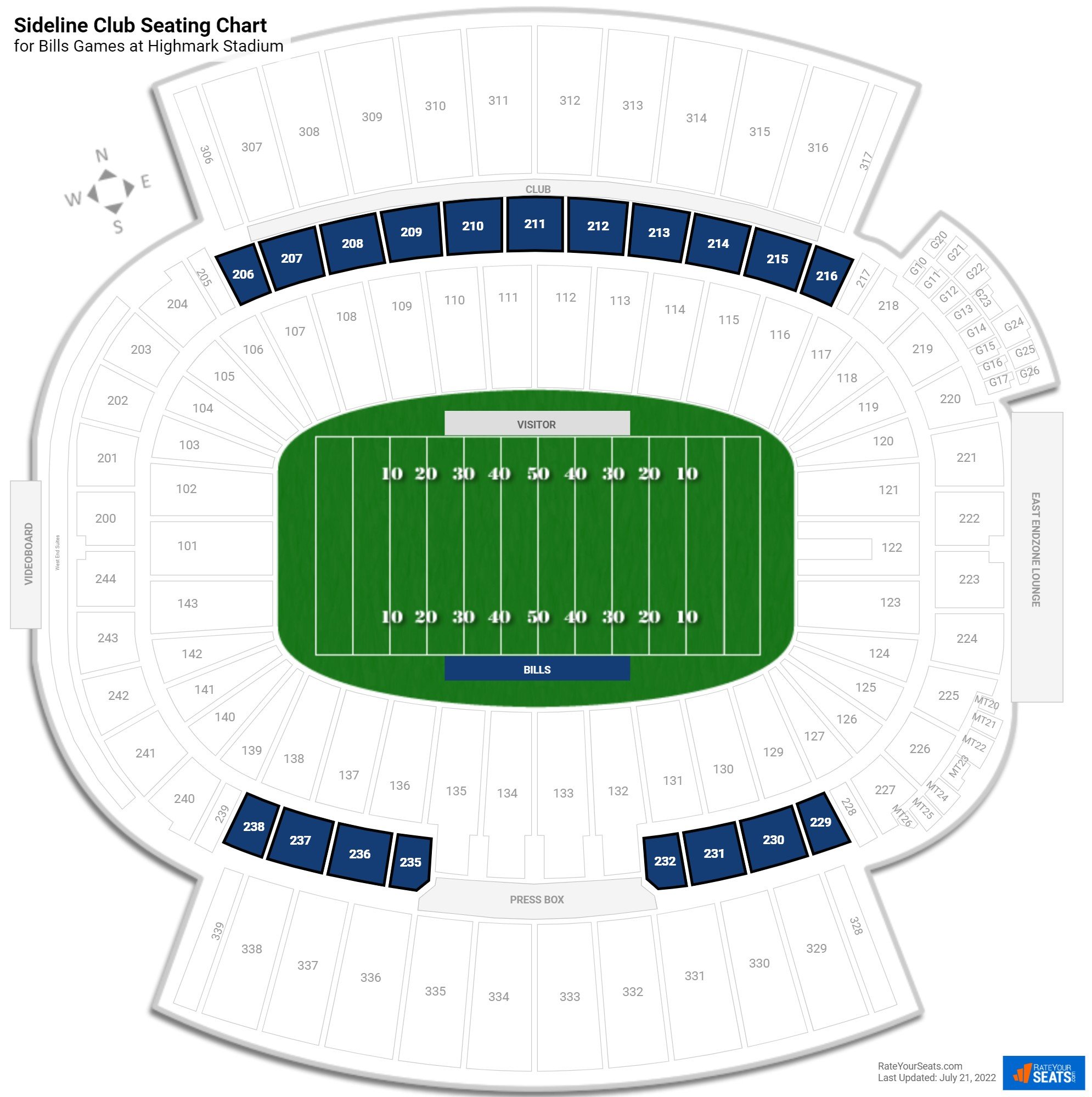 Sideline Club Reviews
Ratings & Reviews From Similar Seats

"Great view"

(Section 232) - -

We read there was ambient heating in this section but that was in the top rows not the bottom rows. Would have dressed warmer.

"NFL Preseason - Minnesota Vikings at Buffalo Bills - Aug 29, 2019"

(Section 213) -

"Jim Kelly club"

(Section 206) -
More Seating at Highmark Stadium
Event Schedule
12Aug

NFL Preseason - Indianapolis Colts at Buffalo Bills

Highmark Stadium - Orchard Park, NY

Saturday, August 12 at 1:00 PM

17Sep

Las Vegas Raiders at Buffalo Bills

Highmark Stadium - Orchard Park, NY

Sunday, September 17 at 1:00 PM

15Oct

New York Giants at Buffalo Bills

Highmark Stadium - Orchard Park, NY

Sunday, October 15 at 8:20 PM

26Oct

Tampa Bay Buccaneers at Buffalo Bills

Highmark Stadium - Orchard Park, NY

Thursday, October 26 at 8:15 PM

13Nov

Denver Broncos at Buffalo Bills

Highmark Stadium - Orchard Park, NY

Monday, November 13 at 8:15 PM

19Nov

New York Jets at Buffalo Bills

Highmark Stadium - Orchard Park, NY

Sunday, November 19 at 4:25 PM

17Dec

Dallas Cowboys at Buffalo Bills

Highmark Stadium - Orchard Park, NY

Sunday, December 17 at 4:25 PM

31Dec

New England Patriots at Buffalo Bills

Highmark Stadium - Orchard Park, NY

Sunday, December 31 at 1:00 PM