Seeing a Concert at the Houston Rodeo
Each night after the conclusion of rodeo events, an elaborate star stage is rolled out to the center of the dirt floor for a concert performance. Depending on the performer, it is the most anticipated event of the night for many fans. Some of the biggest names in not only country music, but the entire music industry make their way on to the Houston Rodeo Lineup.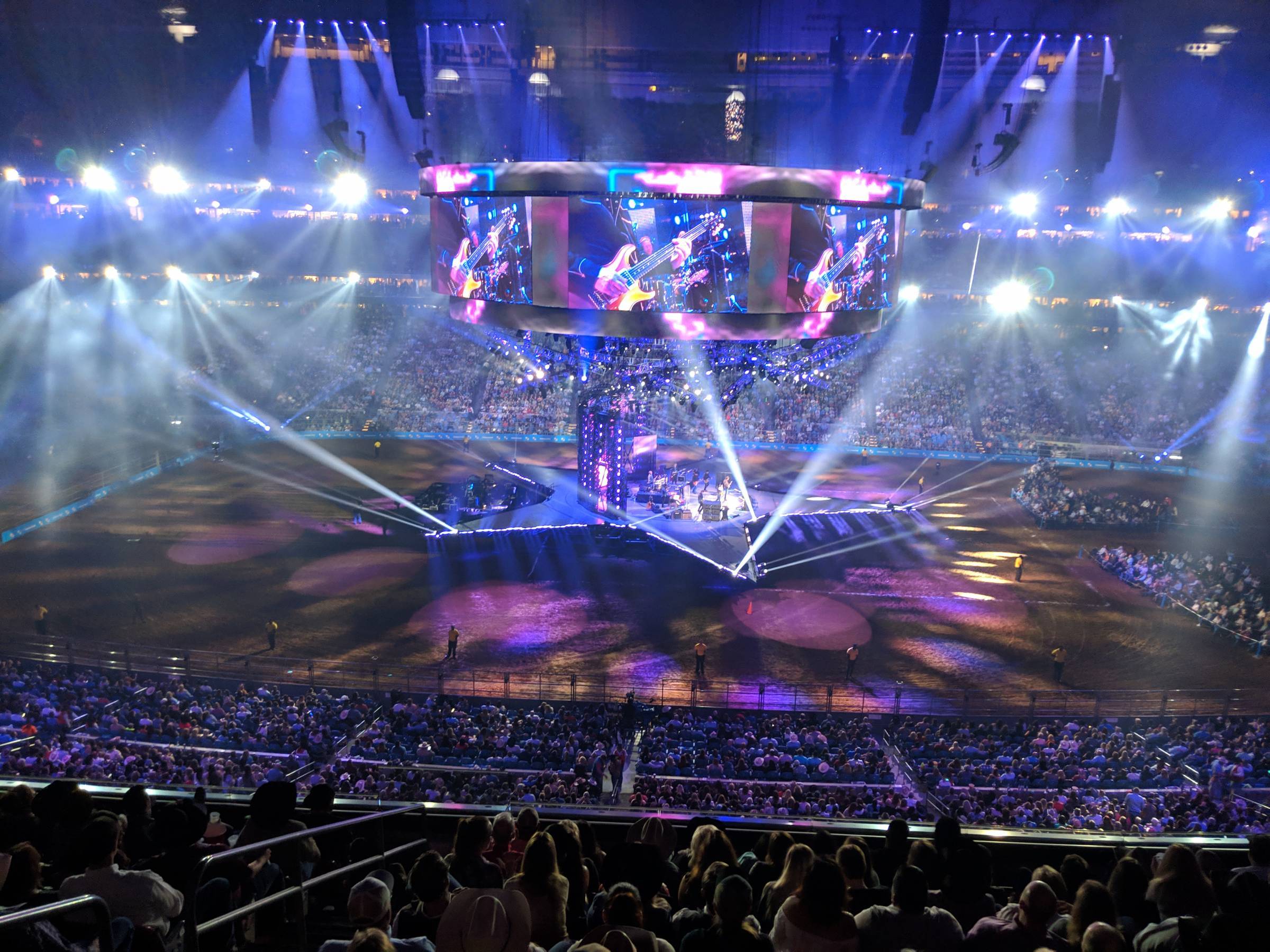 Each show begins with an extremely impressive video, light, and a firework show that would rival what you see on the Fourth of July. It is truly an entrance unlike anything else out there.
Concert Show Times
It is important to note that tickets for the rodeo and concert are the same. One event leads right in to the next so fans will sit in the same seat for both events. Fans interested in the concert only can wait in the concourse or in their seats until the show begins. The concert on weekdays will begin around 8:45PM while the concert portion on weekends will start much earlier at around 5:45PM.
Seating
Since there is a rodeo before the show, there is not any floor seating which makes it a unique concert experience. Instead, the performer is out there as if on their own island in the center of the stadium. Since the show is a center stage, the performer will not face one direction the whole time. Instead, the specially designed Houston Rodeo Stage rotates giving the entire audience a view.
Located above the stage is also a large circular screen to project the show. NRG Stadium can fit over 70,000 rodeo fans and of course everyone can't be close to the stage. These screens and an abundance of lasers, strobes and other variations of lighting help bring the show to life in all corners of the venue. Our NRG Stadium sections page will have seat views for both the concert and the rodeo so you can pick out the best seats for your needs..
Performers
To see who is playing each night take a look at the Houston Rodeo schedule below. If there is not a name associated with the dates, it means they have not been announced yet. Continue to check back until the rodeo lineup is announced so you can find the best seats!
Notable Past Performers at the Houston Rodeo
Jason Aldean
Dierks Bentley
Beyonce
Justin Bieber
Black Eyed Peas
Bon Jovi
Garth Brooks
Cardi B
Kenny Chesney
Florida Georgia Line
Fall Out Boy
Janet Jackson
Alicia Keys
KISS
John Legend
Bruno Mars
Maroon 5
Dolly Parton
Elvis Presley
Reba McEntire
Blake Shelton
Zac Brown Band