Dugout Box at Great American Ball Park
Features & Amenities
Dugout Box seats are the first five (5) rows along the infield at Great American Ball Park. Being seated near the dugouts provides fans with an exciting experience very close to the field and players.
Fans looking for a more comfortable seat will find it here. Seats are wider to give fans more space and padded to make the experience even more enjoyable.
Dugout Box Seats Include:
Sections 114 and 132: Rows A-E
Sections 115-119 and 127-131: Rows F-J
Close to the Players

Tickets in these rows are among the best for a Reds game and bring fans closer to the players than anywhere else in the park.
Sections on the first base side (127-132) will be on the home side of the field near the Reds dugout. On the opposite side is the visitors dugout near sections 114-119.
All Dugout Box seats are located behind a protective netting so families can feel safe bringing young children to see their idols up close.
Club Access

Not only are the seats just feet away from the field, but a ticket in these rows gives fans access to the Scouts Club. Inside the club, fans can enjoy the climate-controlled environment, "grab-and-go" concessions, and private restrooms.
Amenities available for Array and Array and Array and Reds home games. For other events, some amenities may not be available or offered.
Please note: Due to health and safety protocols in 2023, food availability, club access, wait service and other amenities are subject to change without notice.
Note: These seats are highlighted on the map
Map Highlighting

Select rows in section are part of this seating zone
Interactive Seating Chart
Dugout Box Seating Chart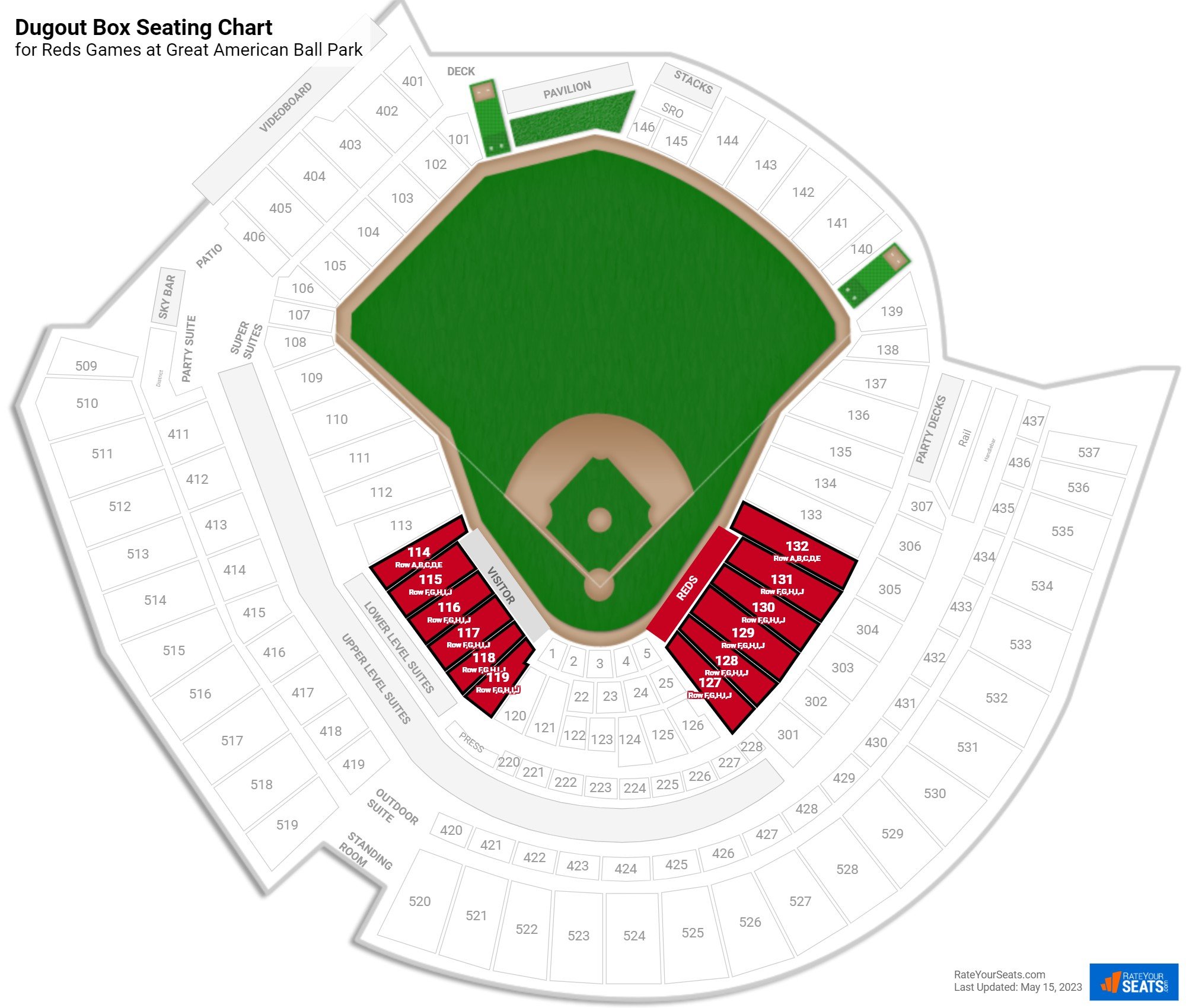 Dugout Box Reviews
Ratings & Reviews From Similar Seats

"Colorado Rockies at Cincinnati Reds - Jul 27, 2019"

(Section 132) - -

These seats are not covered for rain but completely shaded for 7pm games. Close to all major food options and the kids field and playground. Not behind the netting but close enough that it would be next to impossible to get hit (great for families with small kids).

"Really enjoyed these seats"

(Section 114) - -

An aisle seat that is actually turned toward the infield. Cannot see the left field corner. Great selection of concessions at Great American Ballpark.

"GREAT VIEW!!!!!!!!!!!"

(Section 128) -
More Seating at Great American Ball Park
Reds Ticket Information

The 2023 Reds tickets guide includes the season schedule, ticket price information and the best options for buying tickets.