Dodger Stadium Pavilion Seats
Features & Amenities
The Pavilion Seats are best for fans who don't mind sitting in the sun for day games and prefer a cheaper price tag with a chance of catching a treasured home run ball.
Seating here is all bleacher style with a single continuous bench in each row. The bleacher will have a back that will save you from having to lean forward for all game long.
Located in front of these sections are the
Home Run Seats
with exclusive amenities.
Left Field Pavilion


Odd numbered sections 301-315 are located beyond the outfield wall in left field ( Spectrum Pavilion). The Dodgers bullpen is nearest section 301. Rows are lettered A-V.

Right Field Pavilion


Even numbered sections 302-316 are located on the right field side (Coca-Cola Pavilion) behind the outfield wall. Being on the East side of the stadium, these seats see the most sun in the stadium. Rows are lettered A-V.
In previous seasons these seats were a part of the All-You-Can-Eat Pavilion, but that changed with the renovations for the 2020 season.
Note: These seats are highlighted on the map
Interactive Seating Chart
Pavilion Seats Seating Chart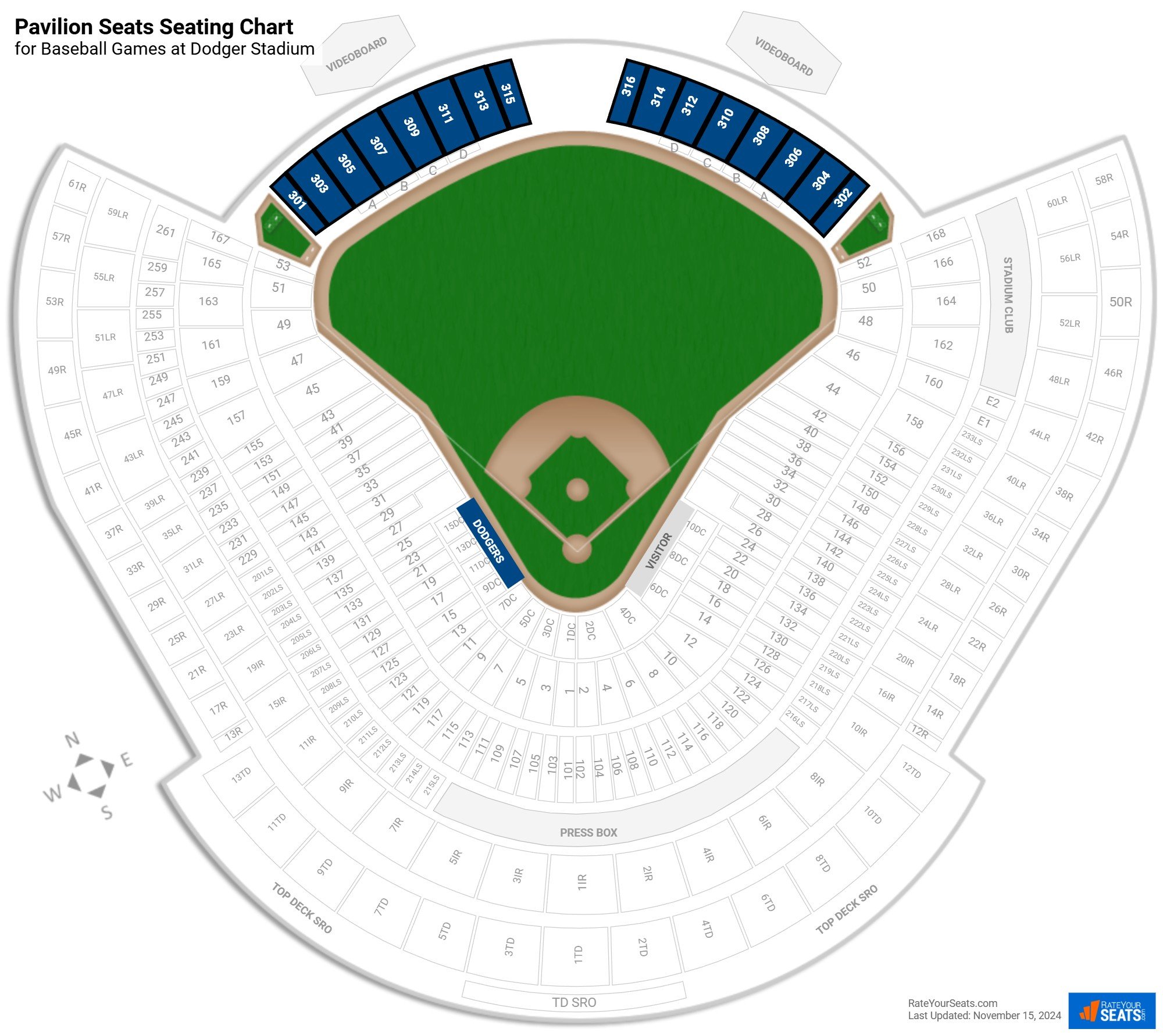 Pavilion Seats Reviews
Ratings & Reviews From Similar Seats

"Free food and good place to get a homerun ball, but you will roast in the sun."

(Section 306) - -

In the 300 level sections of the outfield are bleacher seats with back support on them. Also, the tickets include free food, such as hot dogs, peanuts, and nachos, as well as free drinks such as pop and water. The amenities are great, the view is great, and it's your best chance to get a homerun bal...

"Section 307 Row H Seat 12"

(Section 307) -

"Easy access to restroom and all you can eat"

(Section 314) - -

If you get lucky you can catch a HR. Those seats are good, and will try to seat there more often. 👍🏽😎⚾️⚾️🍺
More Seating at Dodger Stadium
Event Schedule
Dodgers
Other Baseball
Other