Baseline Club at Dodger Stadium
Features & Amenities
The Baseline Club at Dodger Stadium is located in the first six (6) rows of sections 26-43 and the first three (3) rows of sections 44 and 45. It is home to some of the widest and most comfortable seats in the entire stadium.
Features of the Club for Dodgers Games
Ticketholders will have exclusive access to the Baseline Club Lounge which offers some of the best amenities in the stadium including:
Premium seats near the field
All-inclusive food and non-alcoholic beverages
Concierge service
In-seat wait service
Private restrooms
Complimentary programs
Located just down the line from the dugouts, these seats have a higher riser height between rows giving fans better sight lines to all areas of the field. Fans will be seated at a ledge - perfect for storing personal items, drinks, food and phones.
Please note: Due to health and safety protocols in 2022, food availability, club access, wait service and other amenities are subject to change without notice.
Note: These seats are highlighted on the map
Map Highlighting

Select rows in section are part of this seating zone
Interactive Seating Chart
Baseline Club Seating Chart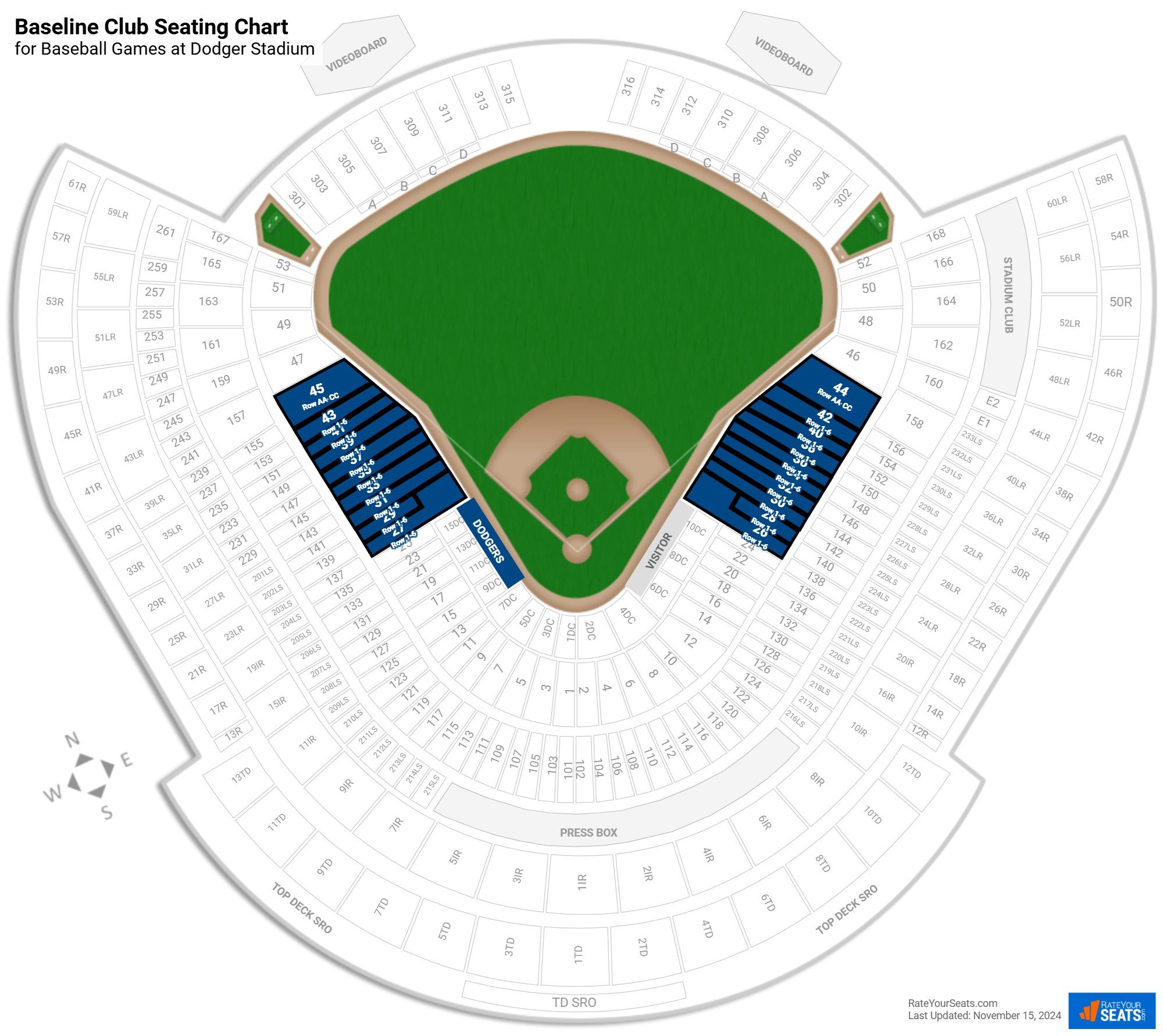 Baseline Club Reviews
Ratings & Reviews From Similar Seats

"I enjoyed my seats"

(Section 45) - -

It took 30 minutes to get to my seats once we entered the parking lot and 1 hour to exit after the game. We literally sat for 50 minutes without moving an inch--people beside us got out of their car and started playing football until we started moving. Based on that, I would not consider returning...

"Awesome Seats!! Great for seeing all the action, and be ready for foul balls!!"

(Section 26) - -

View is awesome...great seating to interact with the ball players!!

"Pluses and minuses from overhang"

(Section 38) - -

If you look at the associated photos, you'll see a lot of people shading their eyes. Section 38 gets a lot of sun! But the overhang above Row X will shade you and cover you from rain. On the flip-side, the overhang will also block your view of a lot of pop-ups. You don't really notice it when you...
More Seating at Dodger Stadium